Lappe—If you can dream it, Willow Springs Creative Centre can make it happen. From its setting in Lappe, about 15 km northwest of Thunder Bay, you can tour the world, have Christmas in July, or transform a tree house into a space ship.
Willow Springs Creative Centre is a not-for-profit organization located on the corner of Mapleward Road and Kam Current Road in a historic 1930s co-op store. Inside, the store's original wooden cubbies and hardwood counter-top displays local art work and products for sale, including fresh baked goods. On the wall is written their mission statement: To promote growth through creative expression and community development. The building itself was built to serve the community and today, every inch of the grounds provides and connects with the community and the region through art programs, life skills development, mentors, and partnerships. For example, a children's art camp took the participants on a trip around the world, where they ate food and created art from a different country each day. And one office's Christmas party made rustic birdfeeders on a sunny July day.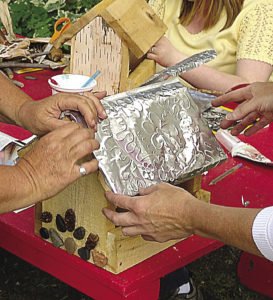 Workshops and programs almost always include food, which is made on-site either in the outdoor clay oven or in the kitchen. Locally sourced foods are used as much as possible, as well as produce right from the gardens at the centre. The vegetable gardens have been developed with raised beds and specially designed A-frame garden beds that are wheelchair accessible. The centre partners with organizations such as Roots to Harvest and horticultural societies to share skills, knowledge, and manpower.
As a social purpose enterprise, an important part of Willow Springs Creative Centre is to be supportive and inclusive. Students in post-secondary programs, such as recreational therapy and social work, gain experience at the centre through placements. Often, they mentor participants, such as young adults from the Community Integration through Cooperative Education (CICE) program at Confederation College. Joanna Luczak was one of the young adults in the CICE program who attended Willow Springs to expand her life skills. At the end of the program, Joanna was hired as an employee and joyfully helps at the centre.
The Thunder Bay & District Chapter of Autism Ontario is another group that accesses the creative spaces at Willow Springs. Autism Ontario funded a covered outdoor area, with the support of the Rotary Club of Thunder Bay (Fort William), to offer more space to create and gather. And a second project is in the works—a tree house. The families of the Autism Ontario group were asked what their wish list would be for a tree house; and the list included wheelchair accessibility, to be suspended off the ground, to transform from a tree house to a space ship; and to have a mermaid pond underneath. With list in hand, the staff and builders developed a plan to construct the tree house. The location is off a slope, which would allow wheelchairs to enter from a ramp on one side. From the other side, it will be suspended off the ground. Inside, the tree house will have buttons and levers to operate as if on a space ship. As for the mermaid pond—some creative imagining will bring it to life.
The tree house is scheduled to be completed by the end of this summer; and it, as well as everything else on the land, is set up for the public to explore. There is a sand pile for children to play in, a forest trail, a play house, and a flower garden that features an antique car with a fairy garden on the back dash. The centre is a bustle of vendors and customers who congregate at the Willow Springs Market, held every Friday from 3-7 p.m. until Sept. 30. To learn more, go to www.willowsprings.ca.