Grand Marais—Moose, fox, coyotes and wolves aren't the only wild creatures wandering around the North Shore these days. With the right equipment, a little patience and maybe some bait, you might just have the chance to encounter and trap a few "mythical animals" through the latest craze with gamers worldwide.
Immensely popular with players of all ages, Pokémon Go is the newest game from the developer Niantic Labs. The game, which was initially released in selected countries at the beginning of July, is similar in many ways to the card and video game versions from the early 90's.
After downloading the game on a smart phone, players become official Pokémon trainers. Unlike the former stationary forms of the Pokémon game, however, players must physically walk around to toss Pokéballs at the unsuspecting creatures superimposed onto the real-life scenery captured by the phone's camera lens. A proper release of the Pokéball—essentially a well-timed press and release of a finger on the phone's screen—will ensure a captured Pokémon.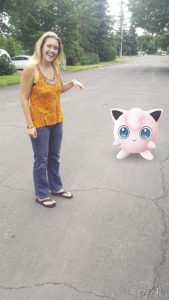 Once captured, players can battle their Pokémon at "gyms," which are located at landmarks and businesses around towns. Popular gyms in Duluth, for instance, are on the University of Minnesota-Duluth campus and at Chester Bowl Park.
A child of the 90's myself, I downloaded the game a few days after it came out, primarily to pay nostalgic homage to the hundreds of Pokémon cards I had collected as a kid (sorry Mom). While my first attempt playing ended shortly after it started, I enlisted the help of experienced Grand Marais player Victoria Margitova to help me be more focused on "catching them all" during my second try.
"I've been playing the game for about a month. My husband Patrick thought this was a great opportunity to get outside together," said Margitova. "We usually play together twice a week and have fun looking for creatures. They are not that common in Grand Marais, so I'm always very excited when I catch a Pokémon that I haven't seen before."
Victoria had strategically chosen to meet me for my tutorial at a Poké Stop—a place where trainers can collect more Pokéballs—just outside of Java Moose in Grand Marais. After we grabbed our reserve creature trappers, we started our trek around the harbor loop. Poké Stops don't produce an unlimited number of advantages at one time; the game has a timer for usage to ensure players keep moving. Word on the street is that Canal Park and government service buildings in Duluth are home to many Poké Stops.
There are three teams to choose from, red, yellow or blue. While Victoria chose the yellow team after becoming eligible to choose at Level 5, the gyms at both the Beaver House and at the Grand Marais Public Library were both currently run by the blue team.
Even though she had a sneaking suspicion she was going to lose—the Pokémon at this gym were stronger than her fleet—she still threw her hat in the ring to demonstrate how a duel works in this augmented reality. I watched her tap her phone repeatedly to deliver blows, but she was outmatched, and the gym remained in control of the blue team.
"I don't do gyms much, but I should because it makes your Pokémon stronger. Even though I lost, if someone from the yellow team keeps fighting and wins, we can both put our Pokémon there."
The aptly named "lures" in the game result in more Pokémon at a particular location, and inevitably more potential customers and visitors for the businesses or locations that purchase them. The First Presbyterian Church in Thunder Bay has set up lures to attract Pokémon on certain days of the week, to encourage players to rest, charge their phones and use the wi-fi. Individual players can also purchase lures that benefit themselves and the other players in the surrounding area.
While no one knows for sure if the game is a passing fad or here to stay, players certainly are getting their summertime exercise trying to "catch 'em all" along the North Shore.