First-generation farmer-couples on the North Shore are focused on giving animals a good life, and supplying the area with quality homegrown meats. Not "hobby farmers," they embody a philosophy of self-reliance, sustainability and community connection. At least one partner works away from the farm, where health care benefits and a steady paycheck are more assured, but this is no hobby. It's a way of life.
Greenfield Meats and More, Superior, Wisc.
Kylee Maccoux and her fiancé, Brandon Greenfield, personify this lifestyle with their tagline: "just two kids farming their way through life." From farm families, they now have their own 200 acres outside of Superior where they raise beef cattle, heritage breed pigs, chickens and turkeys.
Identifying as a first-gen farmer, Maccoux was intent on being a non-farmer. But, she says, "it's etched into your DNA. I can't shake it, it's a calling."
Now that she's made peace with her calling, Maccoux says she loves farm-to-table thinking. For her that's about transparency, where customers can trust that animals are well-treated. Greenfield's is taking it to the next level with their "birth-to-butcher" approach. Maccoux can pull up photos of cattle throughout their lifespan. "I can tell you when it was born and what their mom's name is. I have a ridiculous store of knowledge. That's my job."
Knowing each animal is serious business for Maccoux, who says, "These animals are living a better life. Nobody else is going to bring them a handful of grass, or watermelon rinds. They wouldn't get that on a feedlot."
Even in winter Maccoux says their animals are well cared for. Every bucket of fresh woodchips brought to their pen, she says, causes the 1,200-pound winter steer to "run, buck and roll." She knows they are happy when they "are snorting and rolling around like giant dogs."
Local farmers markets, pickup and delivery in the Twin Ports area, and an online presence generate enough business for Greenfield Meats to commit to selling year-round.
Rustic Pastures, Two Harbors
Steve Tucker moved back to the home of his youth in 2016, where he and his wife found few options for ethically raised meat. They set about to change that for their own family's diet, and found an audience of customers with an appetite for meat where "animal welfare and land stewardship are top priorities," said Tucker, who calls himself a "first generation farmer."
Proud of their forested pork "where pigs are allowed to be pigs," Tucker says that their pigs are free to roam through the woods "where they do the one thing they love most; Root!"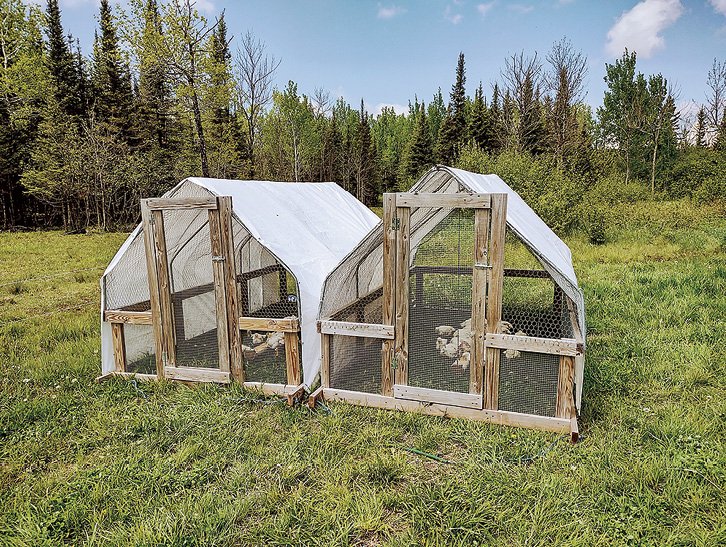 Hoping to dispel the myth of "a filthy pig pen," Tucker says that a small operation like his family's is utterly different from a factory farm. "Our pigs have their noses in the ground pretty much every minute they are awake, and our pigs are clean."
Inspired by a food documentary, Tucker's farming philosophy is that animals thrive best in a symbiotic relationship with the land.
"Moving chickens and pigs around helps fertilize the environment, and gives them the most natural and healthy life without chemicals or hormones," Tucker stated, who supplements their diet with non-GMO feed.
Chickens get their daily relocation with a "chicken tractor," or a mobile pen with an open floor that Tucker can move by hand. He says, "they have shade and shelter, and are protected from predators, but they can get bugs and grass and scratch in the dirt."
"It is an incredible amount of work, but I'm passionate about raising animals this way and teaching our children the importance of animal welfare, and knowing where your food comes from," Tucker said.
Rustic Pastures sells directly to customers through their website, at the Two Harbors Farmers Market, and to Baptism River BBQ.
Salt & Light Heritage Farm, Two Harbors
Leah and Ron Bailey returned to Two Harbors six years ago and searching for "good, local meat," Leah says, "was like looking for the Loch Ness monster."
The obvious next step, if you are the Baileys, was to raise their own animals. In short order, they found others clamoring to buy quality meat, and in 2018 added paying customers for their beef, pork, and poultry.
"You are what you eat eats," a quote from Michael Pollan's book In Defense of Food: An Eater's Manifesto, is a saying that Leah takes to heart. That's why their animals forage, and get a chemical-free organic grain finish. These sustainable practices, Bailey says, leave the land better cared for, produce healthier meat, and "is taking care of our world."
A philosophy of sustainability is a big part of their farm effort, both ecologically and economically, with the past year bolstering Leah's belief in strengthening local food systems.
"With a food system spread out by thousands of miles, if one little cog doesn't work, grocery shelves are empty. If we support our local farms we can thrive and have the resilience and availability of food we need," said Leah.
Find Salt & Light beef steaks, roasts, and ground beef at Louise's Place in Two Harbors, or buy directly from the farm. Their beef briskets, short ribs and roasts are also featured by Baptism River BBQ.
Thunder Bay Meat Processing, Thunder Bay
Owners Eleanora Vellinga and her husband Paul are the only meat processors in the Thunder Bay area, so they know most of the local meat farmers well.
There are lots of locally raised meat options near Thunder Bay including beef, pork, poultry and lamb. The Vellingas are happy to connect customers to farmers "raising meat the way you like it."