Many who move to the North Shore seek a deeper connection with the land. For some, that connection involves gardening, producing one's own food from the land. It takes a lot of knowledge, dedication, and adaptability to produce quality, consistent crops in this environment with its rocky ground and short growing season. Some brought specialized knowledge to the task. Some managed to produce more than they could consume and began selling at local farmer's markets. Some began offering CSAs for sale—Community Supported Agriculture. Those who turned their passion for gardening into a family business learned to adapt and diversify their offerings.
Let's look at three such local farms: Maple Hill Sugarbush and Gardens near Grand Marais, Chelsea Morning Farm near Silver Creek in the Two Harbors area, and Round River Farm near Finland. All have their own stories and backgrounds, and all have found their own niche.
Melinda and Mark Spinler, owners of Maple Hill Sugarbush and Gardens, met in college. Mark had grown up on a farm in southern Minnesota and had farming in his blood. Melinda grew up in a military family, moving every three years or so. Her roots were in the Appalachian Mountains, where her relatives were farmers and miners, and very independent and self-sufficient. She had developed a love of gardening. But because of her somewhat nomadic upbringing, she was looking for a place to settle down.
They moved to the North Shore in 1984, bought a remote parcel of land, and of course put in a garden. Melinda became involved with the Cook County Whole Foods Coop in its early days. Back then, it was difficult to find a variety of high-quality produce. She was in communication with other local growers and worked to establish a farmers' market in Grand Marais. Customers at the market eventually suggested they start a CSA. Initially she formed a cooperative with other growers to meet the demands of local customers. Eventually some of the other growers got bigger and ventured out on their own, so now they offer 15 to 20 shares solely from their farm and also sell food at the Cook County Market. CSA shares for this year are still available.
They have definitely learned to diversify. Mark had tapped maples on his farm growing up, so was experienced in making syrup. They have 12 acres of maples they tap each year and utilize a wood-fired evaporator to produce syrup. They also raise chickens and sell eggs. Twice a year they offer pastured organic chicken for sale—usually by preorder. They follow organic farming practices, but because they sell locally, they do not feel the need to go through the certification process.
Cree and Jason Bradley are relative newcomers, having started their Chelsea Morning Farm in 2006. While they did not have farming backgrounds, Cree became involved with a local farmer's market while a student at UMD. As part of her work with the farmers' markets, she started volunteering on local farms and learned she loved being on a farm. She loves being connected to the land and the seasonal cycles. Her approach is also very science-oriented; she currently teaches holistic farm management through the Land Stewardship Project.
Jason's route to the farming life, interestingly, involves fish. He had worked as a fishing guide in Ely, and eventually got a job smoking fish at Russ Kendall Smokehouse in Knife River and got to know the local commercial fishermen. He apprenticed under Steve Dahl and now has his own commercial fishing license.
Diversity is the name of the game at Chelsea Morning Farm. On their 25-acre farm, they plant three acres of mixed vegetables. They also grow flowers and sell starter plants in the spring. They have around a hundred laying hens. And then there's the syrup. They tap 2,500 maples each year and sell under the label Never Summer Sugarbush. Oh, and the fish. They offer herring and lake trout fillets, caught by Jason, and fish cake. Also for sale are honey, wild rice, and holiday balsam wreaths.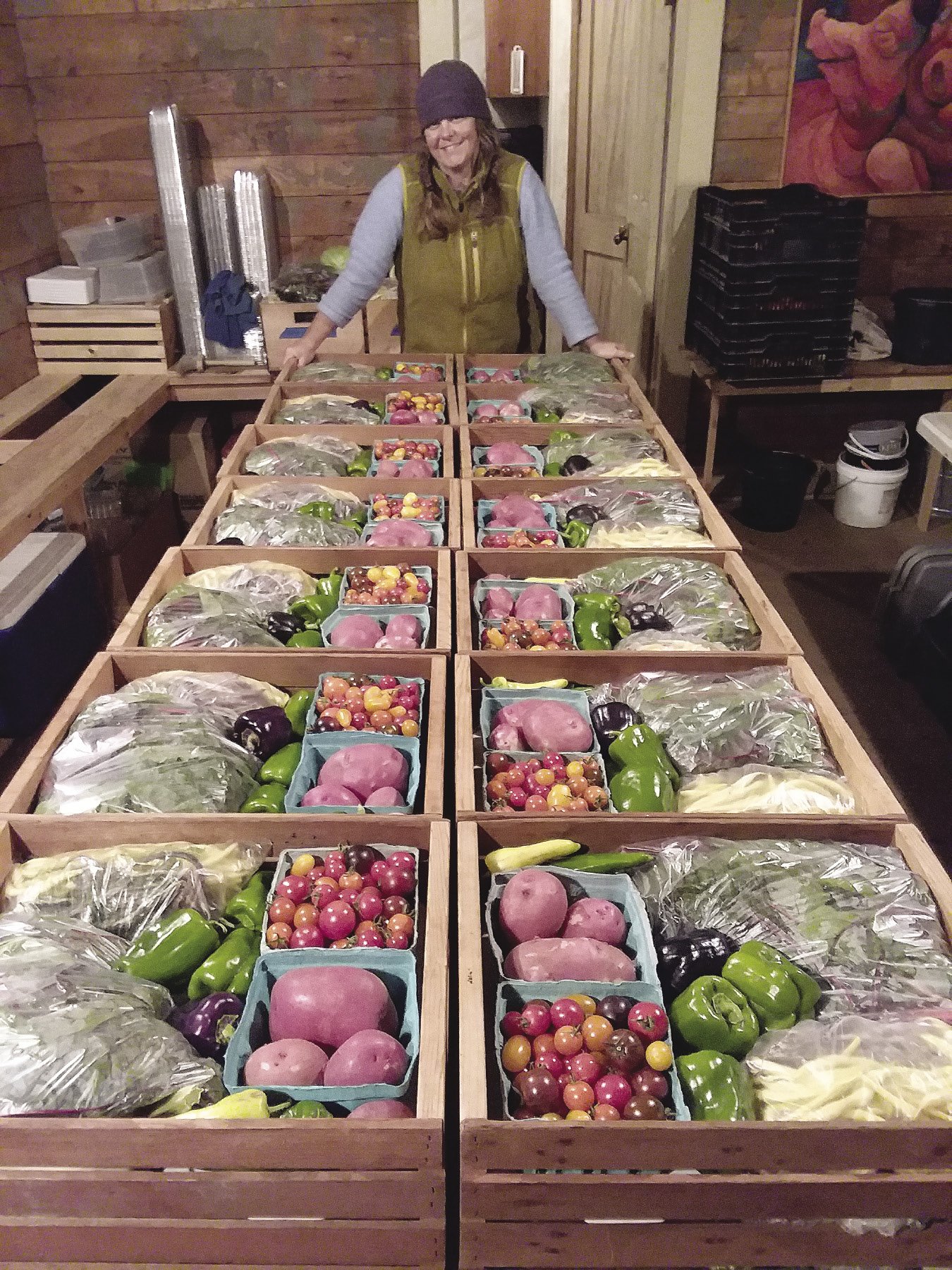 At one time they sold 80 to 100 CSA shares a year. They have shrunk that to 30 to 40, and according to Cree they still have shares available for sale this year. They have a wide variety of options for purchasing shares depending on which products the customer wishes to include in their order. They also sell at farmers' markets.
Lise and David Abazs were in New Mexico at High Desert Farm working on a seed saving project looking at how to produce food in tough growing environments. They planned to move to Maine to take up farming. Lise, who is from southern Minnesota, had a last-minute change of heart and wanted to settle in Minnesota. David, who had long dreamed of moving to Maine, did his research and said it would have to be in Finland, because it held similar tree types to Maine and because of Lake Superior's resemblance to an ocean. They found a 40-acre parcel 32 years ago and spent 12 years with pickaxe in hand working the land at Round River Farm and building up the soil. Approximately 20 years ago they started offering CSAs and sold from Duluth to Grand Marais. They have since purchased an adjacent 80 acres. Lise has used her expertise in growing, planning and economics. David has utilized academic research in the development of their soil and of seeds suitable for the region.
When they first started farming, they had 22 inches of soil atop bedrock. The soil was a half percent organic matter. Their soil is now 15 percent organic matter. Ever conscious of the effects of climate change, David estimates their soil once sequestered 5,800 pounds of carbon per acre. That number has grown to 174,000 pounds per acre.
David and Lise, like the other farmers in this article, have done various jobs throughout their years of farming. David states he never wanted to rely solely on the farm for their income because he thought they might be tempted to stray from their values simply to make money. Now that they are a bit older and both have substantial jobs—Lise with North Shore Area Partners and David as executive director of the Northeast Regional Sustainable Development Partnership through the University of Minnesota Extension Service—they have decided to no longer offer CSAs. They are still selling produce through local farmers' markets, but their focus has now become the development of seed varieties they can distribute to area farmers. They will co-distribute with North Circle Seed. They are developing varieties of beans, broccoli, kale, swiss chard, onions, carrots, tomatoes, squash and lettuce. They also have 35 varieties of apples and 44 rhubarb varieties.
A love of land. A connection to community. A passion for sustainably grown, nutritious produce. Family. Diversity. Innovation. These are the values that have prompted these dedicated local farmers to share their bounty with others.