Visit Duluth's Lincoln Park Craft District once a week and it will always look different the next time you come. Change and development happen on a constant basis here. Blink once and there's a new apartment building on Superior Street with retail shops spread throughout its ground floor (Enger Lofts). Blink twice and there's a new small batch art gallery on 21st Avenue West (Kirsten Aune Textiles). There are new bars, restaurants and cafes sprouting up routinely here, as if from entrepreneurial seeds planted in the ground. Stretching from the corner of Garfield and Piedmont Avenues, and following Superior Street west to 40th Avenue, the Lincoln Park Craft District is developing at breakneck speed.
If you start your day with tea or coffee, your Lincoln Park café choices have recently multiplied. Dovetail Café—a Craft District mainstay—is open every day from 8 a.m. to 2 p.m., while newcomer 190° Coffee and Tea just came on board in January and stays open 6 a.m. to 6 p.m. Both cafes take pride in their handcrafted, artisan approach.
"One of the things that I'm heartened by is there's not a single chain store in the Craft District. There's not an Arby's, McDonald's or Starbucks here. It's people like us, who are trying to do something unique," says Dovetail Café co-owner Bryan French.
The Dovetail has a true dovetail cabin within, made from red and white pine milled from the 2016 blowdown in Duluth. French is proud that community members helped harvest and hew the wood used in the café.
For a "stoked" café experience, try out The Back Alley—a neighborhood surf shop and cafe, where you can talk about surfing mighty Lake Superior with owner Jerome Fischer. Only in Duluth can you drink a matcha latte while discussing the merits of 10-foot waves on a freshwater lake.
Art lovers should check out the handcrafted wares at Karin Kraemer's Duluth Pottery. The gallery, which opened in 2017, features an open-space concept with high ceilings and a creative atmosphere. Here, you can browse the work of clay artists and buy the same maiolica pottery mugs and dishes used in many area restaurants and breweries—another way in which local businesses support one another.
For outdoors-people, Frost River is a great shop for securing a Boundary Waters permit or just gearing up for the next adventure. Every product exudes a handmade ethos, all the way down to the hand-forged iron tent stakes made by local blacksmith Paul Webster.
Owner Chris Benson purchased the 100-year-old Frost River building in part because it's on Superior Street, which makes it a recognizable address to visitors.
"When you look at people visiting Duluth, Superior Street is a street that everyone knows, whether they're coming from the Twin Cities, or Chicago, or wherever," says Benson.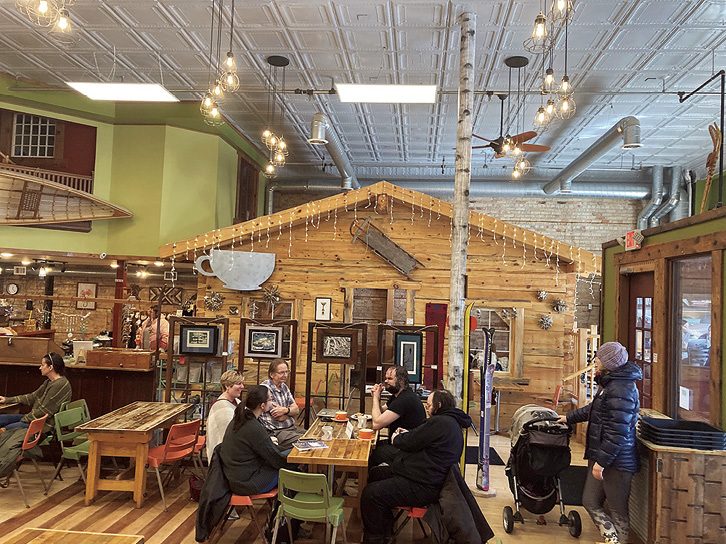 Benson explains that he chose his building's location because "Superior Street looks like a main street should. It's a vibrant economic area for businesses to pull together." Today, Frost River's production and retail space is fully sustainable, using solar panels on the roof to power all of Frost River's sewing machines. Frost River also offers two free EV chargers outside for public use.
Check out Kirsten Aune Textiles on 21st Ave West for kitchen wares and Scandinavian-inspired clothing, including the stunning "peasant blouses." Aune is a "small-batch" artist who has lived in Lincoln Park for the last 17 years. Aune opened her showroom in 2020 and says she is now "part of the club," adding that the Craft District business community members "want to support each other." Her shop features "originality" that is made "here."
For even more small batch clothing and footwear, head to artist Candace LaCosse's Hemlocks Leatherworks next to Flora North florists on Superior Street. LaCosse also takes custom orders for handmade leather shoes and bags.
When you get thirsty from all your exploring, you're in the right place: the Lincoln Park Craft District is synonymous with the craft beverage scene. The whole state knows Bent Paddle Brewing, but there are other players, too. For example, you'll find two cideries—Duluth Cider and Wild State Cider—within three blocks of one another. Ursa Minor is another popular craft brewery here with a huge outdoor seating area. There are also great restaurant choices, including Oink, Moo, Cluck for meat lovers, and Duluth Grill for vegetarians. If you're with your kids (or without!), Love Creamery's outrageous handmade ice cream is a must after dinner.
Finally, it's noteworthy that while retail and breweries have been growth drivers for the last 10 years in the Craft District, there's a new economic driver here as well: housing. The new housing renaissance includes recently opened Enger Lofts (31 apartments), Lincoln Park Flats (74 apartments, set to open this spring), Urbane218 (45 apartments, planned to open in 2023), and a fourth development with a retail-residential mix planned for the former Anderson Furniture Building. You can see all of them on Superior Street.
If you like meeting the people who make the wares they sell and chatting about hands-on crafts like sewing, boat-building, or beer brewing with the owners, you'll be right at home in the Lincoln Park Craft District. Pick up surfing, buy a bouquet of exquisite flowers, or sample Minnesota's best ciders—it's all for one in this business community. Come take a look for yourself in the city's most trendy, creative neighborhood that is the face of change in Duluth.