Looking for something different to do this summer? How about going on a Lake Superior adventure at a Canadian lighthouse where you can go for nature walks, hiking, rock collecting, climbing a lighthouse tower, bird-watching, visiting an art gallery or even overnight in a guest house? You can do all that and more at the Porphyry Island Lighthouse, thanks to hard work of the Canadian Lighthouses of Lake Superior Inc. (CLLS), a non-profit charitable organization that restores, maintains and promotes lighthouses on Lake Superior's North Shore. Porphyry Island Lighthouse is located on the eastern side of Black Bay Peninsula, 40 kilometres east of Thunder Bay.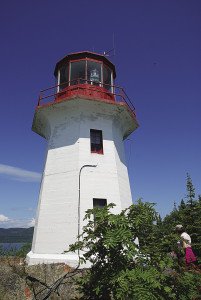 CLLS was formed to save and restore the lake's lighthouses after the Canadian government in 2010 declared 970 active and inactive lighthouses surplus across Canada. Some were designated heritage structures and community groups were invited to assume control and maintenance of the properties.
CLLS now leases three lighthouses from Canada's Department of Fisheries & Oceans: Porphyry Island, Number 10 (Shaganash) and Trowbridge. Negotiations are continuing for the Thunder Bay Main Lighthouse. Porphyry Island Lighthouse and structures, including the lighthouse keeper's house, have been restored, the grounds cleared and trails opened. Interpretive programs are available and the site is staffed in the summer. The other two lighthouse sites are still works-in-progress.
Summer operations at Porphyry run from July 3 to September 5, though the site is open to the public until October 15. And there's plenty of events and activities going on this summer. From July 23-30, the Thunder Bay Yacht Club will host their annual week-long SUNORA (Superior North Shore Regatta) for sail and powerboats. The group will sail to Rossport over several days and return to spend a night at Porphyry on July 29. Then, a few weeks later on August 13-14, the popular annual Porphyry Island Pan-Superior Rendezvous will bring in boaters from around the lake to the island for a day of BBQ, bonfires, hikes and tours.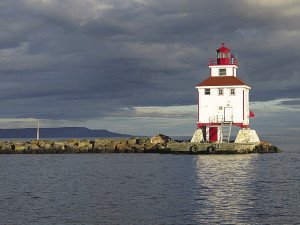 Adding to this year's visitor experience is the opening in the Fog Alarm Building of the Gordon Graham Art Gallery, named after the last lighthouse keeper (1979-1988) who also happens to be an award-winning photographer. Visitors can view Gordon Graham's photography of Lake Superior in the Gallery, as well as see the CBC documentary "Heartland" (1980) about the Graham family. Also, the first artist-in-residence for CLLS will be on site for a few weeks, creating and talking to visitors about their work.
This summer, Canada's famous "Red Chairs" are arriving. Parks Canada has recognized Porphyry Island as a special place to include in their Red Chair National Campaign and will be installing two of their iconic Adirondack Red Chairs at the point on Porphyry Island, the perfect spot to enjoy the view of the Sleeping Giant. (Some travellers now tour Canada doing 'selfies' sitting on Red Chairs at these special sites.) In addition, Parks Canada and the Lake Superior National Marine Conservation Area are providing the site with interpretive panels to assist visitors in understanding lighthouses, their purpose, the lives of keepers and some of the disjunct arctic alpine plants found on the island.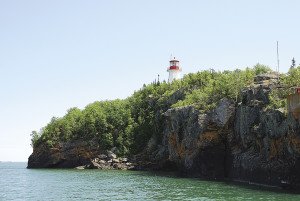 Everyone is welcomed for free on Porphyry, though there is a charge for overnight stays at the guest house. During last year's five weeks of operation, there were 266 visitors. Whether by sail, motorboat, kayak, canoe or helicopter, there are many options on how to get to the island which is only accessible by water and air. The CLLS website www.clls.ca has information about the Transport Canada-approved charters available with Sail Superior, Archie's Fishing Charter or Wisk Air Helicopters.
CLLS continues to build and expand the Lake Superior Lighthouse Trail as an exciting adventure destination, available to the public. With the possibility of opening up Thunder Bay Main Lighthouse on the break wall and joining the three lighthouses (Porphyry, Number 10 and Trowbridge) currently operated by the group, Thunder Bay will become the "Gateway to the Lighthouse Trail."