Lakehead divas palled around
with Greta Garbo and John Wayne
During the Golden Age of Hollywood, from roughly the 1930s through the '50s, four women from the Lakehead achieved international fame. (The Lakehead is the name used collectively for Port Arthur and Fort William, now called Thunder Bay.)
Two became Hollywood divas. One became part of Europe's wealthy elite, socializing with the likes of Winston Churchill and Sir Laurence Olivier. Another was hailed as one of the world's most beautiful women. Today their achievements, tragedies and glories are largely forgotten.
Here are their stories.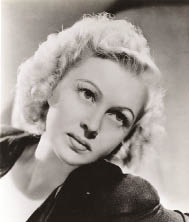 'Child Darling' to Leading Lady: Cecilia Parker
Born in Fort William in 1914, Cecilia Parker showed early promise as a "star pupil" of dance instructor Grace Ensworth. Newspapers called her the "child darling of Fort William entertainment." At age 18 she starred with legendary John Wayne in the western The Rainbow Trail. She appeared in 60 movies between 1934 and 1962. She was John Wayne's leading lady in Hollywood's first musical western, "Riders of Destiny;" Greta Garbo's younger sister in "The Painted Veil;" and, later, Mickey Rooney's older sister in the "Andy Hardy" movie series.
Cecilia married actor Dick Baldwin and retired from acting in 1942, although she took occasional roles until 1962. She died in 1993 at age 79.
Teenage Superstar: Barbara Read
Barbara Read was born in Port Arthur in 1917. Her great-grandfather was Minnesota senator, Harry Burkhardt, a Swiss immigrant to the U.S. who later founded the famous Burkhardt Brass Band of Wabasha County. Barbara was discovered by Hollywood when she was going to school and living with her aunt in California. She was 19 years old when her first movie, "Three Smart Girls," catapulted her and costar Deanna Durbin to stardom. Between 1936 and 1947, Barbara made 21 feature films, the last one a western called "Coroner Creek."
In 1947, Barbara left behind her movie career to focus on her art and family. She had four children from two marriages. Unfortunately, health issues plagued her, and in 1963, at the age of 46, she took her own life.
I asked her eldest son Damon Josephy what he wanted people to remember about his mother.
"That she was beautiful," he said. "She had a wonderful spirit that carried her through the times when she was not fighting demons. She was an incredibly creative individual, a passionate artist who was a poet, actress, sculptor and painter."
European Elite: Lady Alexandria Korda
Irene Boycun gave up a promising musical career to become Lady Alexandria Korda. Born in 1929, the daughter of Ukrainian immigrant farmers in Fort William, she changed her name after high school graduation to Alexandria (or "Alexa") and headed to Europe with dreams of becoming a star.
In England, she met, fell in love with, and married the famous movie producer Sir Alexander Korda. She was 24, he was 60. When he died in 1956, Lady Korda become a wealthy woman, but she had paid a price: during their marriage, she had started taking powerful doses of prescription drugs.
Alexa made world headlines when she remarried, this time wedding a wealthy British insurance broker named Patrick Metcalfe. They had three children before divorcing in 1964. Two years later, at age 37, Alexa was found dead. An inquest put the blame on her doctor for "grossly over-prescribing."
"Beautiful" Director: Olga Landiak
The fourth woman, Olga Landiak, was a Ukrainian farmer's daughter from Fort William. After winning a major acting award, she moved to England, where she continued her professional acting career. She moved back to Canada in 1954 as a director for the Stratford Shakespeare Festival.
While in England, Olga had met British photographer Nicholas Egon, who immediately selected her as one of 48 women from around the world for his book "Beautiful Women of Our Time." Olga later returned to Northwestern Ontario and wrote a number of books, plays and newspaper columns.
Note: this story was originally published in the February-March 2012 issue of Northern Wilds Magazine.