When Colonel William F. "Buffalo Bill" Cody (born Feb. 26, 1846) and his famous Wild West show first came to Duluth on Sept. 12, 1896, thousands attended the popular entertainment spectacular at 28th Avenue West and Superior Street.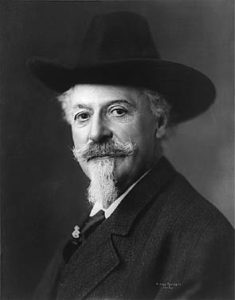 He was already a living American icon, celebrated for his bravery and skills as a wrangler, dispatch rider, frontiersman, militia man, and buffalo hunter (his nickname came from killing 4,280 buffalo in 17 months while working to feed buffalo to Kansas railroad construction crews in 1867); in 1872, he had been awarded the U.S. Medal of Honor for gallantry as an army scout.
Buffalo Bill was also the ultimate showman, who travelled to thousands of destinations in North America and Europe with a Wild West extravaganza featuring rugged cowboys, sharpshooters (such as Annie Oakley), and American Indians (such as his friend Sioux Chief Sitting Bull during the 1885-86 season).
Less known is that for over 20 years, Buffalo Bill had a strong family and business connection to Duluth that began around 1892.
That's when Hugh A. Wetmore, one of the two owners of the city's newspaper People's Press, drew up the first draft agreement giving Buffalo Bill 50 percent ownership of the printing plant and newspaper for $3,000.
A year later, in July 1893, Buffalo Bill's widowed younger sister Laura Ella Cody, who went by her nickname Nellie, sometimes Helen, married Wetmore. She moved to Duluth with her daughter Mary Jester, renamed the newspaper Duluth Press and became its business manager.
She hired her daughter as city editor, organized the Zenith Press Club (to give voice to women's organizations), and by the end of 1894, with woman in charge of most departments, the Duluth Press was advertised as ''The Women's Paper of the Great Northwest."
Soon after her marriage, Nellie's brother Buffalo Bill financed the construction of the Duluth Press Building, the paper's new four-story brick headquarters at 1915 W. Superior Street. During his six-day visit in January 1894, a grand reception was held on the building's second floor to welcome Buffalo Bill, and more than 1,500 attended.
A month later, Duluth named Cody Street in West Duluth after Buffalo Bill.
In August 1895, the Wetmores built the 54-room Cody Sanatorium which Nellie changed to a summer hotel and pleasure resort. It was destroyed by fire on Nov. 17, 1896. By then, the Duluth Press had stopped publication.
In 1897-98, Nellie and Hugh built a mansion, Codyview, on the same site as the sanatorium/resort (2618 N. 77th Ave. West) in today's Bayview Heights area. It was said to have Duluth's first bathtub. However, liens were filed against the Westmores for failing to pay Codyview's building costs. Buffalo Bill dipped into his deep pockets, paid off their liens and let Nellie and Hugh live there.
Nellie was soon on to her next project, writing a biography of her famous brother to be sold at his Wild West show.
In 1900, Nellie's husband Hugh died; two years later, her daughter Mary left Duluth with her husband, newspaperman Robert Allen; and in 1905, Nellie moved from Duluth to her brother's namesake town of Cody, Wyoming. She died six years later while visiting her daughter in Pasadena, California; Buffalo Bill had rushed from Arizona to see her before she died.
Buffalo Bill brought his Wild West show to Duluth seven times, the last on Aug. 8, 1912. The following year, after owning Codyview for 16 years, Cody sold it to Alice Hain, the first of many owners.
Though Nellie and Buffalo Bill have long been gone, strange stories still swirl about them in Duluth. One tale alleges that Buffalo Bill buried a treasure with a buffalo skull 10 to 12 feet under Codyview. As the story goes, one owner tried unsuccessfully to locate it, but apparently only dug down five feet. There are reports of Nellie's ghost being present at her beloved Codyview.
This story was originally published in the Aug.-Sept. 2012 issue of Northern Wilds Magazine.