November storms on Lake Superior can be mighty wicked and dangerous for ships. Well-known is the tragic story of the 729-foot lake freighter Edmund Fitzgerald, which sank during a brutal winter storm on November 10, 1975 with the loss of 29 lives.
Ships on Lake Superior in November have faced blinding storm systems, challenging the best of mariners. Some lost, some survived, but each one adds to the legend of the lake. Here's a capsule look at a few of their tales.
One of the earliest ships to succumb to November storms was the 270-foot propeller Algoma, a luxurious steel passenger ship of the Canadian Pacific Railroad. Built in 1883 in Scotland, she was called the "pride of the Canadian merchant marine." On November 5, 1888, she left her home port Owen Sound for Port Arthur (now part of Thunder Bay) with about 400 tons of merchandise. The next day after leaving Whitefish Point, she encountered heavy snow, sleet and strong winds, but she kept on going across the lake.
As she neared northeast Isle Royale, the captain and crew were unaware they were off course when at about 4:15 a.m. the ship slammed onto a reef near Greenstone Island (now named Mott Island). Battered by rough seas, howling wind and snow, she soon broke in two. Some on board were swept overboard, while others sought safety in the stern lodged on the reef. After a terrifying night, crew members helped the survivors reach shore. Fishermen located them and then rowed out into the lake's vessel lane to get help, flagging down the steamer Athabasca which brought the survivors to Port Arthur. Exact numbers on board have varied, however, a final report indicated 48 lives were lost (35 crew and 13 passengers) and 14 survivors (12 crew, 2 passengers).
Seventeen years later in 1905, a ferocious storm on Lake Superior—with blinding snow and gale-force winds with gusts of more than 100 miles per hour—sunk or damaged 29 vessels and 36 lives were lost. Ships caught in that "Great Storm of 1905" included the 249-foot steel turret steamer Monkshaven. British-built in 1882, she was purchased by Algoma Central & Hudson Bay Railway Co. in Ontario's Sault Ste Marie ("Soo") and brought to Lake Superior in 1904.
On November 27, 1905, Monkshaven left the Soo and headed for today's Thunder Bay, while battling the emerging storm. In his book Shipwrecked: Vessels Meet Doom on the North Shore, author Ronald Wrigley wrote: "Waves such as are seldom seen on the lakes were rolling clear over the Monkshaven tossing her like a cork in rapids. One minute, she would rise to the crest of a wave, 30 feet or more above the lake, and then next she would plunge down into a trough nearly submerged under the towering waves."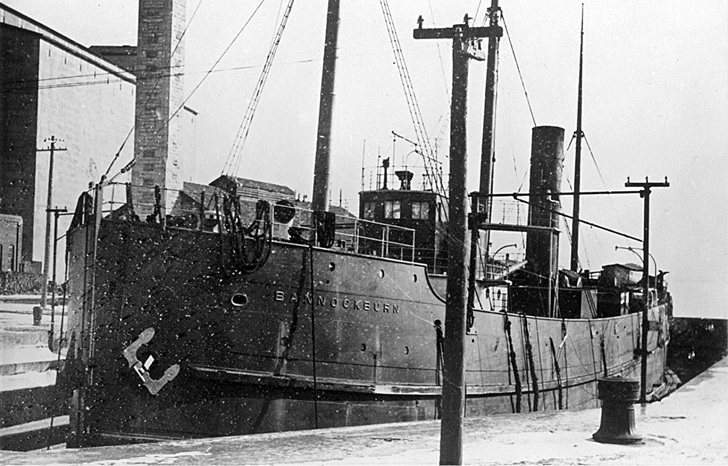 Near dawn and less than 15 miles from port, Monkshaven grounded on Pie Island. Her 21 crew members reached shore and were stranded for three days. Once the storm subsided, 13 of the crew heroically rowed to the Lakehead to get help and the remaining eight survivors were rescued. A year later, while being salvaged, she wrecked on Angus Island.
In the same "Great Storm of 1905," the 430-foot bulk carrier steel steamer Mataafa met disaster just outside of the Duluth harbor. Built in 1899 in Cleveland as SS Pennsylvania, she was purchased by the Minnesota Steamship Company the same year and renamed Mataafa.
On November 27, 1905, Mataafa and its 24-crew headed out of Duluth with a cargo of iron ore and towing the barge James Nasymth. When the ship encountered the Great Storm on the lake, Captain Richard F. Humble ordered Mataafa to return to Two Harbors. When darkness prevented her entry, she made her way back to Duluth. More problems arose—the barge was cut loose so Mataafa could go through the narrow Duluth Ship Canal. Then another problem; heavy storm water struck Mataafa, driving her prow down, smashing the stern against the concrete pier, grounding her in shallow water, and then breaking Mataafa in two as her stern settled in the water.
On shore, thousands of Duluthians lit a giant bonfire and helplessly watched as the Mataafa struggled in stormy seas. Next day rescue boats brought 15 survivors to shore; the other 9 crew members had died.
Surprisingly, that wasn't the end of the famous Mataafa. Six months later, Captain Thomas Reid and his Reid Wrecking & Towing Company salvaged, refloated and rebuilt the ship. She was back in service from 1906 to 1964 and dismantled in 1965 in West Germany.
Other notable ships lost in November on Lake Superior include some of Lake Superior's legendary "Ghost Fleet," ships that left port and vanished. Like the 245-foot steel-hulled freighter Bannockburn and its 20 crew members—it disappeared after leaving Fort William on November 21, 1902. Two 143-foot Navarin-class minesweepers newly-built in Fort William for the French Navy, the Inkerman and Cerisoles, went missing after November 24, 1918, with a total loss of 78 crew (including two Canadian pilots). Last but not least is the 148-foot British-built steel freighter Leafield with its 18 crew members, last seen off Angus Island on November 9, 1913.