Lee Ross is inspired by people who've persevered through challenging circumstances. As many work to navigate these uncertain times, heroes are emerging in medical facilities, grocery stores and places once looked upon as commonplace. At the end of the day, however, when times are tough, Ross often turns to a familiar source.
"In times of trouble, I turn to artists," Ross said.
Ross, along with her husband, Dan, have made their home near Lake Superior in Hovland for more than 30 years. The duo have been creating art together and working as professional artists for more than four decades. Until recently, their creative collaborations went hand-in-hand on many projects. Then Ross found a new medium to explore: glass.
Naturally, it was her base of operations that inspired this new branch of creation.
"I was always curious about what was on the inside, or down in the depths of Lake Superior below the surface," Ross said. "And now I have a way to explore that."
When it comes to the ever-continual discovery of her surroundings and the creative process using glass, Ross is not alone in the Northern Wilds. Showcasing this talented pool of regional glass artists is the Johnson Heritage Post Art Gallery in Grand Marais. Originally scheduled for May 1-24 but now rescheduled for December of 2021, the art gallery will feature the works of more than a half dozen local artists and their glasswork. In addition to Ross, the featured artists will be Mary Bebie, Lissa Grover, Jeri Person, Nancy Seaton, Veronica Weadock, Sharon Frykman and Tony Rau.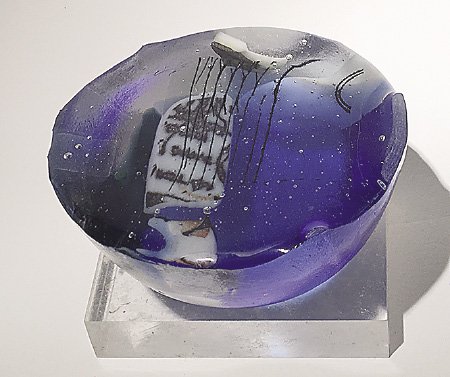 Known locally as the "Glass Group," Ross said Nancy Seaton was largely the mastermind who started the group.
"We gather on cold winter nights in the warm glass studio to share ideas and experiment with glass," Ross said.
Prefacing the question with genuine artistic humor, Ross turned the tables on the author of this story to inquire: "What do a teacher, forest service employee, fish monger, canoe outfitter, radio host, gardener, ceramic artist and a technical illustrator have in common?"
The answer is, of course, glass.
"We share ideas, techniques and stories," Ross said of the local group, "which we weave into finished glass pieces."
Ross has been an artist in one form or another for not just her entire adult life, but for the greater part of her entire time spent on this planet. The daughter of a potter, she has been sinking her hands in clay for the purposes of creation since she was a child.
"I come from a long line of biologists and artists," Ross said. "I enjoy combining them."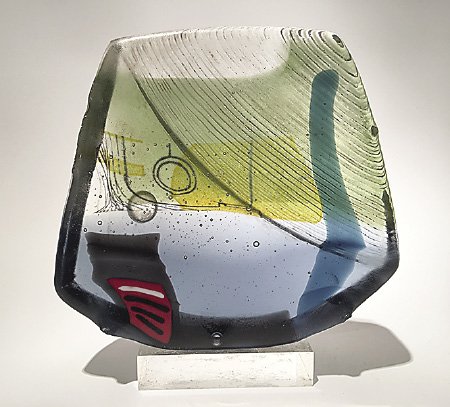 Mixing the natural world with her art is the core of the combination Ross refers to, with hikes through Judge Magney State Park, located just up the road from her home, often appearing on her daily to-do list. Indeed it was, as is the case for many who move to the region, the natural world and its beauty that brought Lee and Dan to set up shop near Lake Superior. They are frequent paddlers in the Boundary Waters Canoe Area Wilderness. As with canoeing, there is a certain efficiency and smoothness that comes when two people can work in unison to create art. While not for all couples, working together as partners in their professional and home life has been a welcomed and rewarding process for them.
"My work with Dan has been a true collaboration," Ross said. "From concepts, designs, sketches to finished sculptures and prints. I have been branching off with glass but still value Dan's input and help."
Ross, who is originally from St. Paul, met her husband while both were students at the University of River Falls in Wisconsin in the early 1970s. Most of their shared work has involved ceramic sculptures, stone carvings and prints.
As with many artists, Ross's work is constantly manifesting new forms, new ideas and new ways to share a message. The most recent glass sculptures Ross has explored are various watercrafts and other works directly inspired by looking into Lake Superior, Ross explained.
"I work every day as an artist and enjoy every minute of it," she said. "Curiosity is my driving force."