Manitoba—On August 2, the four canoers of Journey 4 Renewal (Steph Branchaud, Chelsea Froemke, Tessa Larson and Whitney Vogel) reached their end destination of York Factory in northern Manitoba, just 66 days after leaving Seagull Lake. Since their last update, after finishing Lake Winnipeg, the women enjoyed the beautiful scenery of the lakes and rivers leading to the God's River route that feeds into the Hudson Bay. They also encountered a variety of challenges including wading through reeds and beaver dams, paddling through and portaging around treacherous rapids, and bushwhacking campsites along the discontinuous permafrost marshland.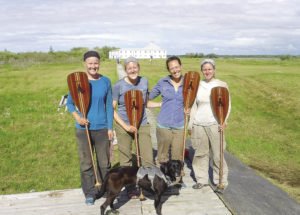 The canoe trip was not only an exciting test of the personal strength and skills of the four women, but is also raising funds for the Wilderness Canoe Base (WCB) at the end of the Gunflint Trail. Upon their return, the women were thrilled to see that the donations to the Renewal Campaign through Journey 4 Renewal reached $40,000. They are close to the $50,000, that will be generously matched.
Steph Branchaud (one of the paddlers) said, "We are humbled and excited by the impact that our adventure has had. It has been an honor to be able to give back to WCB, a place that has empowered each of us in life changing ways."
Learn more about their journey and make a donation online at www.journey4renewal.org.