Two weeks after Beargrease we packed the truck again with 16 dogs and gear for three weeks and drove to Michigan. The Midnight Run starts at 8 p.m. in downtown Marquette amidst a crowd of thousands. Matt and I each ran an eight-dog team in the 90-mile, two-leg run.
This was the first time Matt and I have run teams in the same class, essentially competing against each other. I left several teams ahead of Matt but with leaders that had never before raced in lead. Twice the leaders tried to turn down side streets. Both times I drove my brake into the pavement, screaming "Gee! Gee!" and some other choice phrases before getting them to turn back onto the trail. Several teams passed us on the 15-mile stretch of flat grade that leaves Marquette, but I didn't see Matt. About half-way through the first leg, I heard a team approach and an illustrious whistle from the musher directed at me. Matt approached, but as his team ran past, they suddenly stopped when they recognized me and the dogs next to them. I threw in my snow hook. Matt ran up to pull his leaders past my team. I jumped on his sled. He was a little surprised to see me driving his dog team. I gave him his team back and off they went.
The last five miles of trail into Chatham were memorable for the blizzard that whipped snow across the trail. Each team through had to break the trail back open. In the longer race, we later heard one musher had to use his axe to chop through a tree that fell on the trail.
We each passed several teams on the way back toward Marquette, Matt placing fifth and me, eighth.
Matt continued on from Marquette with 14 dogs and our friend Phill toward Maine. I flew out a week later to drive the team in the Can-Am 250, a race in Maine just south of the Canadian border.
Two years ago, I scratched in this race. I knew we had a stronger team this year, but even so, my nerves ran high. The Can-Am is an unsupported race, meaning when I arrived at each checkpoint, I was on my own—no help from handlers allowed.
The first leg was 63 miles. In a panic about our dogs' general disdain for the meat they had been eating all winter, Matt and I made several trips to the grocery store before the race, buying ground pork, chicken thighs, fish fillets and bacon. We wanted to make sure the dogs would snack. I knew I needed to take it easy on the first leg—save the dogs' energy for later in the race. We stopped to snack several times—the chicken thighs and bacon were a hit.
At the checkpoint, I baited water with kibble, which everyone ate, so I was able to go inside, see Matt and Phill, eat a plate of spaghetti and try to rest. Laying down did nothing for me though, so I was soon back up, drinking coffee and out with the dogs. Teams in the dog yard are all staked out in an open field with about 10 feet between each team. The last team in the race had just arrived and for whatever reason, the dogs were going wild, which made all the dogs in the field go wild. And as teams at the front began readying to go, the energy just increased until soon there were well over 100 dogs barking and howling to go. Enough of this, I thought. I bootied all 12 dogs, pulled blankets and notified officials I was ready.
When I have run this race in the past, I haven't had clean runs to Rocky Brook. I haven't figured out why, but this year was different. We passed one team and while I stopped to snack, Dennis Trembley passed us. We kept up with Dennis for most of the leg and eventually passed him again. We were second into the checkpoint just after 2 a.m. and the race seemed to be going very well.
Before leaving Rocky Brook, I walked a few dogs that seemed a little off, but couldn't find any major problems, so again I bootied all 12 and we shot out of the checkpoint just before dawn, right behind another team. The trail went down a plowed road for 100 yards and then turned abruptly to the right, where we launched full speed up and over a large plowed berm catching some air on the sled. Luckily, I stayed upright.
Unfortunately, I made a poor decision about Hush. Now, if you remember from Beargrease, this dog caused me some major problems on my run to Sawbill because of a sore shoulder—whereupon I tried to bag her in the sled—and ended up with some lewd behavior from my lead dog Temper that cost us a great deal of time. Not wanting a repeat, and knowing from this very experience that Hush would not ride easily, I kept on running. But eventually, I decided I had to try and put her in the sled. I had luckily gotten a better sled bag with a good zipper. I planned my move and, in several minutes, had her clipped into the sled. I had not misjudged her though. She did not want to ride. She whined and howled and the dogs in the team kept looking back at us and even stopping. We were really losing speed on the uphills carrying Hush. Finally, after several miles, I gave up and put her back in the team. She was happy to be running. Even with this minor hang-up, we arrived at the third checkpoint in good time.
At Sylver, I was 10 minutes behind Dennis and 25 minutes behind Andre, who was in lead. The forecast called for rain. It had been snowing earlier, but now the moisture came in a drizzle. It was hardly enough for me to worry about at the time, so I left the checkpoint with 10 dogs (Hush and Peaches stayed behind), ready to do some running in the monstrous hills on the 55-mile leg to Allagash.
On the run to Allagash, the rain came on and off. Then it began to freeze, coating my sled, my parka, my mittens—everything, in a layer of ice. Finally, it just poured. For 15 miles I felt the wet inching up my sleeves, creeping between my toes, dripping off my lashes. The dogs would stop every few minutes and shake it off their fur, but I couldn't shake it off. I had my tunes playing in my ears and found myself singing along to Celine Dion at the top of my lungs, headlight pointing into the fog, knowing the mountains extended on either side into miles of forest. Try to stay positive, I thought. This is still a race. Finally, I rolled into the checkpoint, just minutes behind Dennis and Andre. I could wring the water out of my boots and mittens. As soon as I stopped moving, I felt a chill creeping in.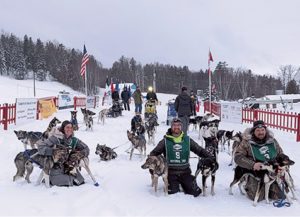 Luckily at the checkpoint, we were able to use a dryer. We were 36 hours into the race and I hadn't yet slept. Allagash checkpoint centers around a small café on the Allagash River. Mushers can order anything off the menu. Matt and Phill were able to wait inside at this checkpoint and I sat inside with them to eat after the dogs were fed and sleeping. I downed a plate of bacon, French toast and some orange juice and went to find a bunk for a nap. An hour and a half later, I woke feeling terrible. I stepped outside and started dry heaving. The sleep deprivation was hitting hard. Coffee, ginger ale, water and anti-nausea medicine helped. I dropped Bruce due to general fatigue and we left. I was in third place by six minutes. If we had a great run here, I could win.
Coming up behind me in fourth was veteran Iditarod musher Wade Marrs. We had a good run, but it wasn't perfect. After five miles or so, I spotted Andre's headlamp up ahead, but it took a while to catch him. As I closed in on Andre, Wade came up behind me and passed. It took two tries for me to get past Andre's team, and by the time I did, I was not able to catch Wade. We tried. Temper and Keith gave the race their all. As we wound downward in the wee hours of the dark to Fort Kent and the finish, snaking around sharp turns, whipping around trees, and pushing through a sudden snow squall, I marveled at their ability to make every turn without fear. Finally, as we cruised toward the finish line, I found our competitors. All three teams were within five minutes of each other and we lined up side by side in the chute. For the first time in a race of this length, I could truly say I had fun out there. It is fun when the race is a race and all is going well.
Several days after arriving home, we loaded up dogs one last time for the Dog Days of Winter on the Gunflint Trail. Matt and Sylvia entered the eight-dog race and I did a 5-mile skijor. Turns out Temper, our main leader, had never skijored and wasn't so sure about it. We had loaned dogs to several friends to skijor and they all passed me while I fell on my butt. Temper and Dee Dee eventually got the hang of it, but we still came in behind the other dogs from the kennel.
While we wait for spring to arrive and the snow to melt, we'll continue doing fun runs. With the looks of the snowpack from my window, I think we still have some great mushing ahead.