There's a cozy establishment right on First Street in downtown Duluth called the Red Herring Lounge. You can't miss it. The lounge's punchy, red exterior can be seen down the block and a large glass garage door faces the street, letting the passerby get a glimpse of the casual, hip ambiance inside.
It's about 8 p.m. on a Tuesday night, and I'm listening to singer-songwriter Aurora Baer as she loudly strums her guitar strings and belts out her folksy, deep-rooted Americana music. About 10 people are quietly bellied up to the bar.
A handful of other customers are scattered throughout the lounge, reclining on antique furniture. Their faces are illuminated by dimmed, vintage light fixtures. A fireplace near the center of the wood floor provides customers with comfort from the cold night. A few people sit at a circular corner table, engrossed in a game of Scrabble.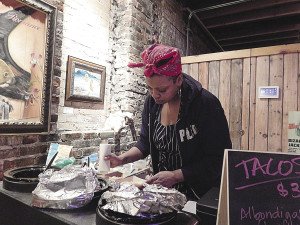 That's when Nyanyika Banda walks in.
She's hauling heavy containers of supplies to an overlooked corner of the lounge. In the small spot near the back storage rooms, there's an empty table waiting. Banda sets down her supplies and goes back for another trip. And another. And another.
Some people watch Banda with interest. Other customers have been here before during these unscheduled Taco Tuesdays and know the drill. Banda meticulously unpacks her totes, pulls out fresh ingredients, organizes her space and preps food. After about 20 minutes, the pop-up eatery Izakaya 218 is open for business. Izakaya is a Japanese term that means "food that goes with drink."
Her first order goes to a regular: a $3 chicken mole taco braised with Cold Press Black from the Bent Paddle Brewing Co. (a draft infused with Duluth Coffee Company cold press) and paired with pickled mustard seeds, radishes, micro arugula and roasted corn. Soon, a patient line forms for Banda's food.
The customers likely didn't know that food would be served tonight. The pop-ups are often unexpected and occur at random intervals.
"I like the spontaneity of it," said Jamie Ratliff, a customer who is sitting with the group playing Scrabble. "It's really one of the only places in town where you can get unique tacos and upscale tacos, foodie tacos."
On the menu for tonight are albondigas (beef meatball) tacos, the chicken mole tacos and roasted squash and candied bacon tacos. Banda's tacos contain cotija cheese (a hard Mexican cheese made from cow's milk), crema (a variation of sour cream from Mexico and Central America) and pepitas (the Spanish culinary word for pumpkin seeds).
"It's gourmet. She has fresh ingredients that are prepared and presented well, and it's simple," said Bob Monahan, proprietor of the Red Herring Lounge. "She is really just offering something that is extremely tasty without over doing it. I'm almost just drooling, thinking about it."
Monahan opened the Red Herring Lounge last summer to fill what he saw was a void in the local music scene. He said the Twin Ports needed an establishment that focuses on music first and drinks second, "in a way giving bands and giving performers a place to play that was a little more honored," said Monahan.
The lounge is missing one thing: a commercial kitchen. That's exactly what Banda was looking for when she approached Monahan a few months ago and explained her inspiration for the eatery. "I thought I would try it out and it worked really well," said Banda, who sells up to 100 tacos per pop-up.
The chef often breaks away from Taco Tuesday and hosts Ramen Wednesdays, and she's now serving a taco/ramen brunch at the Red Herring about once a month.
"The ramen and the tacos, they were concepts of mine but it has definitely been the people saying they like it, and they want it, that keeps me making those things," she said. Banda began cooking in her late teens, eventually studying at Madison College in Wisconsin to become a chef. After graduating from culinary school, Banda went on to work with a few of the industry's top professionals in New York and California.
She draws inspiration from Chef Alex Stupak, who she worked for in New York. Stupak is a famous pastry chef turned taco-extraordinaire and owner of multiple fine dining establishments including Empellón Cocina. Banda said, "I definitely got alot of knowledge from him in terms of using flavors of Mexico without having it be the traditional idea that we as Americans have of ground beef, or beans in a tortilla. There is a lot more elevated food happening there."
Banda previously sought new experiences by living a nomadic life. She has lived in Wisconsin, New York, California and ended up in the Twin Ports a few times. About a year ago, she came back to Duluth to develop roots and work on enjoying cooking as an art form again.
"Leaving such a cut-throat service industry like New York City, I personally left questioning my talents as a chef in little ways," said Banda. "This pop-up has been a way for me to have fun cooking and people have been really excited about it as well, which makes me get more excited about it. So it makes the whole schlepping and not sleeping worth it."
Banda isn't sleeping because she's busy with projects. Aside from managing Izakaya 218, Banda attends school at the University of Wisconsin-Superior, studying history and journalism. She is tailoring her degree to focus on food history. "Honestly, I can't sit still," Banda laughs, saying that she was taught at an early age that there is always time to accomplish great things. Her mother Martha put herself through grad school while raising four children as a single parent.
The chef also owns a catering company called Martha's Daughter, and she has big plans for her business.
"I am hoping to start bringing the molecular and fine dining scene up a bar in Duluth," said Banda. "I am doing recipes with liquid nitrogen, dehydration, fermentation. The things that I learned in New York I am hoping to put into fruit ion here."