Thunder Bay—Ice diving takes diving to a new level and into a completely different world. Considered a type of "penetration diving," the dive takes place under ice, typically with only one entry or exit point.
Thunder Bay veteran diver and instructor Wally Peterson, owner of Wally's Thunder Country Diving, explained, "What's up is down, what's down is up. You can use the ice as the floor. An ice diver can stand and walk, even skate, upside down on the ice ceiling."
While ice diving is not for everyone, it is gaining in popularity and as Wally's website notes, is one of the "most adventurous scuba specialties with some of the most surreal scenery that few get to experience."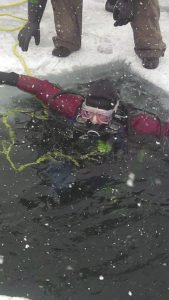 Having done many ice dives, Wally said, "Visibility under ice is way better than diving in summer. Double the visibility because there's no wave action, no algae. The biggest misconception about ice diving is that it is dark under the ice. It's not. The light comes through the ice and the dive hole. And if the ice is clear, you can see people on the ice while you are under the ice."
Before taking on an ice dive, Wally needs a minimum ice thickness of one foot. A recreational ice dive would be two divers, a suited-up safety diver on surface (to enter in an emergency), a tender for each diver (surface person at the end of a pull line) and a communication line pull link (sometimes also a two-way radio communication or wireless with full-face mask).
"We teach them the line pole signals. One big pull: 'I'm OK, give me rope.' Two big pulls: 'Take up line.' Three big pulls: 'Bring up slowly.' And three-plus big pulls: 'Get me out now' or 'Your time is up; you are coming up now.' And the diver and tender repeat each signal," he said.
Most ice divers use a dry suit vs wet suit, plus there's a cold water regulator, safety lines and harness. Armed with chain saw, ice chisel, tongs and a shovel, the dive team cuts a hole in the ice. From the hole, Wally's teams shovel snow to put spokes in lines from the dive hole (like spokes in a wheel) and arrows in the lines to show an ice diver how to get back to the hole. Popular ice dive locations include Oliver Lake, Silver Islet, Silver Harbour and Lake Superior by Lakeview Lodge.
According to Scuba Diving's online article, the twelve Best Ice Diving Destinations in the World by Brooke Morton, (scubadiving.com/best-ice-diving-locations) are Canada's Tobermory/Ontario; Baffin Island/Pond Inlet, Newfoundland's Conception Bay, St. Lawrence River; America's North Pole, Alaska and Hudson River/New York; Russia's Lake Baikal and White Sea; Switzerland's Lago del Naret; East Greenland; Japan's Hokkaido; and Antarctica (McMurdo Sound apparently voted the 'best ice dive in the world').
For those wanting to try ice diving, registration is now open for an ice diving course with Wally's Thunder Country Diving, tentatively scheduled for evenings of March 22-23 with an ice dive the following weekend (depending on weather conditions). The course covers everything a diver needs to know to start ice diving. For more info on Thunder Country Diving, visit thundercountrydiving.net.