Tofte—You've tried cross-country skiing and snowshoeing. How about something that combines the best of both sports? The Hok ski, by Altai Skis, bridges these two worlds.
Hoks are short and wide and include built-in climbing skins. "Skins" used to be actual animal skins that were strapped to the bottom of your skis to aid in climbing steep slopes. Now, they are artificial, but still help during the climb and also help to create a slow, controlled descent. Another interesting feature of the ski is the ability to use a universal binding that goes with any boot or winter footwear.
The ski company is named after the Altai Mountains in Central Asia. Hok (pronounced "hawk") is the word for ski in the language of the Tuwa people in that region.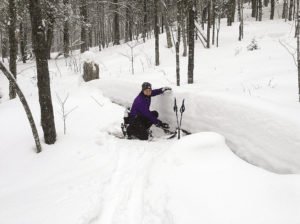 Sarah Lynch, of Sawtooth Outfitters in Tofte, said this is the second season they've rented Altai Hok skis. Lynch called them "gliding snowshoes." When asked what people say about them, she instantly replied, "They love them. They really enjoy trying something different, something new."
Lynch sees three types of outdoor enthusiasts using the Altai Hoks.
"We rent a lot of winter camping gear and the skis are pretty popular with people heading into the BWCAW. There are people who want to try something new instead of snowshoes. And some people just want to break trail behind their house," Lynch said.
Lynch spent time last winter trying out the skis.
"They're fun. Really fun. More exciting than snowshoes," she said.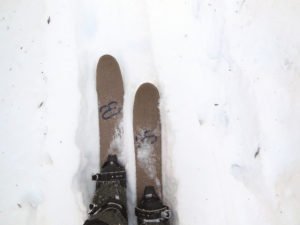 Two of the three Minnesota rental locations for Altai Hok skis are along the North Shore: Stone Harbor Wilderness Supply in Grand Marais and Sawtooth Outfitters in Tofte.
Consider exploring the Northern Wilds in a whole new way. For more on this unique piece of outdoor gear, visit altaiskis.com.