The holiday season is here, with its joys and merriment as well as stresses. Baked goods are a mainstay of holiday celebrations and the season, but they take time to prepare, require skills that we may not have, and ingredients that are often not usually in our cupboards. Whether baked goods, like lefse or a yule log, are a family tradition or you are looking for something different to try this season, like a strawberry rhubarb pie or eggnog macaron, these local bakers offer delicious holiday treats without the added stress of baking.
In the Bay and Algoma neighborhood of Thunder Bay, you can find not only great holiday shopping but also an excellent selection of baked goods and holiday items at Sweet Escape Cake Cafe and Bakery. Open since 2013, Sweet Escape offers cupcakes and cookies daily in the shop, along with an assortment of bars and other baked goods. Owner, Julie Einarson, also takes orders for Christmas trays, yule logs, and packages of cookies, tarts, and bars. A handy Christmas order list is available in the store and posted on the Sweet Escape Facebook page. Orders can be made in person or by phone. In addition to the holiday staples, like decorated shortbread cookies, she also offers specialty cupcakes and macaron cookies in holiday flavors, such as gingerbread, eggnog, and chocolate peppermint.
Einarson encourages customers to try their hand at baking at home, as well as enjoy purchased baked goods.
"Baking during the holiday season is a fun family activity and a good way to learn fractions with kids. Supplementing with baking bought from your local bakery can help save some time and money. I would suggest skipping the recipes that involve multiple steps and that one special ingredient you don't have already," said Einarson. Another tip: if there are some goodies that is a favorite of a family member or two but not by all, say mincemeat tarts, you can purchase a package of six, so you have just enough for those who truly enjoy them.
Family is part of Sweet Escape Cake Cafe and Bakery, including recipes from Einarson's family. Her whipped shortbread recipe was her grandmother's. "It was something she made year-round and I still think hers taste better than mine," she said. The shortbread recipe used for decorated cookies is a throwback to Einarson's childhood: the recipe is from a cookbook she received as a Christmas gift when she was 10 years old. She has also taken inspiration from her father, who always does the family Christmas baking, and has recipes from her family that they've been using for years. This holiday season, you are welcomed into the Sweet Escape family, whether through an order or stopping in the store. Sweet Escape (271 Bay Street, Unit 2, corner of Bay Street and Machar Avenue, Thunder Bay) is open noon to 10 p.m., closed Wednesdays and Sundays. For more information, find Sweet Escape Cake Café and Bakery on Facebook.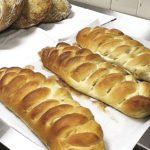 In the Two Harbors area, New Song Farm has been growing in name recognition and reputation in recent years, selling vegetables, flowers, apples, berries, preserves, and baked goods at local markets and at the farm. This year, fans can rejoice as Monica Highmark expands her business and offerings, in partnership with Valentini's Marketplace on the second floor of the Holiday Center in Downtown Duluth. Holiday items are available at the Marketplace and by order, including lefse, Christmas cookies including spritz, cardamom bread, other sweet breads, caramel and frosted sweet rolls, dinner rolls, and pies of all kinds.
As with Sweet Escapes, many of Highmark's recipes come from family members. "My cardamom bread, many of the cookies, and the lefse recipe I use came from my mom, [and] the Rye bread recipe I use is from my husband's Swedish grandmother," she said. Highmark learned how to bake bread as a child from her Finnish grandmother and her mother was a wonderful cook and baker. "My memories of growing up include getting off the school bus a block from our home and being able to smell the fresh goodies my mom had just pulled from the oven," she said. Today, Highmark and New Song Farm are bringing these traditions and delicious results into our homes.
A special benefit of baked goods from New Song Farm is that items grown on the farm are used whenever possible. Blueberries, currants, and apples are used in jams and jellies. Some baked goods use fruit, carrots, pumpkins, and squash from the farm. "I think products baked with homegrown fruits and veggies always taste better. At home I use my fresh chicken eggs as well and love the color their rich yolks add to my cream pies and doughs," said Highmark. Using quality ingredients, tried and true recipes from scratch, and lots of love and care, her holiday baked goods taste and feel homemade, in the best possible way.
You can find baked goods and other items from New Song Farm at Valentini's Marketplace (second floor of the Holiday Center, 207 W. Superior Street, Duluth), open 11 a.m. to 5 p.m. Monday through Friday. New Song Farm also sells at some of the local holiday markets, including French River Lutheran Scandinavian Festival on December 8, 9 a.m. to 2 p.m. Cookie and special orders can be made at the Marketplace or via email newsongfarm@gmail.com (more information is available on New Song Farm's Facebook page and Instagram).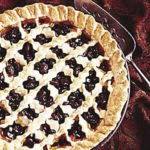 One type of baked good seems to always top off our holiday meals: pie. In Grand Marais, The Pie Place Cafe was long known for its quality pies and after closing, was much missed by the community. Blue Water Cafe recognized this loss and has stepped in to continue the Pie Place pie tradition, using both their own and Pie Place recipes, for order and in stock at the restaurant.
"We thought it important for us to keep locally made from scratch pies in Grand Marais," said Melodee and Dan Riddle, owners of the Blue Water Cafe in Grand Marais. This season, they'll be offering classic apple, strawberry rhubarb, bumble berry, raspberry rhubarb, pecan, blueberry, and cinnamon peach. For a guaranteed selection, order your pies a day before and they will be ready the next day at noon for pick-up. As Dan reminds us, "having us make your holiday pie will reduce some of the stress." Focus on another part of your holiday meal, spend some extra time with family, or enjoy a little quiet time before the busy holidays. Blue Water Cafe (20 West Wisconsin Street, Grand Marais) is open daily, except closed Thursdays, from 7 a.m. to 2 p.m. For orders or more information, call (218) 387-1597.
Wishing you season's greetings and enjoyment of food and drink this holiday season, whether prepared lovingly at home or by one of our many local bakers or restaurants, so you can enjoy other parts of the holiday season.