Fall is a great time of year to get out and explore. The bugs have (mostly) gone, and the fall breeze has blown the last of summer's stifling humidity away, leaving us with warm days and cool nights… just the way I like it. It is a little melancholy, to be honest, as the cold bite of winter is hot on our heels, but if I've learned anything in middle-age, it's that you've got to embrace what you've got while you've got it.
Fall is hands-down my favorite season for hiking. Fall hiking can be comfortably managed with smart layers, and the payoff can be breathtaking. As the colors start to change, vistas of orange and yellow dappled with green are yours for the taking. And with all that exploring, you can't forget to do a little fueling.
Some of the best meals I've had have been post-hike. Often times this is because I've under packed snacks or underestimated the distance or time a hike would take, but sometimes it's just the cumulation of a beautiful day in the outdoors. This month's restaurants can be found not too far from a trailhead for some pre- or post-hike sustenance. With the dry summer, the colors will likely change early, so we're going to start in the north and work our way south to follow the peak of the season.
Rooster's Bistro, Thunder Bay
I think science has debunked the saying that "breakfast is the most important meal of the day," but Rooster's Bistro might still hold onto that mantra. Before any hiking adventure, it's important to make sure there's fuel in the tank, and Rooster's is the place to go. Rooster's Bistro is a family run (and family focused) restaurant located in Thunder Bay's waterfront district that has been operating since 2002. Inside you'll find unique rooster collectibles and floor to ceiling windows that invite the warmth of the sun. (For a fun twist, these large windows open, creating a hybrid indoor-outdoor space for those transitional days, where outdoor seating is too chilly but we crave the fresh air.)
Rooster's Bistro specializes in home-cooked breakfast and lunch made from the freshest ingredients they can find. Their menu is extensive, and I couldn't begin to summarize it here, but I'll hit a couple of highlights. Cream cheese and berry stuffed French toast (gluten free option available). Steak and eggs. Breakfast burrito. If those seem a little heavy for your pre-hike sustenance there's always a veggie stuffed omelette, or their Cinnamon Bun Griller: a fresh cinnamon bun "grilled to perfection" and served with chocolate or caramel syrup. Rooster's Bistro also offers a wide variety of salads, wraps, sandwiches, and burgers, so there truly is something for everyone. The menu clearly delineates which items are spicy, vegetarian, and vegan, and they have gluten-free options.
In addition to their in-house offerings, Rooster's Bistro offers take out and catering for private events. Because they are not open for dinner, Rooster's Bistro is a great option for hosting private events for up to 70 people. They also offer offsite catering.
Hiking Suggestion: The Bistro is located just a stone's throw from the interconnected trail system surrounding the Current River and Boulevard Lake, or you can take a stroll through Thunder Bay Marina or Prince Arthur's Landing, where you can catch a glimpse of the Sleeping Giant.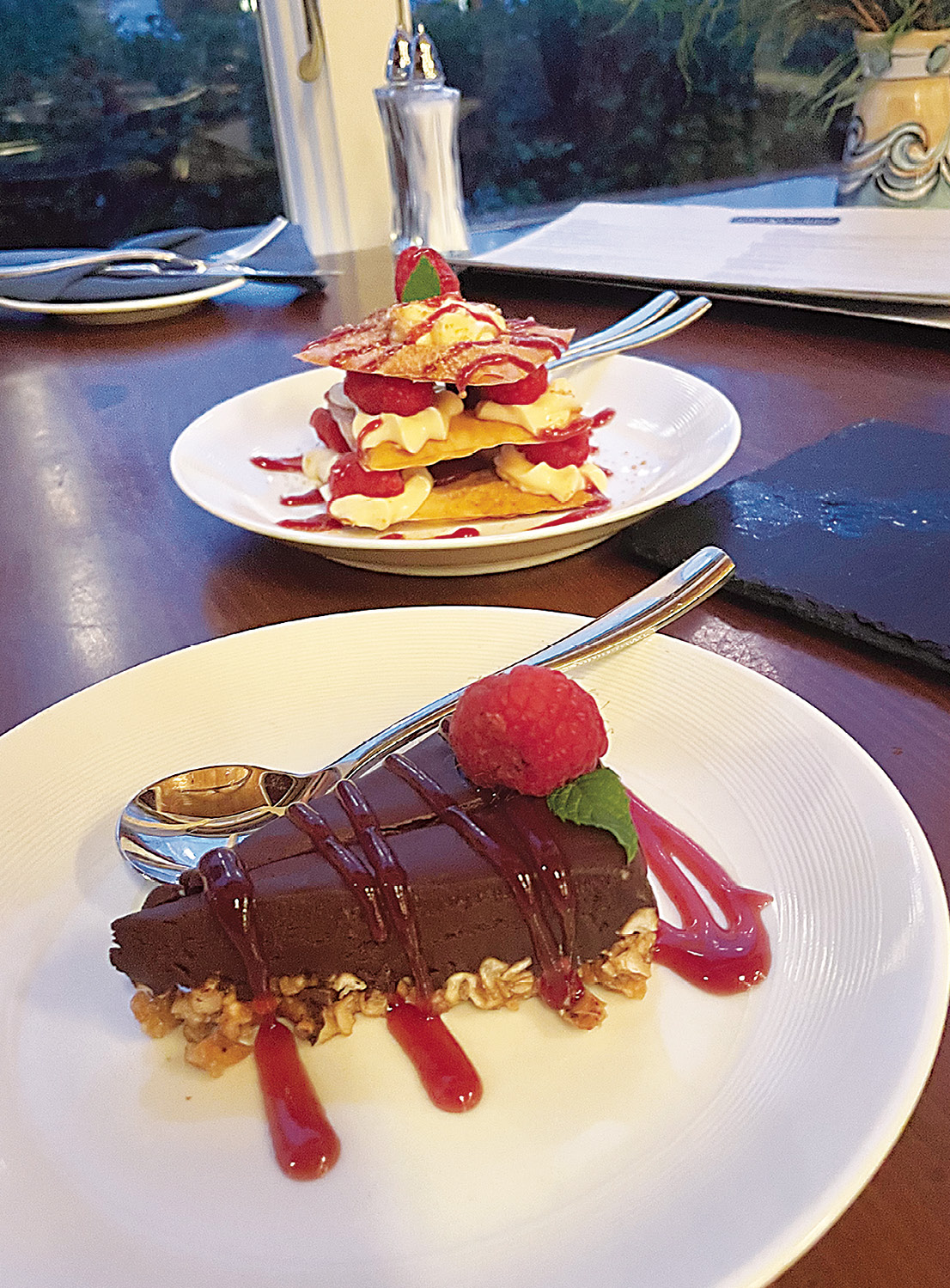 Coho Café & Bakery, Tofte
When it comes to finding fall colors, there isn't a view much more spectacular than a ride up the gondolas at Lutsen to get a real bird's eye view, and if you want a restaurant nearby, you might want to check out the Coho Café. The Coho Café is part of the Bluefin Bay Resort, and is located on the scenic Highway 61 in Tofte.
Inside you'll be greeted with vaulted pine ceilings and multiple display cases filled with muffins, scones, bagels, pie, all situated in front of a wall of freshly baked bread. For breakfast before a hike, you may want to try their Hiker's Breakfast, consisting of two eggs, meat, toast, and fruit. In addition to breakfast, Coho Café serves a variety of sandwiches, pizza, and dinner entrees. The Call of the Wild pizza with local wild rice sausage and three kinds of mushrooms may be an appropriate meal choice after a day in the wild. A solid baked mac-n-cheese is a good way to reload carbohydrates after an invigorating hike, or if you want something a little lighter, you might try the walleye tacos. Coho Café also has a full espresso bar and a wine list, so no matter what you're looking for, Coho Café has you covered.
Hiking Suggestion: The Superior Hiking Trail passes nearby, and there are a couple worthwhile loops near the Coho Café that you can knock out in an afternoon. The Oberg Mountain trailhead gives access to both the Leveaux Mountain and the Oberg Mountain loops. These hiking trails are for moderate to experienced hikers, but promise some beautiful overlooks. Beginner hikers, take the gondola up to the top of Lutsen and meander the trails at the summit.
Ledge Rock Grille, Larsmont
The Ledge Rock Grille has a picturesque view of Lake Superior and is an ideal spot for a post-hike repose. The large dining room windows and crackling fireplace create a cozy atmosphere that is both friendly and intimate.
The menu at Ledge Rock Grille is full of unique flavors and customary staples. Their crispy Brussels sprouts are made with sriracha, maple syrup, agave, and lime. The portabella and fig sandwich contains fig jam, portabella mushroom, caramelized onions, mixed greens, goat cheese, and aioli. Meanwhile, they offer delicious staples like truffle fries, walleye cakes, and a Ledge Rock salad with mixed greens, dried cranberry, smoky walnuts, and vegetables. For a special night, consider reserving the Chef's Table, where you have a front row seat to watch the chef prepare your six-course meal.
Hiking Suggestion: The Knife River Recreational Council maintains about 6 miles of trail in Knife River. The Hawk Hill Loop is a little over 3 miles, but if you want just a quick jaunt to the river, check out the Beach Spur.
As we put the long summer days behind us and embrace fall and all it has to offer, I hope you find a moment to breathe deeply the cool, fresh air, and take advantage of the beauty of fall, whether that's a vigorous hike to see a landscape that few people ever get to see, or it's a slow stroll down the road. Whatever that looks like for you, Rooster's Bistro, Coho Café, and Ledge Rock Grille will be there to fuel your adventures and prepare for the winter ahead.