Herbs and spices are at the heart of any good recipe and meal. They allow us to transform basic ingredients into everything from an exotic Thai dish to a hearty American staple. So often, we let those little containers sit in our cabinets, aging away and losing flavor. Thankfully, several businesses are striving to get fresh spices and herbs into your kitchen, to add that extra oomph to your cooking. And for those busy nights or for those more complicated flavor profiles, they are also creating spice mixes to make it even easier to achieve that delicious meal.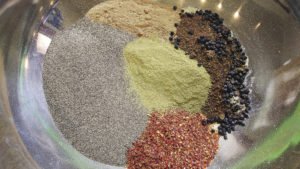 McQuade's Herbs, Spices, and More opened this past summer, right across from Castle Danger Brewery in downtown Two Harbors. Following in his family's footsteps, Frank McQuade has brought fresh spices, herbs and custom spice blends to the North Shore after learning the trade from his Grandfather, owner of Herbs Spices and More in Arena, Wisc. The shop in Two Harbors offers bulk herbs and spices, allowing customers to buy what they need. Spice jars are available for a dollar each or resealable bags are also available.
"The great part in selling like this is you can bring in any of your own containers and I can fill those up as well," said owner Frank.
Whether you have a favorite spice jar set you want to refill or start a new set, McQuade's has you covered.
In addition to the traditional herbs and spices for sale, McQuade's has many custom spice blends available. Some favorites include Potato Magic, Prime Rib Rub, garlic pepper and their own curry powder. potato magic is by far their most popular item, which can top any kind of potatoes, from mashed to baked to French fries. A local restaurant is now using them on its breakfast potatoes and French fries. Owner Frank's favorite way to use it is by tossing potatoes with olive oil and Potato Magic before roasting in the oven.
McQuade's Herbs, Spices, and More also has a coffee shop in the store, offering espresso drinks and brewed coffee. McQuade's worked with a Minnesota coffee roaster to create blends for their own Agate Bay Coffee Company. In addition to fresh-brewed coffee and drinks, bags of whole bean and ground coffee are available for sale in the shop with their own roasts: Coal Dock Grog (dark roast), Round House Roast (medium roast), Breakwater Breakfast Blend (light roast), and Caribbean Cream (light roast with caramel, vanilla and Kahlua flavors). Their blends were developed with good friend Christian Dalbec of Christian Dalbec Photography.
Stop in to freshen up your spice rack or for a cup of coffee. The shop is open seven days a week, from 7 a.m. to 5 p.m. (632 1st Avenue).
North of the border, Crazy Good Spices is bringing delicious and easy spice mixes to the masses.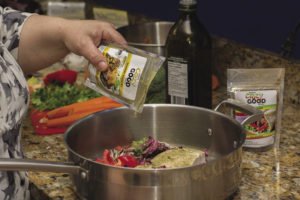 Founded by Grace Ward, a long-time caterer and cook, she first created spice blends for her family, "wanting a fast and easy way to season meals after a busy day." Now 30 years in the making, she offers about a dozen spice blends and cocktail rimmers, including the popular Grace's Favourite, taco seasoning, Citrus-Dillicious and Homestyle Rub.
Grace's Favourite is just that, owner Ward's favorite that she uses herself. A blend of her favorite spices, red bell pepper, basil, oregano, parsley, garlic, and a few secret herbs and spices, this mix is a versatile way to add flavor to your favorite dishes—from chicken to pasta to bread crumbs. It's available in regular and salt-free options.
Ward started Crazy Good Spices by planting, harvesting and dehydrating her own herbs and spices. But as the business grew, she needed a larger producer of the raw product. She found a source for her needed spices in California. All the spices and herbs are grown outside, not in a greenhouse.
"There's a difference when the spices soak up the warm Californian sunshine and rich nutrients from the earth that can't be replicated indoors," said Ward.
The newest product, Caesar Rimmer, may be a new item for American readers. In Canada, the Bloody Caesar is a popular cocktail with vodka, clam nectar, tomato juice, lime, Worcestershire sauce and celery salt. If you say it's Canada's version of a Bloody Mary, be cautious, as you will likely be corrected. While the main difference is that the American Bloody Mary uses tomato juice and the Caesar uses clamato juice (a clam-tomato mixed juice), there is also some national pride in the difference. And from what I've heard, Bloody Caesar's can be quite addicting and hard to find in the states. Using the Caesar Rimmer is the perfect way to experience this treat in Minnesota.
Mixes from Crazy Good Spices are available across Northwestern Ontario at Maltese, George's, East Coast Lobster in Thunder Bay, Kupper's Restaurant & Bakery in Dryden, The Water Buffalo in Red Lake, and many other retailers. For customers south of the border, Crazy Good Spices has an online shop: crazygoodspices.com. Northern Wilds readers get 10 percent off any order with the code "northernwilds" at checkout (shipping is available to the U.S. and Canada).
The Mystic Garden in Thunder Bay also offers a wide variety of herbs and spices. With over 450 herbs, 250 spices and 250 teas, you are likely to find anything you need and discover something new. Owner Dawna Harty prides herself on the quality of the products she carries; the ingredients are all organic or wild and harvested from all over the world. You'll find the basics, like garlic pepper, onion powder and paprika, to the more exotic like lemongrass, plantain and calendula flowers. A wide variety of spice mixes are also available. The Mystic Garden is open seven days a week (41 S. Algoma Street).
Looking for other places that sell herbs and spices? In Grand Marais, the Cook County Whole Foods Co-op sells bulk herbs, spices and teas. The Gunflint Mercantile, also in Grand Marais, offers several dip mixes and meat rub spice mixes.
Whether you are looking for your favorite spice or excited to try a new spice blend, these businesses are sure to satisfy and add flavor to your next delicious meal.
---
"Ribs are my favorite, it takes five minutes and seeing my family lick their fingers clean is so satisfying," said Grace Ward, owner of Crazy Good Spices.
Ribs:
2 racks of baby back ribs
2 tablespoons Crazy Good BBQ Rub
2 tablespoons olive oil
4 cups water
Sauce:
½ bottle chicken & rib BBQ Sauce
¼ cup maple syrup or brown sugar
1 tablespoon Crazy Good BBQ Rub
Cut the ribs to the desired size. Mix the Crazy Good BBQ Rub with olive oil in a small bowl and then rub over all the ribs.
Put the ribs in a roasting pan with water. Seal tight with parchment then foil and bake at 350 degrees F. for 2.5 hours.
Combine the BBQ sauce, maple syrup or brown sugar and Crazy Good BBQ Rub together to make the sauce mixture.
Take ribs out of the roasting pan, place on a cookie sheet lined with parchment paper and brush on sauce mixture.
Bake at 425 degrees F. for 5-10 minutes, or BBQ on high for 5 minutes.