Grand Portage—Visitors to the annual Grand Portage Rendezvous Days and Pow Wow will have the opportunity to board the tall ship Mist of Avalon, which will be anchored in Grand Portage Bay August 12-13. Pam Neil, chief of interpretation for the Grand Portage National Monument, said the ship is planned to arrive on the afternoon of Thursday, August 11, weather depending.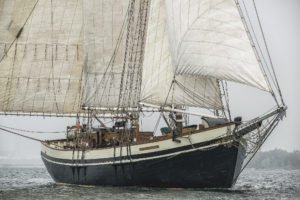 Because the water depth in Grand Portage Bay is shallow, the ship will anchor off shore. The Sea Hunter, a passenger vessel that runs between Grand Portage and Isle Royale, will serve as the shuttle for free tours to the public on Saturday. Participants will board the Sea Hunter at the Grand Portage National Monument's dock and then transfer to the Mist of Avalon via a gangway. Tours for the public will take place from 10 a.m.-7 p.m. on an hourly basis. On board, the crew of the ship will serve as tour guides.
The tours will be available on a first-come, first-served basis. Tickets are free and will be available at the national monument's Heritage Center. You must have rubber soled shoes to board the ship. It is not ADA accessible. No strollers, pets or smoking are allowed. The official tour will be the only way to board the ship. For safety purposes, no private vessels will be allowed within 50-100 yards of the ship. For those who are unable to take an on-board tour, the Western Lakes Station maritime reenactment group will be being doing interpretative programming on shore, so visitors can learn about maritime history and the fur trade.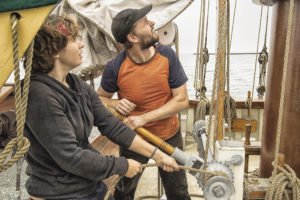 The Mist of Avalon will raise its sails midday on Sunday and depart for Duluth, where it will participate in the Tall Ships Festival. The ship's stop in Grand Portage is part of the National Park Service's centennial celebration. The visit was sponsored by the Grand Portage Band of Lake Superior Chippewa and the Grand Portage National Monument.
The ship was built in 1967 as the wooden-hulled motor vessel Liverpool Bay, which fished for cod off the Banks of Nova Scotia and Newfoundland for two decades. When the cod fishing industry crashed, it was left abandoned at a dock in Halifax. Beginning in 1992, Captain George Mainguy began converting her to a 19th century Grand Banks schooner. The ship returned to sea under sail in 1997 as the Mist of Avalon. Since then, it has appeared at maritime festivals as well as in feature films and documentaries.