If someone was looking for an excuse to not take a youngster fishing during the second weekend of June in northeastern Minnesota, geographic proximity to fishing holes would likely be the worst excuse imaginable.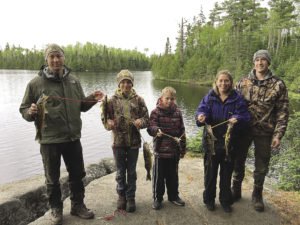 In fact, it would be a challenge to travel more than a mile or two in any given direction throughout the Northern Wilds and not be able to find a location to go fishing. From tiny streams holding native brook trout to lakes more than 100-feet-deep that are home to a plethora of game fish, the options for where to go fishing are as widespread as they are diverse.
And so it comes with a degree of enthusiasm that the Minnesota DNR has declared June 9-11 (Friday through Sunday) Take a Kid Fishing Weekend. What this means is that Minnesotans older than age 16, who take a child 15 or younger fishing, don't need a license that weekend. The idea behind the annual weekend is to encourage young people to get outdoors and enjoy what fishing has to offer. By encouraging adults to take kids fishing as well, and at no cost, there is the hope that more adults will get inspired to pick up angling, too. And according to the DNR, opportunities for inexperienced, beginner anglers abound throughout Minnesota.
"Take a Kid Fishing Weekend is one way, and a good way, to give somebody a start, and maybe to rekindle a parent or grandparent's love of the sport," said Steve Persons, the DNR area fisheries supervisor in Grand Marais. "Events like the Take a Kid Fishing Weekend are intended to expose kids to a great recreational activity, and to help them understand the value of clean water and healthy ecosystems. These events also give families an opportunity to share some outdoor time together."
James Egan is a fishing guide at Stone Harbor Wilderness Supply in Grand Marais. He said memories created while fishing at an early age often carry meaning for decades to come.
"When I'm out with beginners, my lessons often come back to 'this is how my father taught me,' or 'this is how we did it when I was a kid,'" Egan said. "Then I realize how important the time was that my father and grandfather spent with me, in the boat, on the shore or in the water. I guess I'm quietly thanking them, and giving to others what was given to me. And that's the knowledge and joy of fishing."
Egan said that for anglers of all ages, catching fish is just one part of what the experience of wetting a line has to offer. Groups ranging from children to adults all light up when Egan starts to explain what is happening within the ecosystem where a fish is caught.
"The fish are just another part of a larger experience," he said. "The trout's belly is gorged with hard-bodied snails. Here's the cabbage weed that the snails live on. There's an eagle hunting for fish. It's a wide world of wonderful small experiences."
Brittney Doll is a manager at Seagull Outfitters, located up the Gunflint Trail. She said events like Take a Kid Fishing Weekend are important to keeping family traditions of fishing and canoeing alive in Minnesota.
"We wholeheartedly support the DNR's efforts to expose our state's youth to the pristine wilderness of the state of Minnesota," she said. "As residents of the Gunflint Trail and lifelong adventurers of the Boundary Waters, there is nothing more beneficial to our cause than the continued presence of families in our waters."
Doll said the DNR's free fishing weekend with kids provides a low-cost opportunity to get children outside in the fresh air and to create important memories as a family.
"This hobby can potentially expand and continue to encompass their lives as young adults, promoting long-term business along the North Shore, as well the next generation's love for the outdoors," she said.
From the DNR's perspective, Persons acknowledged the diversity of places to go fishing in northeastern Minnesota as a perfect reason to take a young person fishing on Take a Kid Fishing Weekend.
"Minnesota offers a huge range of fishing opportunities, from sitting on the bank of a stream with a pole and a bobber, to chartering a trip on Lake Superior," he said. "Hopefully kids and their families will have a great time on the water, and will want to make such outings a regular part of their lives."
For more information on this family event, visit: dnr.state.mn.us/takeakidfishing/index.html.