Cook County—From the county line to the Canadian border, Cook County is rich in history. You don't need a passport to visit the places of the past—the logging camps, the fish houses, religious places, the old industrial sites—but having a "Passport to the Past" can help bring those places to life. The sturdy, little blue passport could be the ticket to getting a young person hooked on history.
In fact, that was the original purpose of the Passport to the Past program. Although it has become an entertaining souvenir for visitors, the Passport to the Past was designed to introduce area students to the history surrounding them.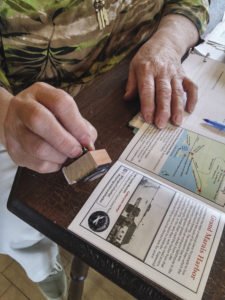 Carrie McHugh, the current director of the Cook County Historical Society Museum in downtown Grand Marais, credits her predecessor, Pat Zankman, with developing the passport program nearly 20 years ago. McHugh is delighted that it is still going strong. She estimates that 1,000 children have taken the trip to the past with the passport.
Zankman, who grew up in Cook County, wanted to share her love of the history of the area. She worked with elementary school teachers and representatives of other historical societies in the county to select 18 historic sites of interest.
For her work, Zankman received recognition from the American Association for State and Local History (AASLH) in 2011 and the Minnesota Alliance of Local History Museums in 2012. And history buffs received a wonderful tool for discovering the past.
So, how does it work? It's easy! Kids of all ages can stop by one of the 10 locations that offer the passports, stamps and stamp pads, and get a free passport. Follow the directions to other historical sites and collect stamps at each spot. The pages to be stamped have interesting photos of the past, such as the original Lutsen Resort and the Old Log School in Grand Portage, along with tidbits of historical trivia.
The Passport to the Past is available at 10 locations, but there are 18 historic sites. That's because those 10 places offer many opportunities to learn about the past. For example, the Cross River Heritage Center in Schroeder offers stamps for several historic spots in Schroeder, such as Taconite Harbor and Father Baraga's Cross.
The adventure of the Passport to the Past is self-directed. Travelers can speed from one historic site to another to collect all the stamps. Or stamps can be collected leisurely, over days, weeks or months. It's up to the passport holder.
And if you can't make it to all the sites, but you're curious about them, history is blended with modern technology with an online virtual tour. Visit passporttothepast.org for more information.