Local artist weaves the living landscape into clothing and textiles
As the summer's wild plants begin to color the northern Ontario landscape, one Thunder Bay artist is waiting with her harvest basket.
Tuija Hansen carefully snips lupins, a prolific plant that blooms along roadsides and highways throughout Canada, and transforms them into something new. Bundles of leaves and stems will be heated in large containers to make a dye-bath, a solution of pigments and water used to transfer the dye to fibers of yarn and other textiles.
"Surprisingly, the leaves and stems [of lupins] make a wonderful, bright yellow dye. It is so widespread locally in Thunder Bay that it provides a sustainable harvest year after year, and, yellow can be used to achieve many other colours in combination with different dyes and mordants," says Hansen.
A Thunder Bay-based textile artist known for fashion design and fiber arts, Hansen credits her creative progression to the matriarchs in her family.
"As a little girl, I learned to hand-stitch clothing for my stuffed animals from both of my grandmothers. They encouraged my creativity at every opportunity, and I owe a lot of my passions today to both of them. As a teen, I enjoyed sewing my own clothes and re-fashioning old clothing items into new creations. I also experimented with painting, drawing, and sculpture in my high school art classes. I enjoyed drama and dance as well—basically, any way I could get my high school credits creatively," she says.
Hansen has since embarked on a lifelong journey in the arts. Recycling or upcycling old items into new are hallmarks of her work.
"Giving new life to old clothing and linens has been a constant motivation for me whether it is through winter-wear designed for our climate or in rag-rugs to decorate our homes," says Hansen.
At age 20, she attended the Kootenay School of the Arts in Nelson, British Columbia to pursue fiber arts, and returned to Thunder Bay to open the Craft Collective, a boutique space for artisans and clothing designers to create and sell their works in the Bay Algoma business district.
During this time, she completed a degree in Visual Arts at Lakehead University with a major in Printmaking, followed by a Master of Arts degree in Social Justice Studies.
"I guess I've always had this thirst for knowledge and learning," Hansen says. "I like being part of education, whether I'm learning or instructing."
With her degree in hand, she traveled to an artist residency in Iceland in 2018, funded by the Ontario Arts Council, which reignited her passion for natural plant dyes and weaving, and continue to fuel her creative practice today.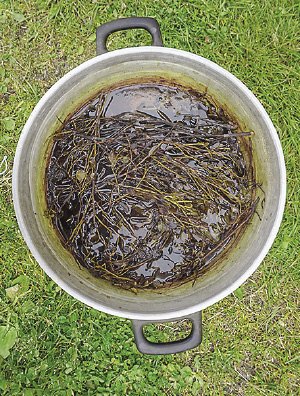 "I've enjoyed dying fabrics, but I didn't give weaving a chance until I went to Iceland," recalls Hansen. "[The country] has really rich history of wool production, sheep farming and dying of that wool. Naturally, if you don't knit—and I'm not a knitter or crotchetier—then weaving is a great way to use those wools. I lived there during the sheep round up, and I was really lucky enough to meet a really prolific Icelandic plant dyer who shared her practice with us. I just couldn't resist."
Driven to pursue weaving, Hansen traveled to Kristinestad, on the Gulf of Bothnia in western Finland, with her second-cousin and artist Caroline Kajorinne for an artist residency in 2019. Part of the journey included a trip to the town and river where their family lived and worked.
"I knew I needed to get weaving again and that I also needed to continue the work in Finland, specifically, where my grandfather's family migrated from," says Hansen.
Miraculously, the pair managed to find the house their family lived in by intuition and an old photograph.
The residency explored Hansen and Kajorinne's mutual heritage while collaborating on a weaving representative of reflections on the Kyro River, where their grandfathers were born. Hansen foraged for native plant materials in the region and dyed enough wool to weave a wall hanging, in the series called Mapping Via Plant Dyes, a project that she is presently continuing in the Thunder Bay area, where her family settled after immigrating from Finland.
Northern Ontario shares much of the same Boreal forest species as Finland. Hansen has used the bark of birch and alder, some flowers, and most often the leafy parts of plants and trees when dyeing, including willow, juniper, yarrow, tansy and other native vegetation.
"There is something circular and very satisfying to me when I create having gathered both inspiration and physical materials (respectfully foraging) from the land to imbue either literally or conceptually into my works," she says.
Hansen spoke to me from her home studio in Thunder Bay. A large, 4-foot square by 4-foot high loom sits as a centerpiece in the middle of a bright, sunlit room. Half weaving area, half sewing area, her studio is "full to capacity." But it is the place where she finds balance, calmness, and time to reflect.
"I've kind of always thought that working in textiles is my calling, and that it's also a slow practice and meditative practice. I think about the history that comes with those ways of making. I don't have any direct ancestors that I know of in Finland who were prolific weavers or dyers, but I can meditate on the act of migrating from that place to the lands known as Canada, and that also allows me to think about my family's place and the history of colonialism in Canada."
To see Hansen's work, visit: tuijahansen.com.