Summer is in full swing in the Northern Wilds. The must see and do lists are long this time of year, from outdoor adventures to dining outings. One that you shouldn't miss is a visit to one or many of our region's food trucks. The food truck phenomenon originally started on the coasts and has found its way across the United States and Canada. Despite having a shorter season in our northern climate, food trucks and trailers are growing in number and variety from Duluth all the way to Schreiber, Ontario and beyond. The rise of social media has made the mobile ones easy to find and the stationary ones a sure bet on sunny summer days. Whether you are seeking a quick bite on an adventure or hoping to enjoy a plethora of food choices at an event, keep your eyes open for one of these food trucks.
In 2012, food trucks weren't really a thing in Duluth, but they were exploding in popularity in the Twin Cities. Jonathan Reznick saw an opportunity. Coupling his history in the restaurant industry with his desire to start his own business, Reznick jumped at the idea as he realized "it was only a matter of time and it seemed possible." The Rambler was born after Reznick's memorable Miami road trip to pick up a custom-made truck.
At the heart of every food truck operation, and what brings us back, is the food. Over the past six seasons, Reznick and his team have found that right mix of fan favorites and new features. He finds inspiration from places he's visited and incubating ideas with his staff. Yet, not every great idea makes it to the truck, as he has to keep in mind whether a dish is feasible in the food truck setting. "How can we make something delicious that can also get out in a decent amount of time," said Reznick, referencing that many lunch customers only have a 30 minute break.
Yet, you wouldn't think limitations when you peruse The Rambler's menu. The teriyaki pulled pork sandwich topped with pineapple, the Cuban sandwich featuring homemade spice pickles, and the Tatchos, yes, tater tot nachos, are all customer favorites and show the breadth of what The Rambler accomplishes in its mobile food kitchen. Mahi Mahi tacos with jicama slaw and the black bean burger are non-meat options to try. For Reznick, his top choice is the bacon-wrapped slaw dog with zesty jalapeno pineapple slaw, as it "fuels the 16-hour day!"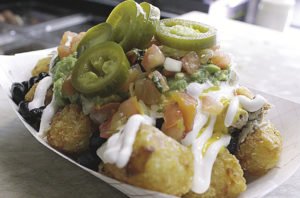 Despite the long hours, challenging weather and cramped quarters, "I love the food truck life," said Reznick. "You meet lots of people and see lots of things every day you are out." As one of The Rambler's taglines reads: Roam. Eat. Repeat. In 2016, Reznick took the big step of purchasing a building in West Duluth to have his own kitchen and home base for the truck. This expansion allowed him to also venture into the catering business, opening MidCoast Catering in 2017. Now, Reznick is able to serve customers year round between the food truck and catering events.
The Rambler operates each May through October in Duluth, with a mix of scheduled locations and special events. The Rambler will be joining other local food trucks at the July 7 Trampled by Turtles show at Bayfront Park in Duluth. Weekly locations include Bent Paddle Brewery, Cirrus, and Duluth City Hall. Information on where to find the truck is available on Facebook (facebook.com/theramblermn) and Twitter (twitter.com/theramblermn).
Further up Lake Superior, a young entrepreneur is making a name for himself after opening a family-run food truck trailer. Morgan Houston launched The Golden Rail in the fall of 2014, featuring burgers, poutine, fries and appetizers from its location on Highway 17 in Schreiber, Ontario. Known for its hand-cut fries and hand-pattied Canadian beef burgers, The Golden Rail seems to have hit the nail on the head, or would that be the railroad stake?
At first glance, The Golden Rail offers pretty standard food truck fare, but a closer look and that first bite will convince you otherwise. A perfect example is the Morganator, a burger named for its founder. This bacon and cheese burger with chipotle mayo, lettuce and tomato is a hit with customers and has that something extra you won't find just anywhere. The fresh hand-cut fries—whether as part of the fish and chips, as a side to one of the burgers, or as poutine—hit the spot. They pride themselves on good prices, generous portions, and tasty fare. All served from a trailer Houston and his family ordered from Alexandria, Ontario.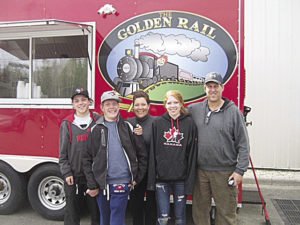 Family is at the heart of this operation. When Houston graduated in 2013, he was looking for what was next in life. He had hit a rough patch and was feeling down about the hand he was dealt, living with Cerebral Palsy. His next direction came to him and his family: opening a business. His Dad is a railroader and after visiting a chip stand in White River, he came home with the idea to open The Golden Rail. The business name pays homage to his Dad and his railroad history.
Today, Houston has six employees and is expanding his business. It continues to be a family operation, with his Mom, Dad, Brother and Sister all involved. This translates to the customer experience. "We look forward to meeting new people and love hearing their stories. We are always eager to share neat places to visit or hike. Our slogan is come as customers leave as friends," said owner Houston.
The Golden Rail (40 Kingsway, Schreiber) operates May through October, depending on weather. Hours are 11:30 a.m.-8 p.m., seven days a week. The Golden Rail also does events, including Pays Plat Pow Wow (July 21-23), Schreiber Heritage Days (July), Terrace Bay Lighthouse Festival (Aug. 17), Terrace Bay Dragfest (Aug. 4-6) and the Nipigon Fall Fishing Festival (Aug. 30-Sept. 3). For more information, find The Golden Rail on Facebook.
In Lutsen, this will be the first full season for Sliders, a food truck trailer at Lutsen Mountains, adjacent to the Alpine Slide, that opened in August 2017. Sliders takes inspiration from its location, both in its name and menu, offering gourmet small sandwiches, "sliders" and other food and snacks. A perfect location whether you are visiting for an adventurous slide down the hill or just for a quick bite as you pass through.
"Food trucks have evolved such that you can get a complete commercial kitchen with a small footprint easier in a mobile unit than you can building from scratch," said Jim Vick of Lutsen Mountains.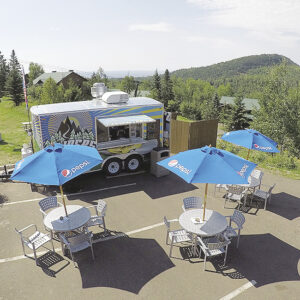 Another Jim at Lutsen Mountains, Jim Schmidt, designed the kitchen and the menu, having it custom built by a Florida company specializing in mobile kitchens. The menu includes gourmet small sandwiches and salads, hamburgers, cheeseburgers, pulled pork, veggie burgers, and Nathan's famous hot dogs. Trail snacks, sub sandwiches and soft-serve ice cream are also on the menu. According to the Lutsen Mountains website, "With a food truck vibe, Sliders is fast, fun and delicious."
Sliders is open mid-June through Labor Day when the Alpine Slide is operating and also open weekends through fall colors. If the Alpine Slide is closed due to weather, Sliders is also closed. Find more info at: facebook.com/lutsenmountains. Open 11 a.m.-4 p.m. on weekdays and 11 a.m.-5 p.m. on weekends.
There are many other food trucks and trailers in the Northern Wilds that could not fit in this month's North Shore Dish. One to be sure to keep an eye out for is the former Dixie Food Trailer in Two Harbors, which has been purchased by the Breeze Inn. They plan to continue to be at Castle Danger in Two Harbors on Thursdays, so stay tuned for more information: facebook.com/thebreezeinnmn.