A Finn-tastic Tradition
The Finnish sauna is alive and well in the Northern Wilds. No one has incorporated the steam bath into their culture quite like the Finns.
"It began as a place to wash," said David Pyykkönen, who owns Finn-tastic with his wife, Eija, in Thunder Bay. "The sauna was basically a practical thing as much as anything else. It developed over the centuries into what is now more of a relaxation and traditional thing, although people in camps and cottages still use it to wash. That's the root of it."
Pyykkönen, who is 100 percent Finn, was born in Toronto but spent many years in Finland. Everyone has a sauna there, he said. "There are more saunas than people."
And they use them at least twice a week (Wednesdays and Saturdays), as well as before major holidays like Christmas and the summer solstice.
His favorite is a savusauna or smoke sauna, an ancient type of sauna that is difficult to find in North America and is increasingly rare in Finland. There's no chimney in this sauna. A fire is built underneath a large pile of rocks in the sauna room and left to burn. After the fire is out, the sauna is aired out, the benches are cleaned and the people enter for a top sauna experience.
"It's a notch above everything else," he said. "The walls would get black with soot, but in a weird way, it's clean. It's a really neat thing. Everybody should experience it."
He said that building a traditional smoke sauna in the U.S. or Canada might be difficult because of insurance problems, but he definitely recommends using wood heat in an outdoor sauna if at all possible.
"You get a nicer heat. It's more traditional," he said.
A wood-fired sauna is not practical in urban areas or inside a home, but there is a good selection of electric heaters that work very well, he added. In all cases, steam, created by throwing water on hot rocks, is essential for the true Finnish sauna experience.
"A dry sauna is just a hot, uncomfortable room," he said. The steam raises the humidity in the room. "The more humid the air, the faster you'll sweat. Sweating is good for you."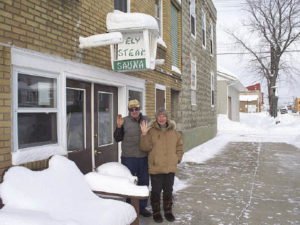 Anybody who has taken a steam sauna can testify to its cleansing effects.
"It's a good thing," said Cindy Drexler, who works at Mealey's Gift & Sauna Shop in Ely. "It's good for your skin, relaxation and you get really clean."
Years ago, public saunas used to dot Finnish communities in Thunder Bay. Duluth and Ely. Thunder Bay's remaining public sauna, Kangas Sauna, features 18 private sauna rooms to rent as well as a great restaurant. The Ely Steam Sauna has been there for three generations.
"In the old days, there were saunas all over town," said Nancy Petrzilka, who owns the Ely Steam Sauna with her husband, Richard.
Every ethnic group in Ely had their own saunas in those days. You could find a Swedish sauna, a Lithuanian sauna, a Finnish sauna. The Ely Steam Sauna is the only public sauna left in Ely, but it stays really busy, she said. It's open on Wednesdays and Saturdays from 4-8 p.m. and hosts between 20 and 30 people every night. Some are locals and come at least twice a week. Groups just coming off a trip to the Boundary Waters also love stopping in for the perfect way to end their trip.
Dress protocols in public saunas vary, depending on whether or not there are public rooms or sex-specific rooms. At the Ely Steam Sauna, for example there are separate rooms for men and women, and in the men's sauna, especially, everyone takes their "bath" in the raw.
"Some people might start out with their bathing suits, but they eventually take them off," she said, adding that they call the men's sauna "the bull pen." "It's where you can hear every lie there ever was about how many fish they caught and arguments about how to it the right way," she said.
Pyykkönen joked that men can hold business meetings in the sauna because "obviously they have nothing to hide."
To sum it all up, he said, "We all go in the sauna and make the world a better place."
By Joan Farnum
This story was originally published in the Dec.-Jan. 2012 issue of Northern Wilds Magazine.