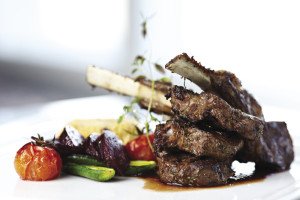 Looking for a place that offers more than just burgers and fries? Many restaurants along the North Shore offer sophisticated and affordable dining, great for all occasions.
Splashing Rock Restaurant, part of Grand Superior Lodge in Two Harbors, offers nice dining with a cozy log cabin feel. As the name implies, the restaurant is located on the rocky shores of Lake Superior, adding an incredible view and an element
of class.
Splashing Rock offers numerous unique meal options with many wild game options on the menu. Guests can order Grilled Bison Bangers, chipotle and cilantro buffalo sausages that are grilled and drizzled with a brown-mustard butter. Or there's the pan-seared breast of Muscovy duck, finished with a blackberry brandy reduction and set on brown sugar and roasted sweet potatoes. Other mouthwatering entrees include the apple brie chicken, vegetable and provolone strudel, blackened crab-stuffed rainbow trout and medallions of pork tenderloin.
On Oct. 24, Splashing Rock will be holding the Wild Game & Brewer's Feast at 6 p.m. It consists of a buffet-style dinner open to the public and guests of the lodge, and includes selected brews from South Shore Brewery. There will also be a guest's only reception on Friday that includes chef-prepared appetizers, Castle Danger Brewery beer, and scotch and whiskey sampling by Phillips Distributing.
This year's feast includes buffalo ravioli, venison churrasco, smoked pheasant pot pie, wild boar smoked ribs, chef carved bison prime rib, pan seared breast of duck, walleye roulade, oaxacan rabbit, smoked pheasant quesadillas, venison bacon cheese burger bites and duck liver rumaki. Each entrée also includes an assortment of sides and dessert pies made from scratch.
If you need a reason to experience unique dining, the Wild Game Feast is a great excuse. For reservations, call 800-627-9565 or visit www.grandsuperior.com for more info.
If you're in Thunder Bay, try the Silver Birch restaurant, located downtown in the Waterfront District. The décor aptly fits the name, with a black and white theme, a birch tree wall and northern cuisine.
The Silver Birch also offers wild game options, as well as fresh Lake Superior fish. They use local meat, cheeses and produce, helping to support the local economy. Dishes such as Northern Pickerel Cakes, (also known as walleye to most Americans), and Birch Syrup Pickerel Wraps are regional favorites.
Jana O'Flaherty, a Thunder Bay local, is a fan of the restaurant.
"My husband and I try to splurge and eat somewhere new for our anniversary," said O'Flaherty. "We left the restaurant absolutely stuffed. The steak my husband had was one of the best he had ever tasted."
Darlene Green, owner and chef of the Silver Birch, decided to start her own restaurant after operating Sweet Dreams Bakery and Catering for over 25 years. Visit www.thesilverbirchrestaurant.com for more info.
While they don't consider themselves "fine dining," Moguls Grille and Tap Room, located at Caribou Highlands in Lutsen, offers upscale food with casual dining. Their menu includes a smoked salmon salad, pan roasted Canadian walleye cakes, wild game meatloaf and smoked prime rib.
"Our customers choose us because our menu variety allows guests to enjoy a casual burger and a beer, hand crafted entrees, specialty wines and anything in between," said chef Doug Romey. "We love to be known as a place that many locals go to on a date night, looking for fine dining menu options."
The Moguls dining room is spaciously seated with a cozy ski décor and a rock fireplace warming the back wall. There is also outdoor seating near a fire pit, great for an evening cocktail and dessert. Chocolate S'mores cake from the dessert menu
perhaps?
For more info on Caribou Highlands, visit www.caribouhighlands.com/moguls-grille.
Try something new and add a touch of class to your evening. No special occasion needed, just nice attire.