Last year's racing season ended with the crushing disappointment of a scratch from my big race, the Can-Am 250. For two weeks in early March, I stewed on the decisions I could have made differently, the possibility of more triumphant outcomes, the heartbreak of defeat and the knowledge that we had spent way more dollars on racing than we won over the course of the season. And then our world crumbled.
This segue into the pandemic hurtled me from my self-pity to something we all know too well now. Quarantine, nasal swab, social distancing, 6-feet, covid, symptoms, stay-at-home, self-isolation—all became part of our new lexicon in a matter of days it seemed. In our very small piece of the world, from the ridge north of Pine Mountain to the shore of Mush Lake, the spring weather held on tight. We ran dog teams into late April, running sleds across mud flats and through slush puddles while absorbing the sun on our cheeks in our then covid-free corner of the world. And while loneliness crept through most of us as we cancelled vacations and family gatherings and dance classes and school, and we stopped eating out and were afraid to even talk to our neighbors at the store, I found solace in our dogs.
And now, the natural world is marching on toward winter. The fall colors have been extraordinary, and the brilliant patches of gold are coming apart as leaf by leaf the color falls to the ground. The mornings have been cold, and we are up before the sun, our breath visible in the light of our headlamps as we hook up dogs. We are focused. I attribute this focus to a world thrown into the chaos of a pandemic and election all wrapped up in one, where we can hardly stand to listen to the news and yet it just keeps coming at us. But in the early morning, it is only our headlamps and dogs screaming to run.
There are two teams. Nancy and Beezus, now age 9, are still our best leaders and they are still fast enough to be on the race team. Nancy trains with each of the three new leader prospects, Bruce, Pinto and Temper. Beezus runs with a new dog Dee-dee. One morning we awoke to train by 4 a.m., hooking up and running all the dogs in two teams before I would start work at 6 a.m.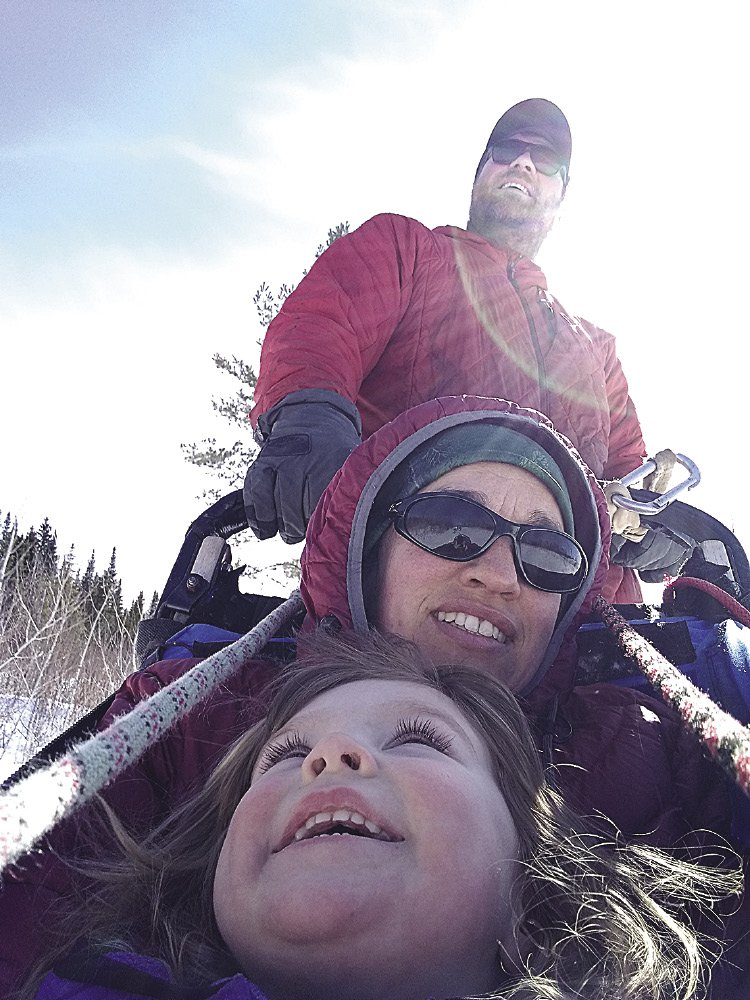 Last year's season was muddled with bad luck. I found myself frequently in turmoil about keeping sled dogs at all. But sometime between my big race scratch and the hit of a pandemic, I realized that I have no interest in being idle. Without dogs, I would have no focus. And so here we are, running dogs at four in the morning and running dogs while watching the full moon rise. Harnesses on and harnesses off. Buckets of kibble and meat. Days that start and end with a collective dog yard howl.
My daughter Sylvia is old enough now to wake in the morning and watch patiently from the couch for us to come back from the dog yard or cheer as the team returns from a run. But best of all for her, she has four puppies to wrangle. Born September 1, they are still nursing, but we bring them to the grass or sometimes inside where Sylvia covers them in a blanket and gives them each a toy. The cookie litter (Oreo, Lorna, Ginger and Chip) keeps the enthusiasm going for our future in racing.
Word from the race organizations has been mixed. One race that takes place around Lake Minnetonka, the Klondike Classic, has already been cancelled. The Gunflint Mail Run will be more of a fun run than a "purse" race. Races that often draw a mixed group of mushers from Canada and America are looking at whether they can justify running if they have only Americans or only Canadians respectively. But most races are planning to go with a covid risk plan in place—this means little to no spectators allowed. The Beargrease will most likely not allow mushers or handlers to go in buildings. But hey, in a year when most everything has been cancelled, we will forego the luxury of a warm place to rest if the race will happen. This will be a different sort of year. Our sights are set on the races, but we find joy in the training. In these strange and crazy times, my focus is on the dogs.