Three Cook County residents share their unique stories behind their homes.
Ashley Bredemus: Connecting to Family Roots
One house with ties to local history is the home of Ashley Bredemus. Bredemus is the co-owner of Birchwood Camp for Boys, and her 200-square-foot cabin, The Pepper Shack, sits past the end of the Gunflint Trail on the Seagull River. She and her father own the property which is accessible by boat in the summer and snowmobile in the winter, making it a truly remote abode.
"We get to town once a week or every other week," Bredemus said. "The trickiest time is during the freeze up and thaw, when you can't really boat or snowmobile. Then we have to plan ahead and stock up."
Bredemus, originally from Grand Rapids, hadn't planned on settling at the end of the Gunflint Trail. She was working as an engineer in Florida, and in the span of a week decided to move back to northern Minnesota to her family's land. Her plan was to stay just one winter before finding an engineering job in Duluth, but as winter turned into spring she wasn't ready to make the move back into city life. As it happened, her uncle was looking for a buyer for Camp Birchwood, the camp on which her cabin is located. The timing was right and so she and her father, Dan Bredemus, decided to purchase the camp, meaning the camp was kept in family hands and Bredemus was here to stay. Now, in addition to running Camp Birchwood, Bredemus shares her photography and blogs about living past the end of the Trail at her website "An Outdoor Experience."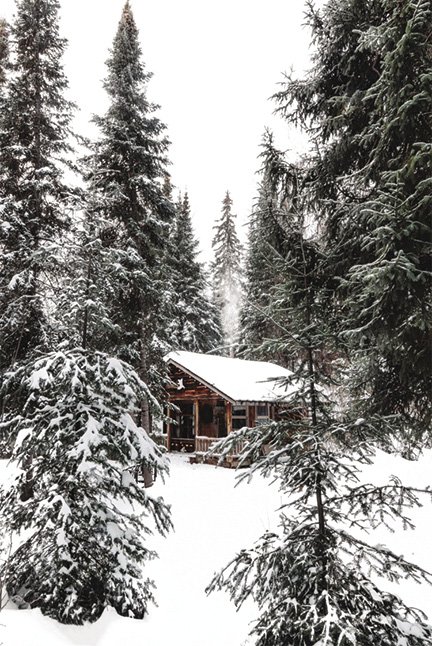 The Pepper Shack has electricity and Internet but no kitchen or running water.
"At first I was skeptical as to how I would adjust, but it actually suits me really well," Bredumus said, when asked how she took to living so remotely. "I don't see it as harder, just different. It's so easy to complicate your life and I like being forced into a simpler life."
The Pepper Shack itself is full of Bredemus' family history. The cabin was built to be the director's shack for Camp Birchwood; her parents and grandmother built it in the early 1980s. (The name is a nod to Sergeant Pepper, as her father frequently listened to The Beatles while building.) When her dad was looking for flooring, he found maple flooring at a rummage sale at The Way of the Wilderness Outfitters. Though he didn't know it at the time of purchase, it turns out that the floorboards had been taken from a cabin built in the 1940s on Seagull Lake by Bredemus' Grandpa Jim. The connections to both her family and her surroundings have helped Bredemus find home at Camp Birchwood.
"My favorite thing about living here is the perspective," said Bredemus. "I live so closely with the seasons, and the fast-paced modern world just melts away. Living so in-tuned to my surroundings puts all the distractions into perspective. I feel so lucky to have found this place."
Amy Neilsen:
Restoring a Piece of History
Hovland resident Amy Neilsen found home in an unexpected place. She was living on Chicago Bay, and had no intention of moving. On her walks, however, she would often pass the abandoned homestead of Anton and Jenny Arnquist. A once-beautiful home that had been severely bruised by both the elements and vandals, the home would soon be restored to its former glory under Neilsen's care.
The Arnquist house was built in 1928, with supplies arriving at the Hovland dock. Anton Arnquist wanted to have a house completed for his wife, Jenny, and enlisted anyone he could to help build. The foundation was poured that summer and the balloon frame construction was completed. The homestead would come to be known as the dairy, as the Arnquists raised cattle and local residents would pick up their milk from them.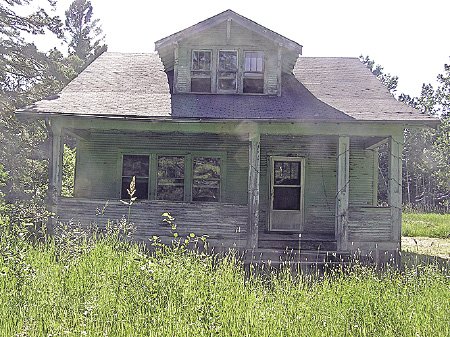 When the original owners passed away in the late 1960s, the property was purchased by a man from Texas who used the house as a rental property. It was rented to several families from 1972 to 1998, after which the owner died and the property went into probate. At this point, the property fell into severe disrepair. A hole formed in the roof and the basement flooded with eight feet of water. The house had also been broken into several times.
"I've always loved this place," said Neilsen. "I loved the house, the history, the beautiful apple trees—I wanted to cry when I saw what had come of it."
Then, an opportunity arose: the opportunity for Neilsen to buy the property at a good price. Although she hadn't been looking to move, she knew she wanted to take on the project.
"It's usually easier to just tear down a building like this, but I knew that this house deserved better," she said.
The purchase of the property was the start of two years of intensive work restoring the house. It was truly a labor of love and a test of determination. Restoration meant clearing the mud and water damage caused by the flooding, removing dead skunks, repairing the roof, and countless other tasks necessary to make the house a home once more. Slowly, the hard work began to transform the house, and today it is a liveable and beautiful home.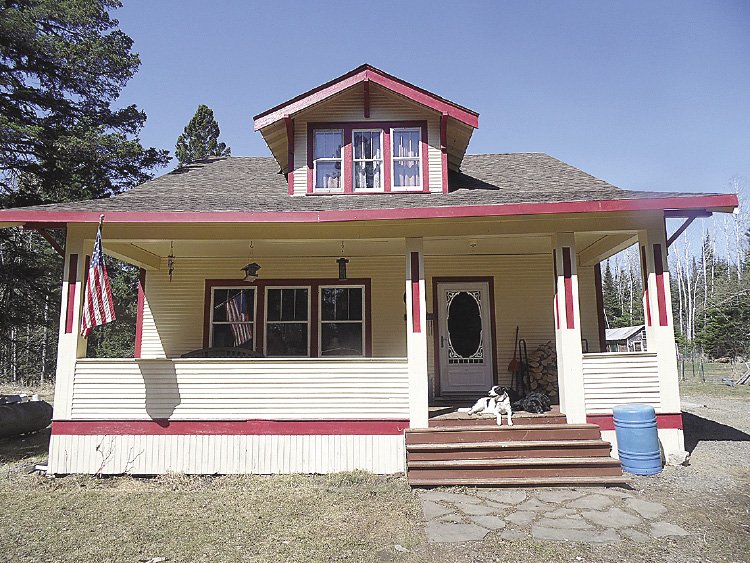 Neilsen said what she loves most about the house is the craftsman style and amazing piece of property. With chickens in the chicken coop once more, Anton and Jenny's farm is getting a second chance.
Beth Ferry and Dave Mills: Building a Sustainable Homestead
Like Bredemus, Beth Ferry and Dave Mills were also seeking a closer connection to the outdoors when they and their two children moved to an off-grid homestead west of Grand Marais.
Living sustainably has long been something that Ferry has valued. She studied sustainability in college, and upon graduation moved into an off-grid cabin. Though she and Mills spent several years living within Grand Marais, the hope was to return to sustainable living and to find an off-grid property of their own. Ferry said they weren't actively searching while living in their house near town, but had an idea of what they wanted in their future homestead, including maple trees, plenty of land to garden, and a sense of community among the neighbors. Then one morning, they received a call from an acquaintance who said they were looking to sell their property west of Grand Marais. By the afternoon Ferry and Mills were visiting the property and knew it was the home for them.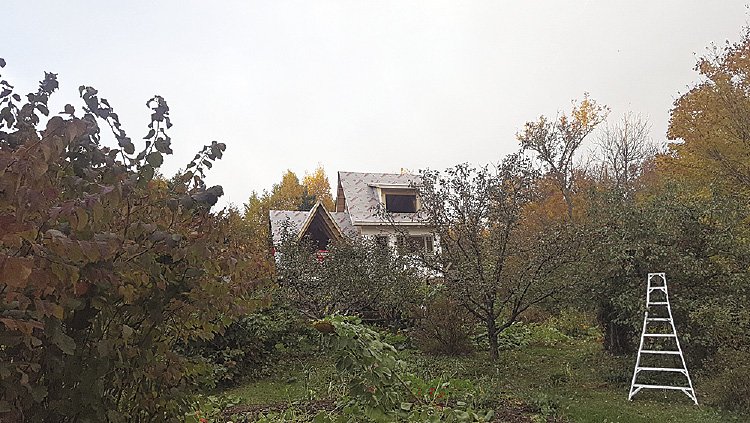 "It felt perfect to find a place where we could practice traditional skills and low-impact living," Ferry said. "It's a hike-in property and has a root cellar, hand-pump water, fruit trees and ponds. It's so labor-intensive to get all of that started on your own, so we were really hoping to find a property where those things were already in place."
Ferry and Mills purchased the property and along with their two children made the move to their new home. They spent a year getting to know the new property, but knew that ultimately, they needed more space than their 400-square-foot cabin. In March 2019 they removed the roof and started the process of adding two new floors to the cabin, and by November 2019 were moved into most of the new space.
While moving off-grid has come with many adjustments (like heating with only wood and carrying supplies in and out), Ferry said that it's good to balance the reality of the work that comes with living off grid with the reward of being connected to their surroundings and having a low impact on the environment.
"When you spend so much time outdoors you realize that there's so much to see," she said. "We love seeing the animal tracks all winter, finding feathers, and hearing the owls. We've seen fox, pine marten, and even a wolf: it's all really neat to observe."