Author Gord Ellis with a large northern pike. Good to eat, just lose the Y bones.

| GORD ELLIS
---
Eating fish is something I've enjoyed throughout my life. It is both the perfect counterpoint to wild game and a great source of healthy protein that is full of good things. A meal of fresh fish is just one of the rewards an angler gets to enjoy after a day on the water.
However, picking my favourite fish to eat is not a simple task. There are many that are excellent on the table, for all sorts of different reasons. So here, rated from 1-to-6, are my favourite fish to eat. So let's work down the list.
6. Brook trout
Specs are easily the most beautiful fish in the swim, and they are not too bad in a frying pan either. One of my fondest childhood memories is coming home from McVicar Creek, with two or three fresh caught 10-inch specs in my creel. I would gut them, remove the head and then roll the fish in flour. Then, I'd put a big chunk of butter in a frying pan, heat it up and drop those specs in. The sound and smell of that trout frying is still vivid today, 40 years later. Once the meat was cooked white, I'd put them on the plate, split the back and pull out the rib cage. Salt, pepper and lemon would be the finishing touch. The remaining fish was eaten, crunchy skin, fins and all. Delicious.
5. Pike
Yes, Pike have Y bones. But five minutes on YouTube will answer any questions about how to remove them. It's easy. So the only other question is whether pike meat tastes good? Pike is both delicious and—some would say—better than walleye. I'm not convinced of that, but having eaten much pike in my life, I'm quite satisfied to have them on this list. The colder the water the pike comes from, the better the meat quality seems to be. I've caught pike in the Nipigon system that had meat the colour of salmon. Try using baked pike fillets as the base for a "pizza" with cheese, pepperoni and pineapple. Truly delicious.
4. Splake
A hatchery hybrid of lake trout and brook trout, the splake is better tasting than both of its parents. Perhaps it is hybrid vigour, or maybe it is some genetic anomaly, but splake are truly a unique delight. Smoked, fried, baked or grilled, it is tough to beat them. They are stocked into put-and-take lakes to be caught, so it is a 100 percent guilt-free harvest. Fill that limit and eat like a king.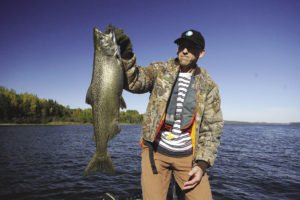 3. Salmon
Whether it be a chinook or coho, the Pacific salmon of Lake Superior are fantastic to eat. A grilled salmon slab, drizzled with a little lemon pepper and butter, is a meal to die for. The meat of a salmon is firm, red and a unique flavour compared to all other fish. Smoked Pacific salmon is delicious, and canned salmon makes a fabulous sandwich. If you are the kind of person who shares what you catch, a chunk of salmon will make you a very welcome guest indeed.
2. Walleye
It goes without saying that walleye are fantastic to eat. The meat is white, firm and flaky. It has no hint of fishiness and is almost impossible to wreck when cooked, no matter how hard someone tries. My only quibble with walleye is that as they get larger, the meat seems to be a little coarser and the flavour not quite as pleasant. So these days, my "eater" walleye top out at about 18 inches. Yet the fillets of a walleye from 15-17 inches, rolled in crumbs and deep fried to a golden brown, is truly about as good as it gets.
1. Perch
Although small in size and lacking some of the sporting attributes of other sporting gamefish on this list, perch are my favourite fish to eat. The meat is light, sweet and truly delicious. They are fantastic deep fried, but broiled perch fillets with some parmesan and butter drizzled on them is about as good as fish gets. Sure, they are labour intensive to clean and you need quite a few to feed a family, but that is the cost of doing business. There is a reason why so many people spend so much time chasing perch each winter. They are that good to eat.
So that is my half dozen favourite fish to eat. My apologies to lake trout, rainbow trout, burbot, smallmouth bass and crappie, all of which likely deserve a place on the list. Variety truly is the spice of life. Enjoy the summer and don't forget to have a fish-based shore lunch at least once before the leaves turn.