When I was growing up on the North Shore, eating out at a restaurant was a rarity, other than maybe the smelt fry at the local VFW. Today, dining outside the home has become more the norm in our country and region. Whether a quick bite on the run or a leisurely meal together, restaurants have recognized that families are part of their clientele. Some have gone above and beyond, creating experiences that are enjoyed by the kids and parents. While as a parent, I do enjoy a child-free meal out now and then, I also greatly appreciate being welcomed with my toddler in tow, so she can also try the delicious fare our area has to offer, as well as the convenience of a dinner we didn't have to cook or clean up after. #modernparenting
Traveling along the North Shore on Highway 61, some may bypass the community of Silver Bay as it isn't visible from the highway. Yet, only a mile from the Highway 61 stoplight you will find downtown Silver Bay and the Northwoods Family Grille, a family-friendly restaurant and not just because "family" is in its name. Family and kid-friendly seems to be woven into the way they do business. This spot in the shopping center has long been a restaurant, but in 2014 two couples purchased the restaurant and remade it into the Northwoods Family Grille with interior renovations and a new menu.
Today, Northwoods Family Grille is serving up all-day breakfast, ribs, burgers, and a large kids' menu with 13 options. The kids' menu is impressive not just in number of items but also in variety, which includes fish, small chef salad, mac and cheese, sliders, and even biscuits and gravy. I think even more selective eaters will find something to enjoy from that wide offering. And many parents will be pleasantly surprised to see some vegetables and fruit on the kids' menu. Win-Win! Another option is sharing off the regular menu.
"Our ribs (from the regular menu) are delicious and sought after—and popular for families and children to split," said one of the co-owners, Jessica Moen Baker. Their burgers have also placed at the Grill Wars in Duluth and they'll be competing again this year on August 16; 5-8 p.m. in Bayfront Park.
The family friendliness doesn't stop there. Between the large booths that seat six—which I successfully tested with two couples, two toddlers, and a baby—clean restrooms with a baby changing station, and ample high chairs and boosters, it made dining as a family a breeze. The staff are very welcoming and made our recent visit as a family very enjoyable. A seasonal coloring sheet/kids' menu for coloring was also a hit with our crew. If your family has dietary restrictions, the restaurant is peanut-free and also has gluten-free options available on request. An event room is available for birthday parties and extra-large groups.
Silver Bay has some nice family-friendly activities, like doing some rock throwing at Black Beach, taking a family cruise on the Wenonah from the Silver Bay Marina, visiting Tettegouche State Park and Palisade Head, or using one of the many trails that run through Silver Bay on foot, ATV, or snowmobile.
"We would love for North Shore travelers to hop off the beaten path, come in and say hello, and have a bite. We are confident they will make it a regular stop and we are open year round," said Moen Baker.
The Northwoods Family Grille (6 Shopping Center Rd, Silver Bay) is open every day during the summer season, from 7 a.m. to 8 p.m.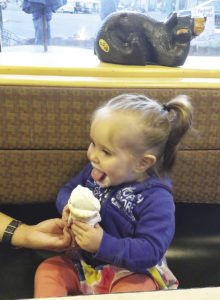 Every year, Northern Wilds asks you, our readers, to tell us who is the best of the best in dining in the Northern Wilds. One of the Reader's Choice Restaurant Awards recognizes the kid-friendliness of a restaurant menu. Upon asking the 2018 Kid-Friendly Menu winner why they thought they had won, their simple response said it all: "What kid doesn't love DQ?" Touché, Grand Marais Dairy Queen, touché.
Dairy Queen, or DQ as it is often known, is an institution in our part of the United States. You may have memories of childhood bike rides to get a cone or sports team visits after a victory or loss. And while serving their World Famous DQ Soft Serve and even more famous DQ Blizzard Treats gives them a leg up on the competition, the actual kids' menu also provides some well-loved meal options: from a more of a treat kids' meal including a cone and a hot dog or hamburger, to a Kids Live Well meal which includes a chicken wrap, banana and bottled water. Their Pick 1 from each group style menu allows families to find the right match for their kiddo and family. The DQ cone is a well-known favorite, but as reminded by owner, Seth McDonald, "Our DQ Blizzards are the favorite of kids of all ages."
There may be no better time to stop at Dairy Queen than late summer, but to many of us, the summer season was the only time we could get DQ. In recent years, the Grand Marais Dairy Queen has switched to staying open year round, so you can get your DQ fix anytime of year. Or, if you are looking for that quick meal on a busy evening or on the road with your family. The Grand Marais Dairy Queen (120 Highway 61 N) is open in the summer every day from 10 a.m. to 10 p.m. Or stop by the Two Harbors Dairy Queen (530 7th Ave.).
Families are often on the go, but that doesn't mean that every meal has to be fast or on the run. Just outside of Ashland, WI, FreeHands Farm Restaurant is creating a Farm to Table dining experience that is unique, fun, relaxing, and totally family-friendly.
Farm to Table may not immediately seem like a kid-friendly kind of restaurant, but it is precisely that, with outdoor seating, space for kids to play, and a kids' menu with everything made from scratch. The Farm to Table concept means that the menu is driven by what is available fresh from local farmers and fisheries. For the youngsters, this can be options like spaghetti, mac and cheese, hamburgers, tacos, and veggies and hummus with naan. The adults can enjoy meals like grilled hand cut filet mignon, caprese salad, and pan seared whitefish. As a Farm to Table Restaurant, the menu changes daily (note: the listed items may not be available at your visit, but menu info is available on FreeHands' Facebook page).
Food is a piece of the kid-friendly pie, so to speak, at FreeHands Farm Restaurant, but it's the space that makes it extremely family-friendly. The seating is all outdoors, with a large yard within view that allows kids to run, play soccer, tetherball, Frisbee, and play on the swing set and jungle gym. For the creative or quieter kid, "we also have a chalkboard, crayons, coloring books and puzzles," said owner, Michelle Rudeen.
FreeHands Farm Restaurant (60445 Summit Rd West, Ashland) is open seasonally, May 26 through October 1, Thursday and Friday for dinner 5 p.m. to 9 p.m., Saturday for lunch and dinner noon to 9 p.m., and Sunday for brunch 10 a.m. to 2:30 p.m. (closed Monday through Wednesday). Reservations are highly recommended and available by calling (715) 563-0323.
As we enjoy the remainder of the summer, skip having to find a babysitter and bring the kids along for a meal out, whether for a quick bite or for a special meal. Or bring out a family you know! Pick from one of these or another local favorite as restaurants are welcoming families and children and making it an enjoyable experience for all. Children might bring a little more mess and unpredictability to dining, but they will someday be the chefs, diners and farmers of the future. Let's help them now start learning the joys of food and dining.