ELY–Educators and explorers Dave and Amy Freeman will kick off A Year in the Wilderness in September. The Freemans will spend a full year in the Boundary Waters to advocate against mining development in northeastern Minnesota. Last year, for the pair's Paddle to DC journey, they paddled and sailed 101 days and 2,000 miles from Ely, Minnesota, to Washington, DC, to help protect the Boundary Waters.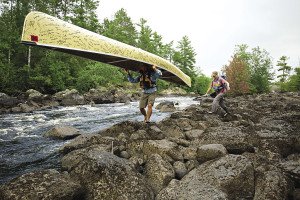 This expedition will continue their efforts to stop proposed copper mining projects and support the Campaign to Save the Boundary Waters. On September 23, the Freemans will launch their canoe in the Kawishiwi River and paddle into the Boundary Waters, becoming immersed in the wilderness for a full year. They will camp at approximately 120 different sites during the Year in the Wilderness and travel more than 3,000 miles by canoe, foot, ski, snowshoe and dog team.
Dave and Amy Freeman have traveled more than 30,000 miles by kayak, canoe and dogsled through some of the world's wildest places, from the Amazon to the Arctic. They are 2014 National Geographic Adventurers of the Year. The Freemans also run the Wilderness Classroom Organization, an educational nonprofit geared towards inspiring kids to get outside and explore their world. Wilderness Classroom's current reach is 100,000 elementary and middle school students, and 3,200 teachers around the world.