"After years of quietly holding their breath, Anishnabeg have exhaled an expansive creative force which has raged, whistled and glided into the bodies of 10 contemporary artists," says Jean Marshall, guest curator of the Thunder Bay Art Gallery (AG) exhibition, Their Breath in Beads. As with so much of the artwork in this display, the reality of a people under occupation is never far from the surface of her statement.
Indigenous people of North America have experienced an onslaught of colonization and have responded to that in various ways. One of them is creativity, in the form of taking the new (to them) materials of the colonizers and making beauty with them. European seed beads gave Indigenous artisans a new medium to work with, and they wasted no time in creating intricate, beautiful designs. In the western Great Lakes area, that often meant colourful floral patterns, while farther west, abstract shapes were more common.
Now, in Their Breath in Beads, and its accompanying display, Beads, They're Sewn so Tight, beadwork has exploded in exhibitions where traditional forms are honoured on the one hand, alongside newer, edgier designs on the other. In Their Breath in Beads, featuring 10 regional artists, Mary Magiskan's "Anishinaabe Maskiki Mashkimod" (2019) reflects a more traditional take. Originally from Aroland, Ontario, she learned beading from her grandmother, a fact that she honours with her Ojibwe Medicine Bag. Caitlyn Bird, originally from Thunder Bay, is one of several of the artists who personally tans the moose hides for her work using traditional methods—that is, brains and wood smoke. Her work "My Grandmother was Born in a Blueberry Patch" (2019) includes delightfully-smelling tanned hide as well as copper, antique cut beads and vintage calico cotton.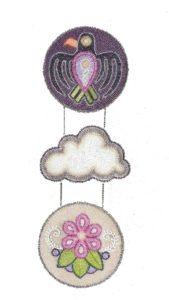 Beads, They're Sewn so Tight is manifestly political as well as artistic. Here, for example, Bev Koski takes diminutive plastic figures of stereotypical (think 'Pocahontas' or 'Tonto') ideas of Indigenous people and wraps them—one could say "smothers" them—in a coating of seed beads, leaving only the eyes showing. Olivia Whetung's "#35" is a breathtaking shawl-like hanging of white-coloured and clear beads. There is a surprise in the work: look at it from several angles. Jean Marshall's "Ring of Fire II" is a circular collection of inward-facing traditional Indigenous gauntlets, which "suggest… the gathering of communities affected to contend with the complexities of economic development and environmental degradation."
Gallery goers can try their hand at beading, stringing tiny seed beads onto a short length of very thin copper wire at a table set up nearby. Here, what might seem so easy to do is shown to be the challenge that beading represents: it takes determination and concentration, as well as an artistic sense. Give it a try!
In the main gallery space is Unfold Time, a retrospective of Couchiching First Nation artist Leo Yerxa (1947-2017). Leo Yerxa worked in a variety of media, from straightforward watercolours to tissue paper sculptures and a great deal else. He created designs for the Series IV commemorative coins for the 1975 Olympic Track and Field sports, as well as a sardonic poster commemorating 150 years of the "Same old, same old," referring to Sir John A. MacDonald's genocidal attitude toward Indigenous people in what is now Canada, to the controversial statements by Senator Lynn Beyak in 2017.
To experience this exhibition, begin immediately left as you enter the gallery. Unfold Time literally does just that—it is a time travel experience from Leo Yerxa's earliest works to the stark grey and white abstracts in pencil created shortly before his death in 2017.
Leo Yerxa is also known as a poet and writer, whose children's books Ancient Thunder and Last Leaf First Snowflake to Fall are considered classical works to this day. In fact, at the retrospective's opening on Sept. 13, copies of both books on hand sold out quickly. The AG is ordering more copies for sale.
Unfold Time will run until Dec. 1. Both bead exhibits end Nov. 10. For more information, visit: theag.ca.