Self-care is one of those things that's trending. Massages, spa days, and treat-yo-self mantras run amuck in the current times of high stress work weeks. Just because it's trendy though, doesn't mean that there isn't some value there. Self-care is good for mental and physical health. Humans aren't the only species that need it either. One might not have ever even considered it (especially if you don't have a horse), but hey, horses need to relax, too. Hannah Hambly's Superior Equine Massage Therapy, based out of Thunder Bay, offers horses the care they need in this area.
What is Equine massage therapy?
"Equine massage therapy is the use of your hands to assess the condition of the horse's soft tissues and joints and to use specific manipulations to treat or prevent physical ailments and pain," said Hambly. "It is also used to help develop and maintain muscle tone, rehabilitate dysfunctional areas, and especially relieve pain."
Hambly has been in business since she graduated in June 2016 from D'Arcy Lane Institute in London, ON. She studied in an Equine Massage Therapy program that used much of the same theory and techniques used to massage humans, just on an upright animal.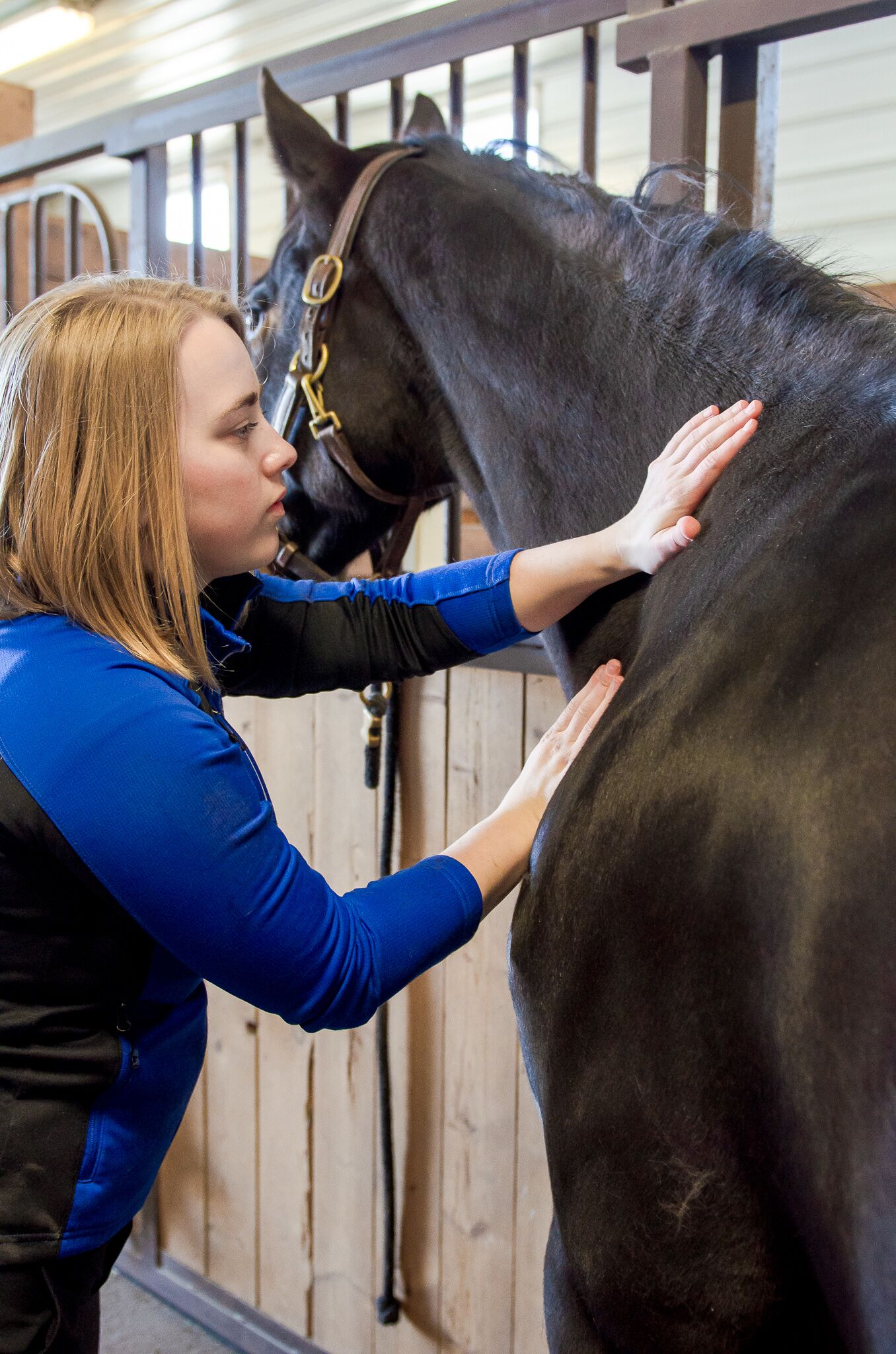 "Equine massage therapy is not comparable to veterinary medicine at all, as we are by law unable to diagnose any conditions that the horse may have; diagnosing is out of the scope of practice of a registered equine massage therapist. Once the vet has provided a diagnosis, the equine massage therapist is able to move forward with a treatment plan to get the horse on the road to recovery," she said.
Most of Hambly's clients are leisure riding horses, but she also treats competition horses. As there is a large horse show community in Thunder Bay, the horses benefit from vigorous massage that results in activated muscles for a safe competitive performance. Typical appointments start with a visual assessment of the horse moving, then moves into a hands-on assessment of the state of the horse's muscles. After determining the potential problem areas, Hambly completes a full massage from neck to shoulder, to the back ending with the hind quarters, and then switching to the other side. Mostly, it depends on the state of the muscles of the particular horse.
Equine massage benefits
Joanne Drew, a client of Hambly's, heard about Superior Equine Massage Therapy at the local tack store and reached out when her 41-year-old Icelandic mare named Skjona was having some mobility issues.
"Hannah's first visit, about a year ago, was an initial assessment and first massage," said Drew. "She watched Skjona's movement at a walk and trot, determining that her gait was not quite normal and she was quite stiff. Hannah very thoroughly examined the horse's entire body for problem areas. Skjona had muscle atrophy on one side of her hind end and the other side was compensating with over development and tension. The assessment also determined some very reactive spots in her neck. From the first treatment, my horse seemed to really enjoy the massage."
Drew felt that there were significant improvements for the older horse as the treatment plan progressed. "I believe the massage is really contributing to a great quality of life for an old horse," she said.
"My performance horse tends to get a tight back with a heavy workload and, with regular massages from Hannah, her attitude and movement has really improved," said another client, Ashley Salamon. "She is far more relaxed and balanced in her canter. My senior horse has also shown a huge improvement, and is maintaining good muscle mass into her late twenties."
Filling a niche
Hambly feels fortunate to have found such a good spot for her niche. Before Hambly, Thunder Bay did not have a REMT (Registered Equine Massage Therapist) to service the large horse community.
"[I] would recommend her to anyone. She is prompt, professional, and reliable. Our under-serviced area is lucky to have her skillset available to help keep our horses happy and healthy," said another client, Lindsey Jupp.
While Hambly does not have any horses herself, she thinks it will be in her future. No doubt, any horses Hambly has will be treated like a star with the best massages.
"Massage therapy is great for maintaining good health and relaxation, as it is for humans. But also like us, some horses are athletes that have a very busy exercise schedule, and benefit greatly from regular massage treatments to ensure that their muscles are at their finest to perform," said Hambly.
For more information, visit: superiorequinemt.com.