What does Stannard Rock Lighthouse, Isle Royale, and St. Ignace Lighthouse (Canada's first lighthouse on Lake Superior, which was lit on July 1, 1867, the same day Canada became a self-governing country) have in common? Well, the connecting link is to captains of the early schooners on Lake Superior. And here's a snapshot look at some of those vessels back in the 1800s.
In 1809, the schooner Recovery was built for the fur-trading North West Company (NWC), which had its inland headquarters at their post Fort William (present-day Thunder Bay). When the War of 1812 began between the U.S. and the British, to prevent capture of the vessel by the U.S., her Captain Robert McCargo stripped her spars, covered her with brush and hid the Recovery in a narrow cove (later named McCargo Cove) on the northeast side of Isle Royale. (Canada was British territory until July 1, 1867 when it officially became Dominion of Canada).
Later, after the 1821 merging of NWC with its rival Hudson Bay Company (HBC), a new schooner named Recovery II was launched in 1823 by HBC at Fort William. She was chartered by the British government for Royal Navy officer and hydrographer Lieutenant Henry Wolseley Bayfield, as his supply ship during the summers surveying Lake Superior. After the three-year survey was completed in 1825, the schooner was laid up at Fort William until put up for sale in 1828.
Recovery II's "For Sale" read: "The fine and fast sailing schooner Recovery, upwards of 100 tons burden, well-built and of excellent material, now on Lake Superior, and belonging to the Hudson Bay Company, will be put up for public sale, at Sault Ste. Marie on or about the 20th of June next." (Cleveland Herald, March 1828). After a run down the Sault rapids in 1828, she was back in service the following year on the lower Great Lakes.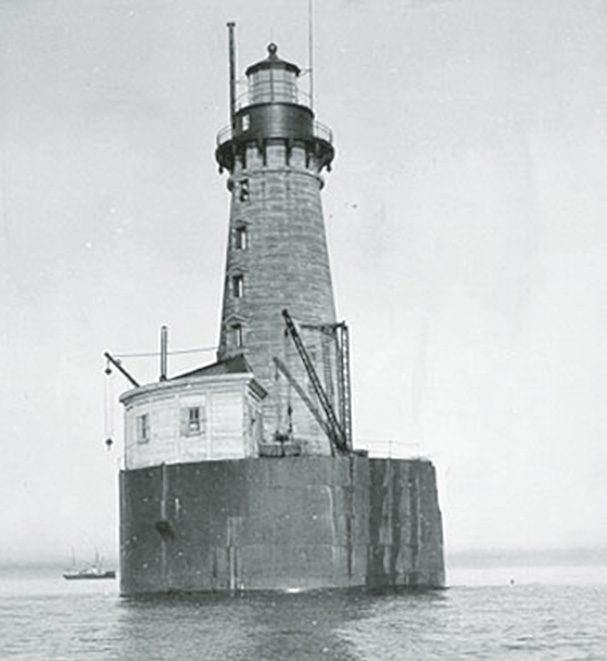 The unfortunate distinction of being the first known commercial shipwreck on Lake Superior goes to the 60-foot by 18-foot schooner Invincible. Built for the NWC using prefabricated timber frames from the British Naval Yards in southern Ontario, she was transported to Point Aux Pins north of Sault Ste Marie ("Soo") where the two-masted, wood-hulled schooner was assembled, launched in 1802 and christened the Invincible.
Fourteen years later on November 14, 1816, the Invincible left the Soo headed for Whitefish Bay on her way across the lake to Fort William. She was transporting an armed troop forced to deal with the Fort's seizure in August by England's Lord Selkirk, part owner of HBC. Once in the open waters of Whitefish Bay, a brutal early winter storm with snow, ice and sleet smashed on the ship, making her unmanageable. She sank about two miles south of Whitefish Point but no lives were lost as everyone made it to shore and back to Soo. To this day, no trace of the Invincible has been found.
Around 1835, economic activities on the lake shifted over to commercial fishing. To meet the need, HBC built a new vessel, Whitefish, to begin commercially harvesting and selling Lake Superior fish. Built in 1837 at Point Aux Prins, she was a 40-ton, wood-hulled, one-deck schooner. Legendary Captain Thomas Lamphier sailed her for 13 years doing regular tours of various fish stations along the lake's eastern north shore, until Whitefish was replaced in 1851 by the 86-ton, wood-hulled Isabel, which Lamphier then sailed for another eight years.
But it was his working as the second of three successive lighthouse keepers of the St. Ignace Lighthouse on Talbot Island—the Lighthouse of Doom—which has made Lamphier part of the lake's legend and lore. Lamphier took on lighthouse duties in 1868 and a residence was built for him and his wife Jane to stay year-round on the island. Unfortunately, in mid-winter of 1871 Lamphier died, leaving Jane alone on the remote island; she wasn't rescued until spring. He is buried on nearby Bowman Island, his gravesite marked with a white cross. After all three lighthouse keepers died, one after the other, the lighthouse was decommissioned and closed in 1872.
The first U.S. commercial vessel to sail Lake Superior is the John Jacob Astor, launched in August 1835 for the American Fur Company (AFC) and named for the company's founder. The 72-foot-long, two-masted schooner was assembled at the Soo from timber and planks brought up from Charleston, Ohio. In 1839, Astor's topsail rigging was changed to square sail brig and in 1844, her passenger quarters were refitted. Like HBC's Whitefish and Isabel, the Astor did commercial fishing stops, ferried supplies to outposts, and freighted barrels of salted fish to market. Her commander was Captain Charles Stannard, who discovered Stannard Rock located about 25 miles from shore, on which the remote Stannard Rock Lighthouse was constructed and completed in 1883.
According to the Detroit Free Press (July 14, 1847), the vessels on Lake Superior in 1847 were nine schooners, one steamboat and one propeller.