Duluth Traverse Mountain Bike Trail
I looked at Sam and his mouth was squirming around in a strange way. He saw the question in my face.  
"I've got dirt in my teeth," he said. We both laughed, partly from exhaustion.  
My son and I were stopped at the bottom of the Keene Creek sections of the Duluth Traverse mountain bike trail. One of the riders in the group had a flat. We all waited and chatted while he installed a new inner tube. It was the Fourth of July and the second annual edition of a mountain bike event called Traverse the Traverse. Sam said he wanted some adventures this last summer before college. He was fired up when I told him about this event. I guess my sore legs are my own fault.  
Jason Kask and the Continental Ski & Bike Shop in Duluth came up with the idea and launched the first event in 2018.
"We thought it would be fun to ride the whole Traverse in one day," Kask said. "So, we did."
This year there were around 30 people, an increase over last year.
"The Fourth is actually a good day for it because the shop is closed, so some people are here riding who would've had to work otherwise," said Kask.
Having some off-duty bike mechanics around was useful a couple times during the day for some people with chain incidents and brake adjustments.  
Strictly speaking, the whole Duluth Traverse (DT) trail is 40-miles, according to the Cyclists of Gitchee Gumee Shores (COGGS) website. The Traverse the Traverse event started at the east end of the system at Lester Park and headed west to finish at the Grand Avenue Chalet at the base of Spirit Mountain, for a total of 30 miles. Another 10-mile segment of the DT continues to the western-most Mission Creek trail. I'm not sure I would've been able to bike past the siren song of beer and pizza, so 30 miles was a perfect stopping point.  
Sam and I rode 3 miles to the start from our garage. I'm always grateful that adventures like this are available in the city limits. Kask passed out some miniature U.S. flags to help the riders display the Spirit of '76. We started up the Lester Park section of the DT with the group. Somehow, the beginner level, flow trail pulls off the miracle of going uphill without making it a grind. It might've helped that I still had coffee in my veins.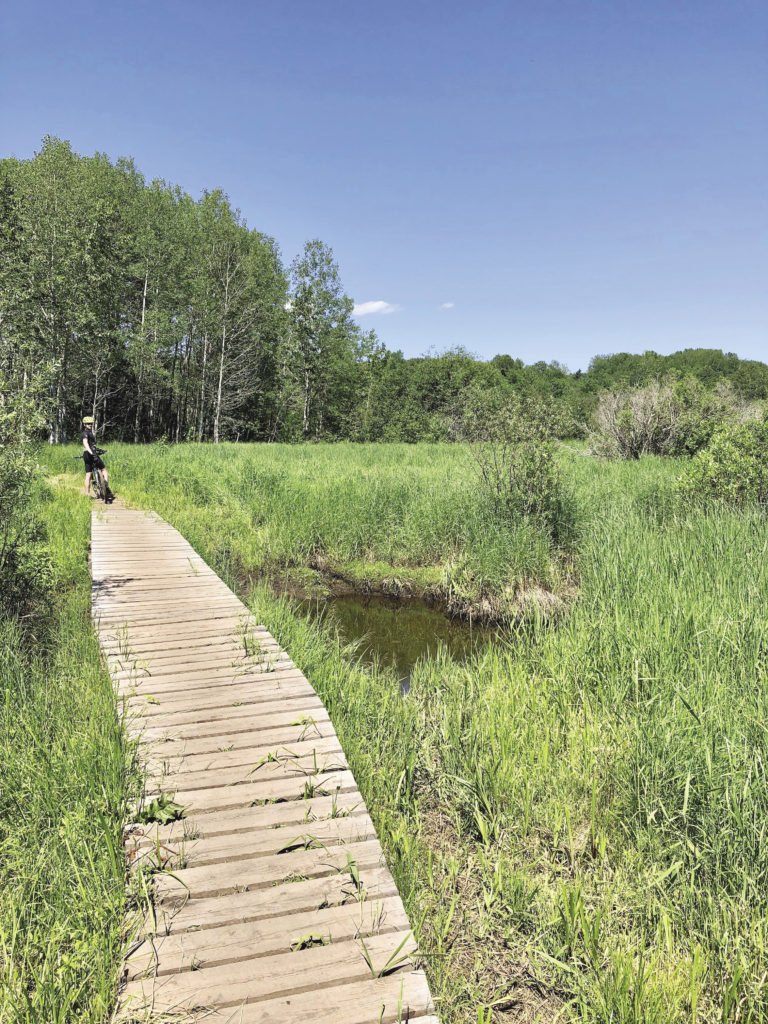 The next section through Hawk Ridge is rated as "blue" (moderate difficulty) and it was a challenge for me going over some of the ledges and along the rocky cliffside trail. Did I mention that this was my third ride of the year? I had just ran Grandma's Marathon and held off riding until after that was done. I was getting my cycling legs back in one week.  Mostly on one day. It was Independence Day, after all, and I celebrated by declaring my independence from good judgment. The views of Lake Superior erased the fatigue and there were dozens. Best to gawk when stopped, though, so you stay upright while cycling. 
The DT serves as a spinal cord for the whole Duluth mountain bike system. It's the 40-mile (mostly) easy connector between five different mountain bike trail centers. From east to west, they include Lester Park, Hartley Park, Piedmont, Spirit Mountain and Mission Creek. Spirit Mountain includes the only lift-served mountain bike trails in the state. These five trail centers add another 60-miles to the system, which will total 100 miles when it's complete.  
I asked some riders if they knew when construction would be done. They didn't know for sure. The COGGS website says there are only a few sections that use the roads. One from Hartley Park to Chester Park through the UMD campus and another from Marshall School to the Antenna Farm. Frankly, I find it hard to keep track of progress, and I live here. The COGGS website offers up-to-date online map tools that zoom in on the DT and the trail centers. The signage throughout the system is very good. They even have QR codes on some trailhead signs. You scan the code with your phone and it sends you to the current trail status. Or do like I did a few days before the Fourth of July and go to the front page of the COGGS website. Trail status buttons are the first things you see.  It's a pretty smart way to communicate trail conditions since the trail system is so huge with so many access points. It helps us to be good stewards of the trails by staying off when the conditions are too wet or muddy. 
Sam rode for the local high school mountain bike team, the Duluth Composite Team (DCT) in 2015 and 2016. Our whole family got swept up in the sport. We all rode together for those years. Back then, I was pretty good at finding the new trail sections and trying them out. Then both kids decided to run cross-country in the fall instead. So, I rode very little in 2017 and I don't think I rode at all in 2018. Duluth Traverse mountain bike trail builders sure kept at work when I took my two-year break. During the Traverse, I saw many miles of trail for the first time. The DT out the east side of Hartley and sections of Hartley itself. The Morningside section of the DT. The wonderful new rolling segment through Chester Park with dramatic drop-offs. The new bridge near the Observation Hill section with a ridiculous view of Park Point and the Aerial Lift Bridge. Down and down through multiple switchbacks and berms in the Upper, Middle, and Lower Keene sections. All new to me. Even when I was cross-eyed with fatigue and a little wet from a passing thundershower, it was joyful.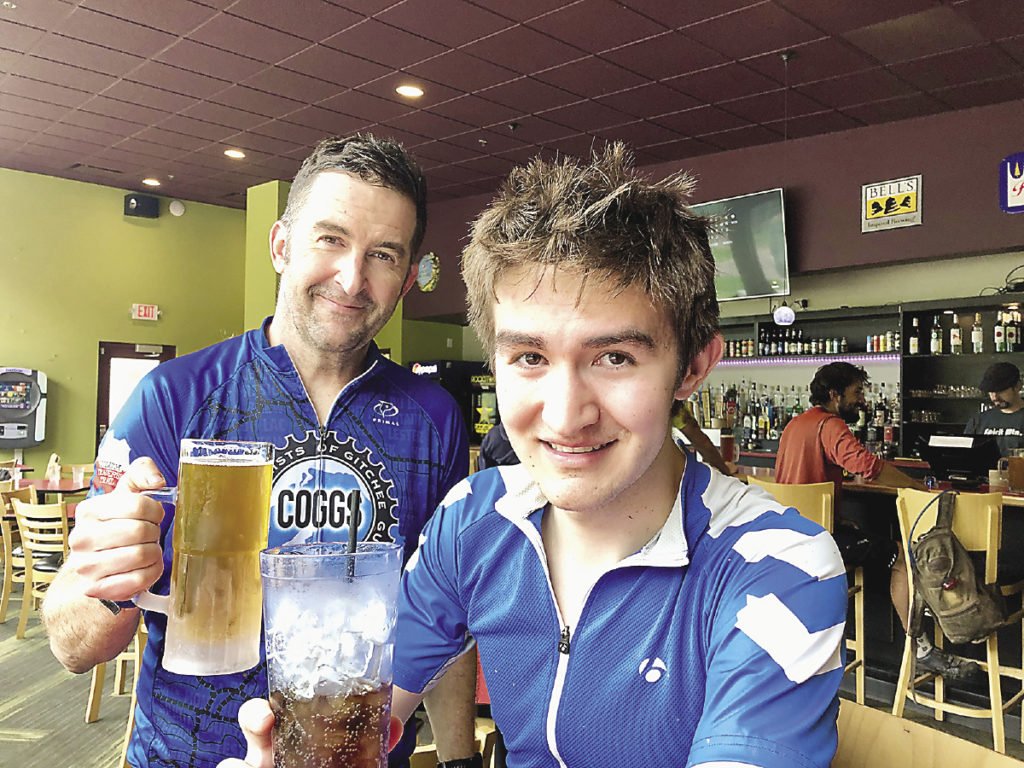 The world has noticed. Accolades keep pouring in. The International Mountain Bicycling Association (IMBA) has designated 39 Ride Centers. There are six Gold-Level Ride Centers in the world and only four of those are in the U.S. Duluth is one of those four IMBA Gold-Level Ride Centers. I'm spoiled. I don't really ride anywhere else. It might be easy to forget this is truly a world-class system. Makes me want to ride more.  
As I swooped through the poplars behind my son pedaling furiously to keep up, I started to think about the trail as a living creature, instead of a project. I started out wanting to quantify everything: "When will it be done?" and "How many miles are complete?" That's because I'm a "project" guy. I like things with a beginning and an end where you walk away and see what you've done. Like building a woodpile. But even sections of the DT I've seen before have changed. Long sections of new boardwalk over the marshy areas. Old trail with new bridges and berms. It just keeps marching into the future. When the project is finished, I'm sure there'll be a ribbon cutting, deservedly so. It's a massive project that deserves recognition. It's a true testament to what constant effort toward a vision can do.
That ribbon cutting, whenever it happens, will be like my son's recent high school graduation. It will mark a significant accomplishment, but the "project" doesn't end. As I rode all across Duluth with my son, I realized: Trails are like life. You may reach milestones, but you don't get to say you're finished until you take the long dirt nap. Life—like a trail—is not like a woodpile. You can't stand back and say you're done. You maintain what you've built. You have to keep pedaling and go with the flow. In this case, the "flow trail."  
We were exhausted and muddy and happy when my wife Shelley picked us up at the Chalet, where we ate the best pizza we've ever had.  
I finally realized the reason why Sam had dirt in his teeth. It was probably because he was smiling out there.