DULUTH—Ask any Lake Superior charter captain and you'll quickly learn that lure color can be the difference between a heavy cooler and a tough day on the water. Ed Forrestal has been doing his best to create lures that hook not just fishermen, but more importantly, fish.
 Forrestal, of Duluth, began making his own lures years ago, carving fishing lures out of balsa and using spinner blades as diving lips on the front of his homemade lures.
 "I kind of got into it because I'm cheap," he joked. "If I can make it, I'll make it versus buying it. I've always preferred to make my own stuff."
 Forrestal works as a maintenance man for a property management company in Duluth by day, but his evenings have gotten much busier in recent years. In his attempt to build a better fish trap, he began buying blank spoons and painting them with his own fish-catching patterns in his basement workshop. About seven years ago, Marine General in Duluth began carrying his spoons, under the name E & M Custom Tackle.
 But painting fishing lures isn't as easy as slopping some paint on a blank. Without some type of coating, the paint quickly chips away. Forrestal needed a coating to protect the paint, but finding the right one wasn't easy.
 "I went through I don't know how many sample bottles of clearcoat and I couldn't make them work," he recalled. Some would crack or spiderweb when they dried. Others reacted with the paint. Some were just plain toxic and began to cure on contact with air, making it nearly impossible to re-open the lid on the jar after use. Finally, he tried a powder coating from a partial bag that had been given to him and it worked wonders.
 The first spoons he produced for sale were all simply powder coated. Now, he paints the lures first before giving them a powder coat finish. After that, he bakes them at 400 degrees F to cure.
To keep a consistent pattern, he creates his own templates. He takes a small sheet of thin plastic and heats it. When it is hot, it becomes pliable and conforms to the shape of a spoon. He then cuts holes or channels in this template with a Dremel in order to paint dots or lines on his lures.
 Learning to paint lures has been largely an experiment. He said it takes a steady hand to apply paint correctly with an airbrush because the paint he uses is very thin. He makes multiple passes to create a stronger, more vibrant color. A Facebook group called Brotherhood of Custom Crankbait Painting has been a valuable resource for like-minded individuals to share tips on lure painting. Forrestal was one of the very first members to join the group, which now numbers more than 7,600 painters.
 "It's a sharing site," Forrestal said, "not a show-off-your-bait site. If you post a bait and don't explain it, they'll pull it right off."
 Forrestal got his foot in the door at Marine General with his spoons, but it took a while before he tried his hand at stickbaits. After nearly a year of unsuccessful attempts, he finally came up with a winning pattern.
"I was bringing baits in to Corey (Corey Francisco at Marine General) for a year," Forrestal said. "I walked in the door with this one (pointing to a bright-orange stickbait) and Corey said 'how much?'"
 Forrestal said that particular lure had the brightest orange paint Francisco had ever seen, created using a process that he's unwilling to share.
 When painting stickbaits, Forrestal begins with blank lures that you can actually see through. He tapes the bills with painter's tape to protect them from stray paint. Then he coats them with two coats of primer, drying it with a hairdryer. The primer dries in seconds. Then the lure is ready to be painted.
The idea for his color patterns? "They just come out of my head," Forrestal said. "The pattern on it—there are not two alike." That's because the lures are all airbrushed by hand, not with a machine that would give them a uniform pattern.
Many of Forrestal's stickbait designs have black blotches—a pattern he creates by dobbing a sea sponge in black ink. This blotching gives the baits even more variability.
After the painting and blotching are complete, he adds eyes. Then, each stickbait is dipped in a one-part epoxy. Lastly, the baits have to be cured in a UV chamber, which, not surprisingly, Forrestal built himself. His UV chamber is made out of plywood lined with aluminum foil and featuring black lights. The lures cure in about an hour or so.
Nowadays, Forrestal produces both spoons and stickbaits.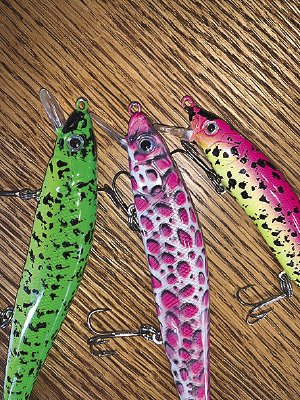 "The stickbaits probably are selling more because guys are figuring out they can use them for walleyes—and they work," Forrestal said.
Creating his lures was one thing, but getting them to sell was another endeavor.
"I can't tell you how many hundred baits I gave away," Forrestal recalled. "I'd give them a business card and ask for feedback. People are really good at taking free baits; not so good at giving feedback."
A breakthrough came when Forrestal let Capt. Chris Larson of Duluth Sport Fishing try his lures. He began having success and people began seeing the lures in photos and asking about them at Marine General. Forrestal even had people inquiring about test patterns that were not yet meant for production. The joke became Larson had to ask if the lures were "internet safe" before he could post photos with the lures on Facebook.
Larson also used to post photos of fish and asked the Facebook community to guess the weight. Forrestal provided lures for prizes. One winner was a man named David Leslie. After winning some of Forrestal's lures, he tried them out.
"The following weekend, he took those baits down the South Shore and slaughtered the fish," Forrestal said. "He went on 218 Fishing (a Facebook group) and posted pictures of what they caught. E & M Tackle exploded."
The success of his lures has been fun, but it keeps Forrestal busy.
"I did not sleep a lot in 2018," he said. "I was pounding out 25 a night, every night. When I'm down here and focused, I can make 50 to 100 a night."
E & M Tackle is exclusive to Marine General.
"I couldn't keep up with another shop," Forrestal said. "I can't say enough about Marine General. Russ (owner Russ Francisco) has always been so good to me. He gave me a shot when I was a nobody. It's been an adventure, this whole thing."