August has arrived and with it, some hot, sultry days. The bugs have mostly dissipated and vacation time will soon be over. If you want to find a cool lake for swimming and get a taste of the Boundary Waters Canoe Area Wilderness (BWCAW) but aren't ready for a big expedition and all the planning and packing that entails, try one of these day trips. Here are some easily accessible, scenic places in the BWCAW that are great day trips.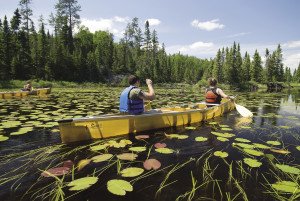 Granite River to Larch Creek
ACCESS: Put in at the boat access on Gunflint Lake (about 40 miles up the Gunflint Trail from Grand Marais).
MILEAGE: The loop is about 7 miles and includes five portages. The last miles on Larch Creek wind back and forth a lot, so leave extra time to navigate this section.
WHY HERE? Though much of this area of the upper Granite River (technically named Pine River on the map) burned in wildfires during the last decade, the waterfalls and granite outcrops give the area a striking beauty. There is a nice mix of lake, river and creek travel, as well as a mix of scenery.
THE TRIP: Paddle across Gunflint Lake through the channel to Magnetic Lake. At the end of Magnetic, a short portage takes you around a small set of rapids. Just downstream, take out again to portage around a nice waterfall. Stop and take a break here—it's one of the highlights of the trip.
The next section takes you between tight rocky outcrops and is nothing short of enchanting, but be careful as you approach Woodhorse Portage. The river splits into a few channels—take the middle one, and look for the portage straight ahead as the river veers right and around a corner to a falls. In August, the blueberries here are often a distraction.
Not too far ahead, you reach Pine Portage, which is 100 rods and takes you to Clove Lake. From Clove, you'll then veer off the river, portage to Larch Lake, then find the creek and paddle out to the Seagull Guard Station on the Gunflint Trail. From here, you could hitchhike back to retrieve your car, or arrange with an outfitter for a shuttle—well worth it.
GOOD TO KNOW: Larch Creek is not always navigable. Ask a local outfitter about current conditions. In wet summers, the creek stays high, but it can be a paddler's nightmare if the water gets too low.
Royal River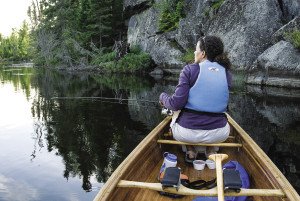 ACCESS: Put in at the boat launch on Little John Lake at the end of the Arrowhead Trail (40 miles from Grand Marais).
MILEAGE: This is an out and back trip, so it can be as long or short as you want. To get to South Fowl Lake and back is about 7 miles.
WHY HERE? The Royal River takes you to the easternmost boundary of the BWCAW. The navigable part of the river is nothing more than meandering current through low-lying boggy areas, but the water is clear, and just watching the aquatic plants riding the current is like being at a giant aquarium. Moose are often seen in the area as well as other small water-loving mammals and birds. High bluffs rise above the river and make the experience memorable.
THE TRIP: Follow Little John to a channel that brings you into John Lake. Another bit of fast current brings you to a pool that is the start of the river and you hear rapids where the river exits the pool. You might want to cast a line here for bass, or just find the portage—62 rods that brings you to a calm stretch of river.
Once on the river, meander around the bends until you reach Royal Lake. By August, the lake will be overgrown with wild rice and you have to follow the small channel of water to the northeast corner of the lake, where you'll find another 99 rod portage that brings you to South Fowl Lake. There's an island campsite on South Fowl that has a sand beach—a nice spot for lunch and to turn around for heading back upriver and home.
GOOD TO KNOW: Don't be tempted to forego the portages and stay on the river. The first set of rapids out of John Lake is not navigable and the second set isn't much better. It gets shallow and rocky and downed trees can be dangerous.
 Hog Creek to Perent Lake
ACCESS: Off the Sawbill Trail out of Tofte, you turn on F.R. 354, go 2 miles and find the access on Hog Creek.
THE TRIP: Hog Creek is surprisingly nice, though it does wind back and forth so much and for so long, you will look forward to getting to Perent Lake. But there are no portages and the "creek" is deep enough you won't be hitting bottom. Perent Lake sports many nice campsites that you can use for your lunch and swimming break. Allow a little more time to paddle back up Hog Creek, as there is just enough current to slow you down on the return trip.
ACCESS: Forest Rd. 326 takes you from The Grade to Homer or Brule Lakes (both of which have nice boat landings). To get here from Grand Marais, take the Gunflint Trail to Devil Track Rd. Turn right on Ball Club Rd. left on The Grade, and then right on F.R. 326. This is about a 45-minute drive from Grand Marais or Lutsen if you come from the other direction on The Grade.
MILEAGE: If you loop around through Vern and Juno Lakes to Brule Lake, it's about a 9 mile trip with five short portages. Then you also have to walk or hitchhike a 1.5 miles to retrieve your car when you get to the end (unless you drive two cars or leave a bike).
WHY HERE? Once you are past Homer Lake, you might be on your own. It's a pretty area with many rocky outcrops, but it doesn't seem as though many people travel that route. Also, it makes a nice loop that is just long enough to be challenging for a day and provides a nice mix of small and big lake travel.
THE TRIP: Paddle Homer to the far west end and take the 6 rod portage to Whack Lake and then the 14 rod portage to Vern Lake. If you don't want to make the full loop, you can simply loop southeast and go back out through Homer. Otherwise continue up Vern Lake to the 10 and60 rod portages to Juno Lake and then the 70 rod that takes you to Jock Mock Bay on Brule Lake. Follow your map carefully to the boat landing on Brule.
GOOD TO KNOW: Pay attention to the wind direction. You don't want to end up on Brule Lake in a big headwind. Brule is quite large and a stiff wind could halt the most hardy paddlers right in the their tracks.
Tips for Beginners: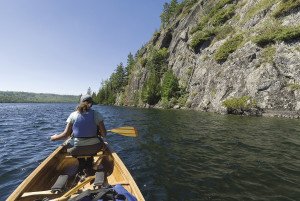 RENT A LIGHTWEIGHT CANOE FROM AN OUTFITTER. Not only will the outfitter give you information about the area you are going, but the lightweight canoe will be worth the money you spent to rent it when you get to your first portage.
CONSIDER FINDING A GUIDE. Several outfitters offer guide service. Guides can take the pressure off if you aren't quite sure how to read the wilderness maps or need some help steering a canoe.
If you want peace of mind, rent a satellite phone or emergency locating device. Again, area outfitters can hook you up. On many of the day trips described, you will see other people, who in an emergency, would likely help you out. But, added reassurance doesn't hurt. Your cell phone won't work out there.
BRING ADEQUATE FOOD AND WATER. It seems simple, but these things can often be overlooked and undervalued. Staying hydrated and fed will help you make decisions if the going gets tough. Something to purify more water is always a good idea as well—for day trips a filter or iodine tablets are an easy way to make sure you don't regret your wilderness adventure once you get home.