For many student athletes, participating in team sports is a highlight of school, with athletics offering unique learning experiences, friendships and memories that last a lifetime. And one Grand Marais artist is taking the extra step to help graduating seniors remember their high school sports teams. Artist David Hahn paints portraits of each senior sports team at Cook County High School, a yearly tradition that provides students and their families with a meaningful way to remember the moments spent on the court and field.
David Hahn has been active at ISD 166 for many years, giving both his time and talents as an artist and a foster grandparent (he's known as "Grandpa David" throughout the school district). His love of art runs deep, and he said that he has always wanted to be an artist for as long as he can remember. As a child growing up in St. Louis, Hahn saw an exhibit at the St. Louis Art Museum featuring Rembrandt, Hals, Boticelli and Vermeer. He recalls being "blown away" by the exhibit, and shortly afterwards his parents enrolled him in a drawing class at the museum where he learned to draw Greek and Roman sculptures.
Hahn went on to study fine arts at Washington University and excelled at drawing people. He saw an ad in the paper for a technical illustrator position, and upon getting hired began his career as a professional artist.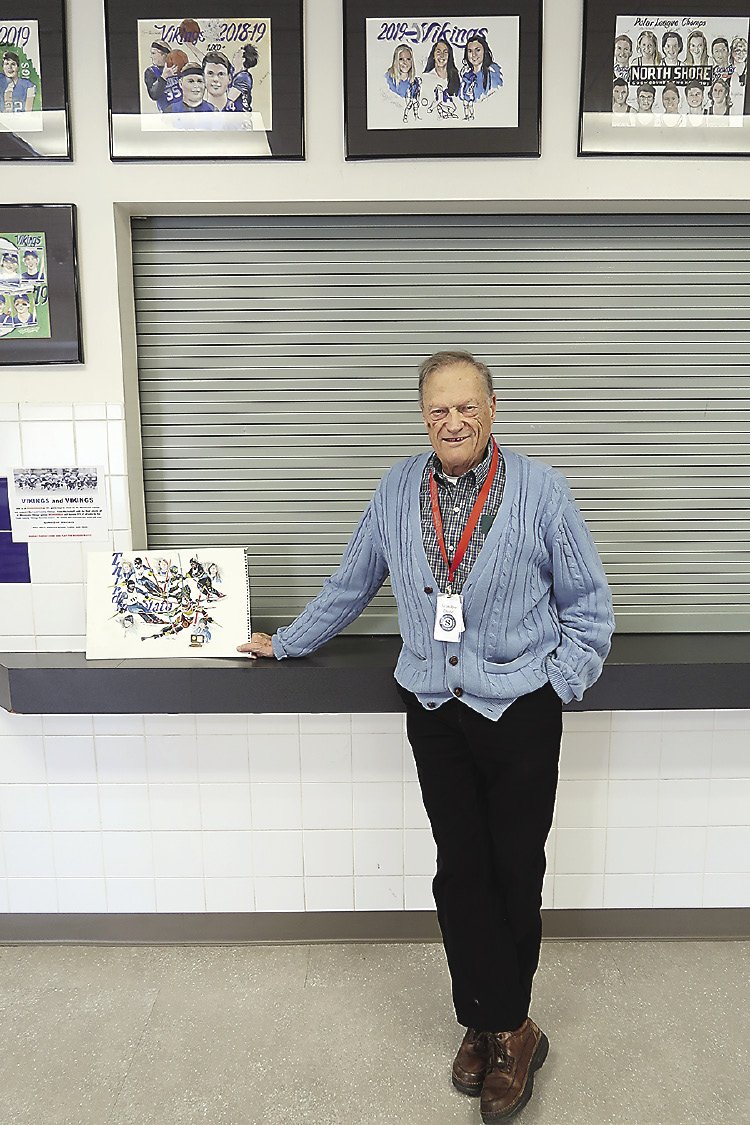 Hahn and his wife, Virginia, made the move from Missouri to Minnesota during their first year of marriage when she was hired by Univac in St. Paul. Hahn's career would go on to include working as a freelance technical illustrator, becoming the ad manager at Tel-E-Lect, Inc. in Bloomington, and working for 20 years as the art director of Miller Publishing.
"I am very fortunate to have this talent," Hahn said, "and I consider myself very lucky to have been able to work as a professional artist my whole life."
Throughout their time living and working in the Twin Cities, both Hahn and Virginia frequented the North Shore and loved vacationing on Lake Superior. When it came time to retire in 2000, they moved to Hovland and have been full-time North Shore residents ever since. For Hahn, retirement certainly did not mean stopping his work as an artist. As someone who likes to be busy, he looked for ways to get involved in the community, which led him to ISD 166.
The idea to paint portraits of student athletes seemed a natural conjuncture of Hahn's interests: in addition to a love of painting portraits, Hahn always loved baseball. High school athletes typically get photos taken of the team, and when Hahn approached the school and asked if he could also do team paintings, they said yes.
Each painting is of the high school seniors of each sports team, including baseball, football, track, skiing and others. Hahn uses the team photo as a starting point and completes the portraits from there, getting each player's autograph on the painting as a finishing touch. The teammates and their families each receive a copy, and several copies of Hahn's paintings are on display in the halls of Cook County High School. Some of his paintings are of action shots, and include memorable moments of players and coaches throughout the season. The hand-painted portraits offer graduating seniors a unique way to remember their athletic teams and a hometown that is supportive of both athletics and the arts.
In addition to his paintings, Hahn also volunteers at the elementary school several days a week as a foster grandparent. He has also been teaching youth art classes with John Franz at the Grand Marais Art Colony.
"Ever since I was a kid I enjoyed doing things that make people happy," said Hahn. "I like having the chance to volunteer in the community and give back."