The Northern Wilds are an inspiring place to be, as readers of this magazine know well. Towering cliffs overlook Lake Superior, hundred-foot-tall waterfalls plunge into deep river canyons here, and snow-covered peaks beckon extreme sports lovers. Catchy toponyms like Palisade Head, Devil's Kettle and Sawtooth Mountains instill fear and awe of the area's wildness. We've got a true abundance of rugged beauty in the "Heart of the Continent," as a Canadian-American coalition of land managers calls the region.
But what if you're actually looking for a less wild place for your next outdoor jaunt? Someplace more civilized, with an address on "University Road" and a big welcome sign as you enter a calm, cultivated forest retreat. Are you dreaming of exploring a forest with an extensive network of wide, flat trails? A semi-secret forest, with ubiquitous, easy-to-read maps, all located just a half-hour drive from Duluth down Interstate-35. Is this even possible in our remote region, you'll ask?
The place exists, and this unique niche belongs to the Cloquet Forestry Center—a University of Minnesota project which provides opportunities for forest research and education to U of M students and the general public within the boundaries of the Fond du Lac Reservation of Lake Superior Chippewa. The Forestry Center provides free, low-frills year-round human-powered recreation opportunities to snowshoers, birders, photographers, botanists and naturalists, among others. Its managed forests take you to a place of refined beauty, while innovative science is being practiced all around you to promote forest health, cultural vitality and economic prosperity.
The Cloquet Forestry Center (CFC) is one of 10 research and outreach centers connected to the College of Food, Agricultural and Natural Resource Sciences at the University of Minnesota. It is the only forestry center of its kind operated by the U of M, although there are other experimental forests within Minnesota, such as the Lake County Demonstration Forest in Two Harbors, or the U.S. Forest Service's Cutfoot, Marcell, and Pike Bay Experimental Forests in the Chippewa National Forest.
The CFC's mission is to connect people and ideas to build understanding of northern forest ecosystems through field-based research, education and outreach. Research, education, and forest management projects at the CFC explore holistic and specific aspects of forest ecosystem communities such as silviculture, wildlife populations and habitat, forest genetics, forest ecology, entomology, pathology, and hydrology.
With a staff of 12 people at the CFC, these objectives may sound overwhelming. But for Kyle Gill, forest manager and research coordinator, the CFC blends many scientific fields of study together through one common concept: relationship to land. Gill asks, "When you think of a forest, what do you think about?" For Gill, there are many possible ways to look at a forest: "How do non-humans, like wildlife populations, use the forest? How do the trees utilize the forest? How do fungi survive and grow in the forest? How do all these different aspects contribute to the forest?" Gill sees the CFC's role as being a facilitator in answering these questions. Gill's overarching approach is, "If you can think something about a forest, or somebody can ask a question about a forest, then we're here to help them ask that question."
Over the last 114 years (the CFC was founded in 1909), there have been a great number of researchers who have explored all the different aspects of what it takes for a forest to be a forest, and how we as humans can interact with that, as well as how wildlife utilizes the forest. The CFC exists to facilitate this research.
"We're not doing every single research project ourselves," explains Lane Johnson, research forester at CFC. "We're here as hosts and facilitators and synthesizers and practitioners. We're working to then translate the science into management. We step back and think about how we're integrating all these different views of the forest into a bigger perspective about what the forest is, and how it functions, and how we as humans can interact with the land." The CFC currently has 55 active research projects taking place on its grounds.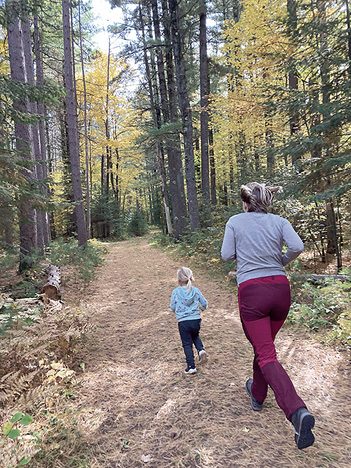 The CFC's location (just three miles west of the City of Cloquet), with easy access off of Minnesota State Highway 210, makes it a true Carlton County gem.
It also places the CFC on a sandy outwash plain, a soil substrate which Johnson notes is "perfect for growing pines." He adds that portions of the Fond du Lac Reservation, along with the Leech Lake Reservation further west, are droughty site types. Johnson recounts the historical importance of forest fires to the local ecosystem.
"Forested systems here have evolved over millennia with fire as a presence, and it's only over the last 100 years that we've intentionally pulled fire out of these systems to promote the production of timber. Fire has essentially been the primary predator, if you will, to trees over millennia," says Johnson.
Johnson explains that the tribal communities of Minnesota are re-introducing fire to the ecosystem today, providing continuity with the past.
"It's of increasing interest for the Leech Lake and Fond du Lac Bands that prescribed burns be used to promote the historical character of those systems which once had fire present at intervals of 10-15 years on average," he says. "That would have created more open woodland conditions. You can imagine that if you were a hunter or gatherer, you would have conditions that would be much more conducive to subsistence, and other cultural practices."
Johnson highlights that the CFC, area tribes, and the U.S. Forest Service have an ongoing knowledge exchange that's place-based and cooperative.
According to Gill and Johnson, Minnesotans care deeply about the region's forests. For Gill: "We as Minnesotans have strong feelings about our relationship to the woods." Johnson concurs, saying "That's why it's so fun to be in a state like this, working in this realm."
The CFC is currently doing more than ever to welcome the public. An Open House was started in 2018, and is offered annually, usually in the third week in August. Gill notes that the event is held then so that the public can interact with university students doing field research at the CFC at that time of year. An autumn 5k walk/run is held the first Tuesday of October starting at 5:30 p.m.
Johnson highlights the personal interactions that happen at the Open House, saying "We offer a more intimate experience that allows a smaller group of people to come out and learn, go on a wagon ride, get food, and ask questions of individuals who are working on site." Tours of the forest are given for both adults and children.
Previous to 2012 the CFC was not open to the public, and Gill and Johnson stress that the community is now invited to share the forest's wealth.
A major way the public interacts with the CFC forests is through trail use. The "UMN Cloquet Forestry Center Marked Walking Routes and Ski Trails" map has had 8,330 views on Google Maps as of early 2023. Skiers in the know come out to take advantage of the "adequate" grooming for classic skiing only, done by CFC staff as time allows. Last year, the CFC got a compaction drag groomer, pulled by a snowmobile, so that it can turn up the snow. The ski trails are tracked on the CFC's internal road network, meaning the trails are quiet and are more heavily traveled by local wildlife than people in the winter months.
The CFC's entire internal road network is open to non-motorized recreation year-round with the intention of giving the public the chance to experience the research forest. There is no fee to use the trails and they are good for beginning cross-country skiers (flat and wide). Skiers, bikers and walkers are treated to a spectacular setting in one of Minnesota's most well-studied forests. Visitor information can be found online (cfc.cfans.umn.edu).
Overall, the CFC represents a tradition of applied scholarship that is both cutting edge and traditional at the same time. Gill describes the significance of CFC's continuity, saying, "You can't replicate time, so the beauty of a forest like the Cloquet Forest is that really good data has been collected in consistent ways for a long time."
For Johnson, "Ultimately, we're here to demonstrate what sustainable forest management looks like. We are in essence, a 114-year-old experiment. We're still learning, through the process of experimentation, what sustainability is, and what that means in a forest management context."
No, you don't have to be a researcher yourself to enjoy this secret forest. But if you're going out to recreate, please respect that the forest is primarily first and foremost a research and experimental forest. The CFC is a modest place, yet it's an internationally recognized research forest right in our backyard. And this benefits us all for the future.