When someone mentions vineyards, wineries and wine tastings, the wine regions of places like California, Chile, France or Canada's Okanagan and Niagara come to mind, not images of harvesting wine grapes in the winter cold climates of the Northern Wilds. Yet, there are vineyards and wineries in northern Minnesota that make award-winning wine with northern-grown grapes. For decades, University of Minnesota (U of M) has been a leader in developing cold-hardy grapes.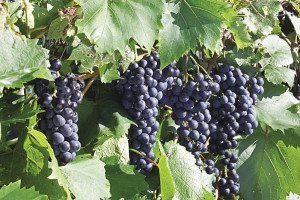 I do enjoy a glass of wine, but it wasn't until this past summer that I attended my first official wine tasting and got hooked as a "wine tourist," a term used by tourism people for those who visit a winery on their travels (between 2000-2010, there were 27 million wine tourists in the U.S.). Just for fun, after doing wine tastings in five different places this summer, I did some research to see if there were any vineyards and wineries in northern Minnesota and was surprised to learn there were—and that most of their grapes were developed by U of M.
"Cold-hardy grape development has been a research area for the University of Minnesota for a long time. Early cultivars were released in the 1940s [Bluebell 1944] and were targeted for home use. In the 1970s, additional table grape cultivars [Edelweiss & Swenson Red) were released with Elmer Swenson. It was not until 1996 that the first truly wine grape variety, Frontenac, was released to the public," said Matthew Clark, the project director of U of M's Grape Breeding and Enology Program. (Wisconsin farmer Elmer Swenson, the "godfather of cold-hardy grapes," began breeding grapes on his farm in 1943 intercrossing French hybrid grapes with Minnesota's wild ones; in 1969, he joined forces with U of M).
Though the U of M had been researching grapes since 1908, the official cold-grape breeding program was launched in 1985 when the Minnesota Legislature directed the university to specifically research grape growing and wine production in cold climates. Since then, U of M has developed five cold-grape varieties: Frontenac (red/rose/port), Frontenac gris (white), Frontenac blanc (white), La Crescent (white), and Marquette (red). Next year, U of M plans to release its newest cold-hardy grape, MN 1285 (yet to be named) after a 20-year breeding program.
"Northern latitudes can be challenging for grape growers with a continental climate. We share a similar latitude to wine growing regions in Europe, but are greatly affected by the polar weather patterns," said Clark. "Breeding grapes for this region is focused on: avoiding late spring frosts, ability to fully ripen in a shortened growing season, disease and pest resistance, winter hardiness and fine wine quality traits."
In 1978, Minnesota's first commercial winery exclusively growing and making wine from cold-hardy Minnesota grapes was established. By 1990, there were only two such wineries. Today, there are over 70 registered wine producers in Minnesota.
In 2009, the world's first International Cold Climate Wine Competition (ICCWC)—the only one in the world dedicated to wines made from cold-hardy grape varieties—was held in St. Paul. At the 2015 competition, there were 309 cold-climate wines from 62 commercial wineries.
One of Minnesota's two northernmost wine producers is the family-run Grape Mill Vineyard & Winery in East Grand Forks. They planted their first 200 vines in 2006 overlooking the banks of the Red Lake River. They now have over 1,600 grapevines growing five different cold-hardy grapes. Their biggest seller is their Huntsville BIG RED wine, a blend of Frontenac and Marquette grapes.
The other northernmost vineyard is the Two Fools Vineyard which started as a hobby and now produces 16 different award-winning wines (7 Red, 6 White, 2 Fruit and 1 Dessert). The 3 l/2-acre vineyard of cold-hardy grapes, mostly Frontenac and Marquette, is located between Thief River Falls and Plummer.
Minnesota's largest winery is the 160-acre Carlos Creek Winery in Alexandria (home also of the famous Kensington Runestone). Voted Minnesota's Best Winery by a WCCO-TV poll, its 20-acre vineyard wraps around the wine-tasting room. Each September, the winery hosts the annual Grape Stomp & Fall Festival, attended by 15,000 visitors. Over 300 two-person teams stomp on 10,000 plus pounds of grapes.
While there are no vineyards or wineries yet in Northwestern Ontario, there is one businessman who is trying to produce a Thunder Bay grape that could be blended with Ontario and/or Chilean wines (he already owns a successful winery in Chile).
Years ago, who could have imagined our neck of the woods as an award-winning wine-producing region? Visit www.mnhardy.umn.edu/varieties/fruit/grapes for more info.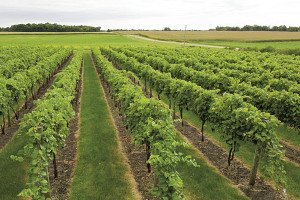 The U of M is recognized as one of the top wine grape research programs in the country, with the goal of developing high-quality, cold-hardy and disease-resistant wine grape cultivars. The wine grape breeding program began in the mid-'70s, and in 2000, an enology lab and research winery opened at the Horticultural Research Center.
Today more than 12,000 experimental vines are cultivated on 12 acres. Thousands of seedlings are produced each year using a diverse genetic base that includes classic Vitis vinifera cultivars, quality French hybrids, and hardy, disease-resistant selections based on Vitis riparia, Minnesota's native grape.