There are a couple of big changes taking place at two of Grand Marais' better-known businesses.
Stone Harbor Wilderness Supply in downtown Grand Marais is for sale, and the historic Harbor Light is being reopened by the owners of the Gunflint Tavern and their son, Cassidy Gecas, as a new event space and music venue called Up Yonder.
"Why am I selling the business?" says Jack Stone, owner of Stone Harbor. "Because I'm 74 years old."
"I love what I do," continues Stone, "but I know that I can't continue doing this forever. I've been up here almost 20 years, and it's time I take a step back and spend more time with my family: my kids and grandkids."
Stone first opened Stone Harbor Wilderness Supply back in 2008 and has been running the business, in addition to his work in the oil marketing business, ever since.
"There was a shop here before Stone Harbor," says Stone. "I think it was called Cascade Kayaks. It was some combination of kayak shop, coffee shop and cyber café."
"When we took over, though, we had to completely remodel the building," continues Stone, "and, for all practical purposes, make the business what it is today."
Stone is a lifelong outdoorsman and has been making trips north to paddle the Boundary Waters since the 60s. Moving to the North Shore was something that he always wanted to do, so when the opportunity to open an outfitter right in the heart of Grand Marais presented itself, he seized the moment and made it happen.
"I used to work for Eddie Bauer back in the 1970s," says Stone, "back when it was one of the premier outdoor retailers in the country."
"I liked what we did [at Eddie Bauer]," continues Stone, "I liked our concept. Coming up here all those years I always thought that Grand Marais could use a high-quality outdoor shop like that, which is what sparked the idea for Stone Harbor in the first place."
Twelve years later, Stone Harbor Wilderness Supply is going strong as one of the premier outfitters on the North Shore. They offer high-end outdoor gear in everything from sea kayaking the Big Lake to canoe-camping the BWCAW, and they offer year-round wilderness tours that are suitable for all skill-levels.
"Most outfitters don't deal with Lake Superior," says Stone, "but we do. We do everything that we can to make exploring Lake Superior accessible to anyone who's interested."
"It's important to me," continues Stone, "that [Stone Harbor] be more than just a place for people to buy gear. Stone Harbor is a place for people to have experiences."
For further information on everything that Stone Harbor has going on this winter, visit their website at: stoneharborws.com.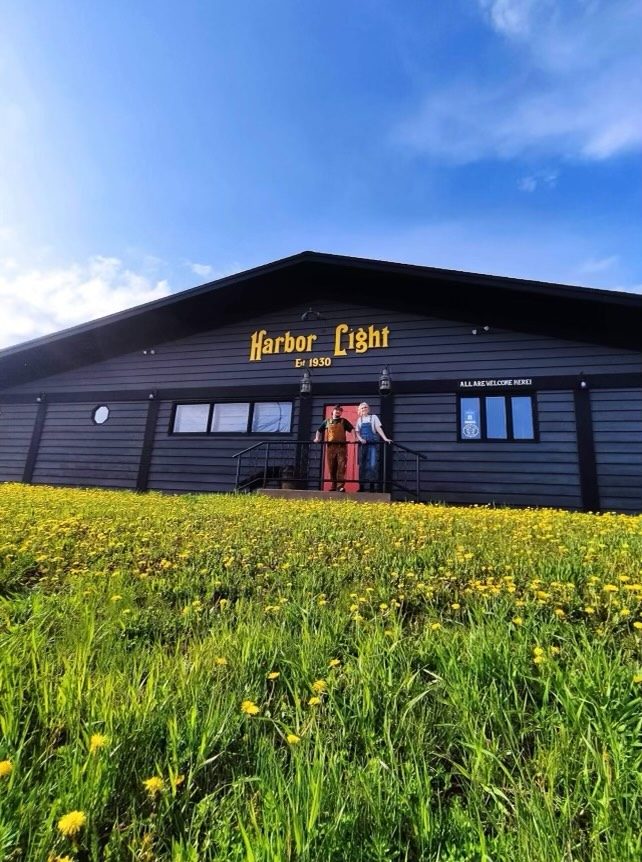 Farther up the hill from Stone Harbor, Cassidy Gecas—general manager at the Gunflint Tavern and the new owner of Up Yonder (at Harbor Light)—has been hard at work with his crew turning the place into a new event space and top-notch music venue.
The plan for Up Yonder, according to Gecas, is to turn it into a proper event center, something that he thinks is missing in Grand Marais. There will be a bar with limited food options at first that will likely expand to include "sandwiches, wraps, and that sort of stuff" once things get going, but the main focus of the business will be live music and big events.
"So far," says Gecas, "we've built a 16 by 16-foot stage out in the yard with a smaller gazebo on top. There's also a new big firepit, a number of new picnic tables, and a bunch of yard games ready to go. We used the campground to help out with staff housing this summer, but next summer we plan on running it like a proper campground so people can pitch a tent and stay where the music is."
"On the inside," continues Gecas, "we re-did the sound system and stage, put in place new vault ceilings, knocked out some walls to better utilize the space, installed new hardwood floors, new paint, lights, and windows too. We're going to put in a nice pool table and some dart boards where the 'middle' room used to be, but we're leaving the lower area to use as a closed-off space for private events."
Even though the plan is, as of right now, to only be open weekends (Friday through Sunday) through the winter once construction is complete, Gecas is hopeful that they will be able to expand their hours once things pick up again in the summer.
"In the summer," says Gecas, "It's really going to depend on staff—who we're able to hire and what we'll be able to run."
"Hopefully we'll get a decent crew and be able to stay open seven days a week in the summer," continues Gecas, "but either way, it's going to be a really good time."
To stay current with all that's happening with Up Yonder, follow them on Instagram @up.yonder.at.harborlight or find them on Facebook: Up Yonder.