Thunder Bay—The year-round tropical oasis in the middle of Thunder Bay, the Centennial Botanical Conservatory, is celebrating its 50th anniversary this year.
The Conservatory, which opened on Nov. 18, 1967, was a centennial project of the Fort William Board of Parks management to commemorate Canada's 100th birthday (cities of Fort William and Port Arthur were amalgamated by the Ontario government in 1970 to form the City of Thunder Bay). It cost $162,000 (equal to about $1.2 million in 2016) to construct the Conservatory, using 18 tons of glass and steel from southern Ontario and three tons of amethyst and split granite mined locally.
Rated by Trip Advisor as number seven of 62 "Things to do in Thunder Bay," visitors can stroll the pathways to enjoy the tropical plants (conveniently labelled), trees and shrubs from around the world, and meander through a vibrant landscape that includes a waterfall, bridge and wishing ponds. The lush tropical environment under glass is also a popular location for wedding ceremonies and photos.
Where else in Northwestern Ontario can you go for a tropical refuge during the winter, without paying for airfare/hotel? While winter rages on outside, it's the perfect place to bring a book to read on a garden bench, do some sketching or photography, or just take a break, warm and cozy from the winter cold. Admission is free (donations appreciated), there's free Tbaytel.net public Wi-Fi and the facility is barrier-free.
Outside on the grounds during the summer months, there are community and children's gardens, picnic benches, perennial gardens and walking trails that link up with other city recreational trails. Since the summer of 2014, visitors can also view the honeybee functioning beehives on the west side of the Conservatory, which were placed by beekeepers Rudy and Lois Kuchta, members of Thunder Bay Beekeeper's Association.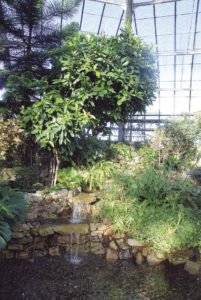 For history buffs, there's an extra bonus. The Conservatory, with its distinctive glass arboretum, was designed by the famous American greenhouse manufacturer Lord & Burnham, which had been designing and manufacturing greenhouses since 1849, including New York's Haupt Conservatory, and Buffalo and Erie County's tri-dome glass Conservatory (which when built in 1897-1899 was one of the largest public greenhouses in the U.S.).
The city-owned Centennial Botanical Conservatory is supported by the Friends of the Conservatory, a volunteer organization described on their website as, "a group of forward-thinking citizens working to creatively enhance and promote the use of the Conservatory and its property."
And they've been very successful, as thousands visit each year to enjoy the mini-tropical paradise, the gardens, and special events, like January's The Green House; a "tropical get-away with an afternoon of music," co-hosted by the Friends of the Conservatory and musician Matt Migz. For more information, go to friendstbconservatory.com.