Julebyen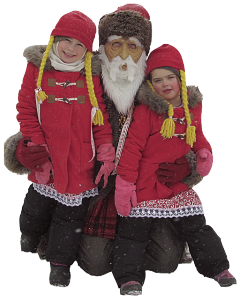 Minnesota is known for many Scandinavians, so it's no surprise that the Knife River Julebyen event, now in its third year, is a big hit.
Julebyen (pronounced Yool-eh-be-en), means Christmas Village in Norwegian. This two-day family-friendly event features all things Scandinavian and Christmas; lefsa and krumkakka demonstrations, Santa, carolers, characters from Norwegian and Swedish mythology, a live nativity scene with animals and loads more.
"Julebyen is a celebration of Christmas that honors the village's Scandinavian heritage," said Julebyen chairperson Carol Ojard Carlson. "But you don't have to be Scandinavian to enjoy the creativity and talents of musicians, storytellers, good food and more."
Knife River's Yulebyen was created to replicate a Christmas Village in Egersund, Norway after residents Anne and Chris Skadberg visited a Julebyen four years ago while visiting relatives.
The first Julebyen brought 600 visitors. Last year, roughly 190 people volunteered for the event with over 6,000 volunteer hours and roughly 1,400 visitors attended. This year, the numbers are expected to continue to grow.
"A correspondent from the Norwegian Broadcasting System is flying out from Washington D.C. to film and photo Julebyen for several stories to be broadcasted in Norway," said Carlson.
Julebyen offers activities, including ice skating, candy making, blacksmith demos, a bonfire, a gold medallion scavenger hunt, a snowshoe obstacle course and a children's herring run. Inside the heated tent, or "Gnome Dome," is live stage entertainment, including local musicians, storytelling and a children's show. There will also be a tour of homes, featuring three houses decorated for the holidays. Tickets can be purchased at the door and are $15 per person.
There is also an outdoor marketplace, offering handmade gifts, decorations and food. Vendors are from the area and selected through a juried process. There's also an indoor bazaar, featuring seasonal handcrafted items such as wreaths, Jul logs, cards, ornaments, hand-stitched goods and everlasting moss creations.
And what's a festival of without food? Risgot (rice pudding), Lake Superior herring sandwiches with tartar sauce, julopolse (sausage on a bun or on lefse with lingonberries), lapskaus (stew recipe directly from Norway), home-baked Nordic breads, mulled cider and hot cocoa will be served.
Julebyen is held Dec. 5-6. Saturday events begin at 9 a.m. and Sundays at 10 a.m. Admission is free. Visit www.julebyen.us for more info.—Breana Roy
Bentleyville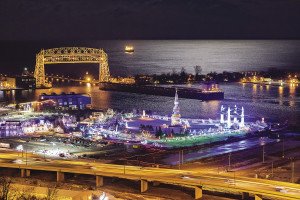 Drive through downtown Duluth at this time of year and Bentleyville is hard to miss. Located in the Bayfront Festival Park, it is America's largest free walk-through lighting display, featuring millions of lights and hosting thousands of visitors each year.
It all started in 2001 with Nathan Bentley and his continually growing holiday light display, making his home known as, "the house with all of the lights in Esko." After two years, his display went from a "drive by" to a "walk-through," and even included Santa Claus visiting on the weekends. Soon, it became known as Bentleyville, a spinoff of Dr. Seuss' Whoville. After moving from Esko to Cloquet, Bentleyville was quickly outgrowing its location.
In 2008, Nathan received a call from Duluth Mayor Don Ness, who invited him to move his lighting display to Bayfront Festival Park; and the rest is history. Bentleyville now includes lighted tunnels, fire pits for marshmallows, free popcorn, cookies and hot chocolate, reindeer, music and a small gift shop. Included in the massive lighting display is a 128-foot tree, lit up with 100,000 LED lights and made of 17 tons of iron.
Santa is also a regular guest, visiting every night from 5-8 p.m. Children 10 years and younger will receive a free knit Bentleyville hat and a bag of cookies from Santa.
Bentleyville is an official collection site for the Salvation Army so bring a non-perishable food item or unwrapped toy. Donations will be given to the Salvation Army Crops in Duluth, Cloquet, Grand Rapids, Hibbing, Virginia, International Falls and Superior, Wisc.
While admission to the lighting display is free, donations are certainly welcome. Bentleyville is a non-profit organization, so all donations will go towards the operation. Volunteers are also needed year-round.
Bentleyville is open Nov. 21-Dec. 27. Visit www.bentleyvilleusa.org for more info.—Breana Roy
Pepperkakebyen—Gingerbread City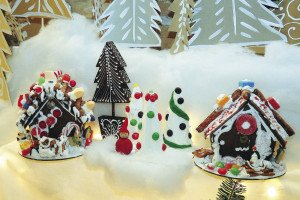 Sparkling white Christmas lights, fragrant gingerbread, and a mug of hot mulled cider: all signs that the holiday season has arrived. But in this case, it also means you've walked into Pepperkakebyen—the Duluth Gingerbread City at the Nordic Center. And it is truly a gingerbread city, with hundreds of gingerbread structures of all kinds. Last year, a replica of the Glensheen Mansion was one of the showstoppers, constructed by artist Patrick Mulcahy. This free event is a chance to enjoy the sights of the Gingerbread City and learn about the history of gingerbread, also known as pepperkaker, in Scandinavian.
The idea for Pepperkakebyen came to Duluth with Bente Soderlind, a native of Bergen, Norway, where the original Pepperkakebyen has been presented for 25 years.
"While working at Takk for Maten Café, we had a small gingerbread version of the Tech Village and when I saw the excitement it created amongst the ones who participated, I became more hopeful that some day we'll have our own little walk through Pepperkakebyen," said Soderlind.
In 2012, the first Duluth Gingerbread City was presented and it has grown since then, with a Gingerbread Decorating Workshop each November, the invitation for home bakers and artists to participate by dropping off their creations in late November, and a showcase of the city through early December. Last year, there were 200 structures on display thanks to hosts, the Nordic Center and Nortun Lodge/Sons of Norway, and many volunteers.
"My favorite part of Pepperkakebyen is having people come in from the cold and be transported to a magic world of wonder and creativity," said Alison Aune, artistic and education director of the event and UMD art professor. "As an art educator, I enjoy sharing the history of the cultural crafts with our visitors." She created an activity booklet about the history of Pepperkakebyen for attendees.
Pepperkakebyen is open Saturdays and Sundays, Nov. 21-Dec. 13, from 1-5 p.m. at the Nordic Center (21 Lake Street, Duluth). All ages are welcome with free admission, complimentary refreshments, Nordic crafts to make and take, and books to read to children. More information available at www.pepperkakebyenduluth.wordpress.com.—Maren Webb
Winter Solstice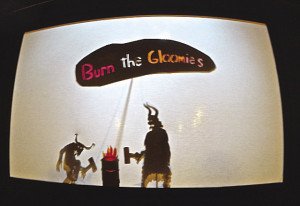 On the darkest day of the year, about 200 folks gather beside the Grand Marais harbor at the North House Folk School to celebrate the return of light with a shadow puppet show, performed by the Good Harbor Hill Players. The audience is outside, looking at the show on a screen inside the building.
"Dress warm. The show lasts about 15 to 20 minutes," said musician Barb Lavigne. "After the show, everyone can come inside and warm up."
At press time, the group hadn't decided this year's theme, but the nonreligious show is always about enduring winter and the return of light. It is accompanied by live music. Everyone is welcome to attend both the show and the potluck supper afterward.
A big part of the event is the bonfire. Everyone is invited to bring a "gloomie," a symbol of something they want to let go, to toss into the fire. Often the "gloomie" is something written on a piece of paper.
This year, the solstice program received a grant from the Arrowhead Regional Arts Council to pay the director, performers and musicians. Some of the grant money is used to purchase construction materials, pay the North House for the use of space and rent sound equipment.
A similar event celebrates the Summer Solstice, though it attracts a larger crowd, including tourists. The Winter Solstice is more of a local celebration. Lavigne said it is always held on Dec. 21, regardless the day of the week, because the locals will show up.
"It's for the people who are stuck here," she said. "It feels more like family than the summer production."
The Winter Solstice Festival will be held at 6 p.m. at the Grand Marais North House Folk School. For more information, contact Lavigne at (218) 387-2137.—Shawn Perich
Borealis Chorale and Orchestra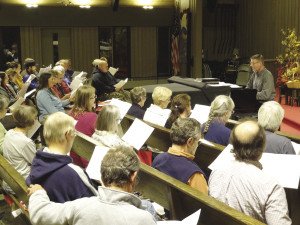 I had assumed that listening to the Monday evening rehearsal of the Borealis Chorale and Orchestra from the church lobby would constitute a portion of research for my story. After a bit of coaxing from a fellow lobby-sitter, however, I learned the true understanding comes when you are engulfed by the sounds of the room.
"People do this to be part of the tapestry," he said. "Many sing because it makes them feel like they are part of something and provides a feeling of interconnectedness."
Following his advice, I took my place in the back row. I found myself closing my eyes to remove all the visual distractions. I was quickly swept away in the moment, feeling the highs of the loudest notes and the gentleness of the quietest.
Before the practice began, I spoke with Philis Anderson, a 50-year participant in the Borealis Chorale and Orchestra, as well as a former principle oboeist with the Duluth Symphony.
"The Borealis Chorale has evolved from the Symphonium Music Club that started back in the late 1950s with Ora Wilcox," Anderson explained. "She was the instigator of the group that became associated with the American Federation of Music Clubs. For over 50 years we have been playing Handel's Messiah with different conductors, including 30 years with director B.J. Muus."
She explained that Bill Beckstrand took over the Symphonium Music Club in 2010, bringing with him a new format and name. The newly branded Borealis Chorale and Orchestra (BCO) performs fewer messiah pieces than they were used to doing, as well as different orchestra pieces and Christmas carol-type pieces in the December concerts.
Community members and visitors who want to feel as part of the tapestry will have the opportunity in both winter and spring annually. The Christmas concerts will be held on Dec. 6-7 at the Bethlehem Church, 1st Ave West, in Grand Marais at 7 p.m. They will have a variety of snacks and baked goods after the concert in the lobby. Though the concert is free, they ask a free-will donation to help with the musical costs and director support.—Casey Fitchett