There is no lake more intimidating than Lake Superior. It is the Big Kahuna, a seemingly endless ocean of fresh water that disappears beyond the horizon. Most boat fishermen find Superior intimidating, so who in their right mind would try to fish it from shore?
That is a reasonable question. But didn't David take down Goliath? There is something deeply satisfying about standing on the edge of Superior, casting out as far as humanly possible and feeling a steelhead or lake trout thump your spoon. It is a feeling that never gets old.
Here are the W5 of casting Lake Superior shorelines.
Why?
Lake Superior is massive and daunting, but many of the fish species most desired by anglers are at least occasional shore huggers. These species include coaster brook trout, steelhead, coho and chinook salmon and brown trout. Fish that are most often found in deeper basin areas, such as whitefish and lake trout, will also make forays into shore depending on the season, water temperature and wind action. Warm water species like pike, walleye and perch can also be caught along Superior shores. Shoreline fishing can be even more productive than boat fishing in certain places and under the right conditions. Finding those conditions is the trick.
Where?
You can shore fish anywhere the spirit moves you on Lake Superior. On the Canadian side, we are blessed with long stretches of shoreline that has public access. The problem is not every rocky shoreline has fish. Most of it won't. That does not mean you can't fluke a fish, but you need to pick spots that have the highest potential. On Lake Superior, some of the key places to look for are river mouths, points that extend into deeper water, narrows or neck-downs between shore and islands, man-made berms and piers or docks. This is a small selection of things to look for but gives you a good starting point. Some popular shore-casting spots are well known. Many more are out of the way and off the beaten path. I'd recommend looking closely at a map of Superior's shoreline, then looking for access points to any spots that have potential. You may have to bushwhack a bit, or walk a beach, but the further you are from easy access the more likely it is you will find a jewel.
When?
Shore-casting by design requires open water, but on Superior, that doesn't rule out winter. Most of the lake doesn't freeze, although on the Canadian side, many of the bays and inlets do. The shore bound angler's best bets are found during the spring and fall. Spring is when steelhead will begin nosing around river mouths and in bays that are adjacent to those rivers. Steelhead are at the peak of brightness pre-spawn, but the spawned-out fish in late May and June often hit the hardest and jump the highest. Lake trout, whitefish and brook trout are also quite active along shorelines in the spring, as are warm water fish such as pike and bass. Summer is the most difficult time as water temperatures, particularly close to shore, tend to be too warm for salmonids. There are parts of the lake that simply never warm up, and here you can cast shore through the dog days. Bring a thermometer and use it. If the water temperature is less than 55 F., you have a shot at trout. Bass, pike and walleye, on the other hand, like warm summer water, so it is a great time to target them.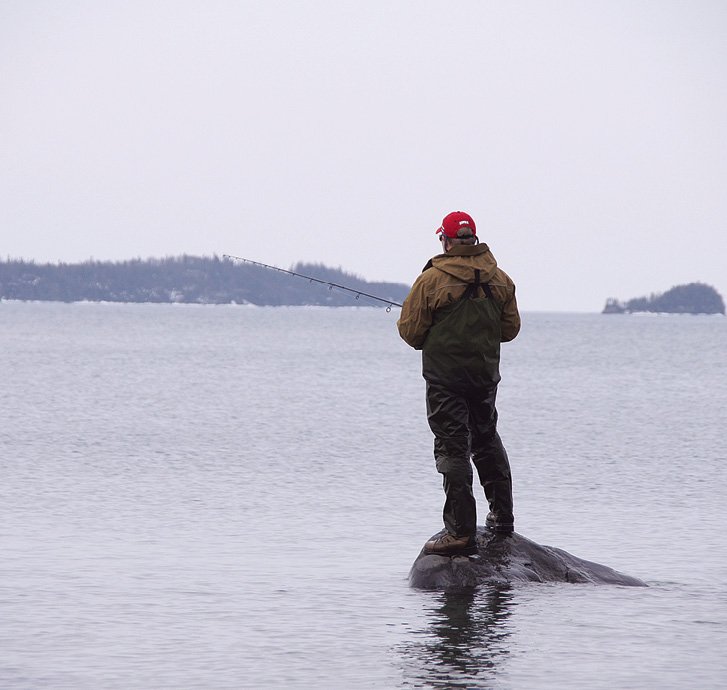 Late summer and fall are my favourite time of year to shore cast Superior. The water is cooling, the air is fresh and salmon, lake trout and steelhead begin to stage. Although river mouths are the main draw, you can be a long way from a river and still connect with chrome trout and salmon. These fish cover water and often use shoreline as they head to the spawning rivers. Lake trout will be schooling off rocky reefs and berms and can be very aggressive after summer begins to wane. I recall one September day a few years ago, when casting a spoon off a rock shore east of Nipigon was met with one laker strike after another. The fish were practically fighting each other to nail it. No, it doesn't always work that way, but when it does, it is memorable.
What?
Gear for shore-casting doesn't need to be fancy, but there are a few tweaks that will allow for maximum range. I'd recommend a medium/heavy spinning rod of at least 8 feet in length. Match that with a high-capacity spinning reel spooled up with a quality 20-pound test braid. Attach an 18-inch leader of 15-pound fluorocarbon line and a metal clasp. Spoons are a great choice for shore casting as they are wind cheaters and flashy. The Little Cleo, Krocodile and Williams Bully spoons are all a good choice. The heavier the spoon, the further it will cast, but the faster it will sink. A 3/8-ounce is a good all-around weight. Crankbaits can also be deadly when cast, especially heavier ones like the X Rap. I've also had great luck casting jigs, both bucktail and rubber bodied, and then swimming them back to shore. Fly anglers can also cash in on shore fish, although it takes willpower and commitment. Winds are the norm on Superior and casting long distances can be difficult if you are not able to wade. Sinking line and streamers are the norm. Speaking of wading, I'd recommend that anyone who is serious about exploring shore-casting Superior buy some quality chest waders, insulated if possible. You will appreciate the extra insulation as you wade deeper than your knees in Superior's often ice-cold water.
Who?
Anyone with an adventurous spirit and the willingness to angle in tricky conditions can shore fish. Take the chance and enjoy the excitement of connecting with a fish from the shore of Superior this year.