Canoe trips in the Northern Wilds are both strenuous and immensely rewarding. The bugs, the aches, and the sore muscles are a fair price to pay for the vistas and wildlife encountered along the way. And in the evening, after the camp has been squared away, there is time to relax, look out over the lake, and enjoy a well-earned meal.
However, due to lack of refrigeration and a desire to lighten the food pack, preparing a hearty meal that is delicious, portable, and easy to cook over a camp stove is problematic. Sure, Rice-A-Roni tastes good on the trail, especially with a fresh walleye fillet, but there certainly must be better options. The early freeze-dried meals from my childhood more closely resembled Styrofoam. So what is a person to do?
To answer that question, I asked some people who have been working hard to solve this problem. It turns out there are many tasty options available.
Not every option has to do with dinner. Clare Shirley, owner and general manager at Sawbill Canoe Outfitters, said the iconic food they send along with their guests is their gorp. Gorp stands for Good Old Raisins and Peanuts, and is a canoeing staple. It can be eaten for lunch or as an energy boost after a long portage, a snack while out fishing, or for dessert. While Shirley would not reveal their recipe, she said their gorp is made in-house with natural ingredients purchased at the local food co-op. They substitute cashews for peanuts and add plenty of chocolate. Trips outfitted by them always include a big bag of gorp.
The Cook County Whole Foods Co-op has an iconic item that also sees its way into many food packs. Made from scratch on site, their granola has become a must-purchase item for many before they head out onto the trail. Like gorp, it can be a great snack or a finger food for lunch. And for breakfast with powdered milk, it is bursting with flavor and will provide one with the energy for hours of paddling. Deli manager Adam Mella says that demand for this granola is so great during the summer that they make three large batches and will sell 40 to 45 gallons each week. What makes this granola so popular? "Love is the key ingredient," states Mella. That said, it is chock full of high-quality ingredients such as organic oats, pecans, sliced almonds, cranberries, and toasted coconut. It is sweetened with locally produced Caribou Creme maple syrup. It is crunchy, sweet and satisfying.
It turns out, dehydrated trail dinners no longer have to crunch when you eat them. Sarah Hamilton of Trail Center Lodge on the Gunflint Trail has made it her mission to develop tasty, nutritious meals that can be easily reconstituted by adding hot, or in some cases, cold water. The result is Camp Chow, available online (shop.trailcenterlodge.com), at selected retailers in Minnesota, California, Ohio and Pennsylvania, and of course, at Trail Center Lodge.
Their best-selling dinner is beef stroganoff. Packed with wild mushrooms, egg noodles and beef, this creamy dish is the ultimate camping comfort food. The buttery gravy and secret spices will remind one of passing the bowl of stroganoff around the dinner table. As with all their meals, the only "cooking" that needs to be done is to boil water. Just pour the water into the bag, seal it up, and let it sit. Backpackers love this set-up for this reason. All one needs is a compact stove and a pot in which to boil water. The stroganoff is also available with couscous instead of noodles or chicken instead of beef. Another popular item is their wild rice sausage casserole. It features, in addition to wild rice and pork sausage, peas, dehydrated cheddar cheese, cream, butter and chives.
For breakfast, Sarah recommends the sausage gravy on toast. This dish boasts pork sausage in a creamy gravy. Dried bread is included and is added after the meal has been cooked. It is rehydrated by the gravy. This meal is sure to get your day off to a good start.
All of Camp Chow's foods are packed at Trail Center Lodge. There are vegan, gluten free, vegetarian, and low sodium options available. Many dishes can be rehydrated with either hot or cold water, a popular option with some ultra-light backpackers or for lunches on the go.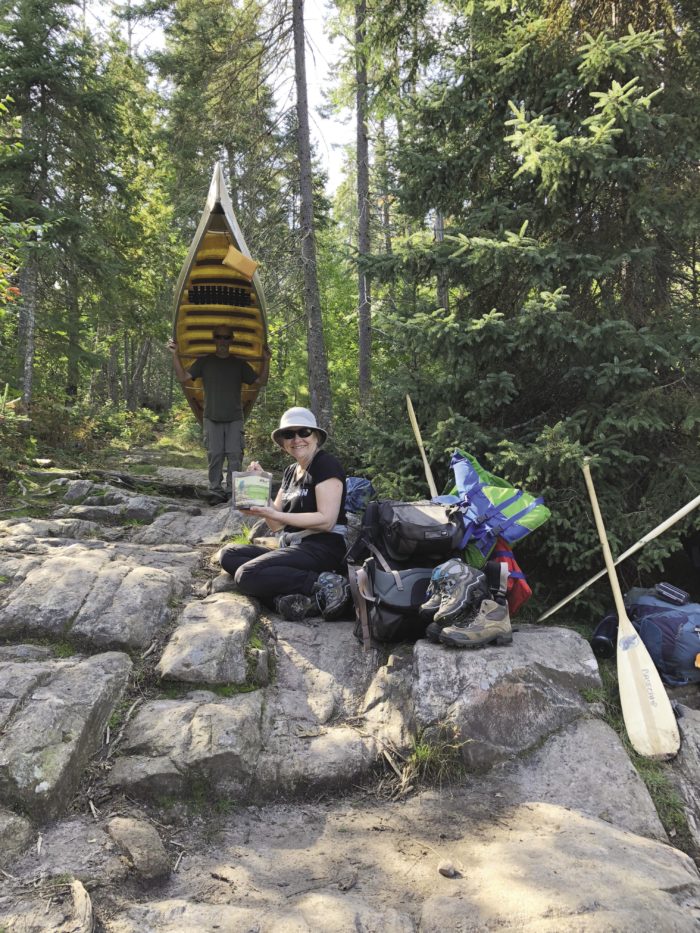 If you are looking to add a little spice to your camping experience, Packit Gourmet of Austin Texas has some delicious Tex-Mex dehydrated meals. This family-owned business was an outgrowth of the Mullins family's love of canoeing and the outdoors. Daughter Sarah Mullins' MBA project morphed into a family business where recipes developed for personal use were refined and offered for sale online.
Their most popular dinner is their state fair Texas chili, and it will definitely make you sit up and take notice. This dish contains red and kidney beans, ground beef, tomatoes, onions and peppers. It is spiced boldly and surrounds the palate with rich flavors. It comes with packets of dehydrated Monterey jack cheese, Fritos corn chips, and Texas Pete hot sauce. Add the chips and cheese after cooking and season to taste. As with the Camp Chow, these meals can be cooked in their bags by adding boiling water. Just seal up the back, wait 10 minutes, then enjoy. This chili is tasty enough to serve at home to guests.
Their Austintatious tortilla soup is a winner, literally, having won an award from Backpacker Magazine. It is prepared in the same manner as the chili and comes with packets of dehydrated Monterey jack cheese and tortilla chips, True Lime juice, and Cholula Hot Sauce. Ingredients include cage-free chicken, black beans, bell peppers, roasted corn, tomatoes and cilantro. It is packed with flavor and quite satisfying.
Another popular item is Dottie's chicken and dumplings. Based on a family recipe, this dish features cage-free chicken, peas, corn, carrots, mushrooms, and of course dumplings, in a chicken gravy.
While these products are not currently available in retail stores locally, they can be purchased online at: packitgourmet.com.
One need not purchase dehydrated meals to eat well in the Boundary Waters. I usually pack fresh vegetables, apples, cheese and sausage. The grocery stores and co-ops have many fine options for quick, portable dinners. What is clear, though, is that dehydrated meals have developed to the extent that they are not only practical but delicious, and family-owned businesses are leading the way.