In 2010, Montana resident Jonathan Haun was diagnosed with metastatic melanoma at the age of 28. Doctors gave him a minimal chance to survive.
Haun grew up and lives in rural Montana. He presently resides in the town of Thompson Falls, a small community about 70 miles northwest of Missoula situated along the banks of the Clark Fork River. A lifelong fisherman and outdoorsman, Haun decided to spend as much time in nature as he could once the prognosis came in. He changed his diet and worked hard to find the positive in a bleak situation. He took on cancer.
Despite the odds stacked against him, in 2017 Haun—who stands at 6'7"—is cancer free. This winter, he was able to fulfill the dream of an ice fishing trip to the Gunflint Trail and Minnesota's Boundary Waters Canoe Area Wilderness.
I had a chance to speak with Haun during his trip.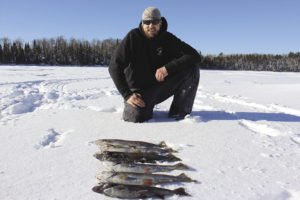 This was your first trip to Minnesota. What did you think of the Gunflint Trail and the Boundary Waters Canoe Area Wilderness?
Jonathan Haun: My first time to Minnesota is an experience that I will never forget. This is one of the most beautiful places I've ever visited. We've been staying at Nor'Wester Lodge right on the Gunflint, so it's great to be immersed right in the middle of the wilderness area.
What amazes me the most is how vast and remote the area really is. It seems like you could fish here your entire life and still not even come close to fishing every lake. The place holds a lot of history and to me seems like a very spiritual place. People who live in the area are blessed to live in such a pristine wilderness.
What did you think of the ice fishing scene up the Gunflint Trail?
It's truly an anglers' paradise. With just about every species of fish to choose from, the options are seemingly endless. I've never been to an area that had such a diverse fish population. But at the same time, ice fishing the Boundary Waters is definitely not for the faint of heart. Anglers in this area tough out grueling temperatures. They walk from lake to lake through the elements. There are added obstacles to making a good day of it, in addition to if the fish are biting. And to me, that makes this place among the best on the planet to go ice fishing.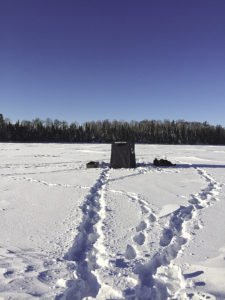 You are used to hiking through the Rocky Mountains and some magnificent country. What did you think of the concept of portage trails that lead from lake to lake?
Portaging was something that I'd never experienced. Trekking across these lakes and portaging to another is not as easy as I had anticipated. Living in Montana, I am used to hiking steep and difficult terrain, so the talk of walking and portaging seemed like a piece of cake. As mentally prepared as I was to make these journeys, I found out right away that it was not easy. The first day the temperature dropped to -26 degrees F. and as soon as I began to walk I found myself shedding all of my layers off to avoid sweating, which can be extremely dangerous in those temperatures. During parts of the walk I could feel ice forming on my eyelids and the reality set in that we are on our own out here with no hospital or cell service—if something were to go wrong it could become catastrophic. It made me realize that a person must be careful and properly prepared for any condition or scenario. But after reaching our destination each day to fish, I found myself in awe at the beauty and really appreciated being in such a magnificent location.
You grew up in Big Sky Country where trout fishing is epic and people travel from all over the world to fish Montana's rivers. What did you think of the trout fishing in the Boundary Waters?
The fishing in Montana is good, but it's definitely not the same. Minus a few high mountain lakes and wilderness areas, most of the fishing can be easily accessed and there really isn't the option of portaging to another lake. In order to fish lots of different species of fish in Montana from where I'm located, one must be willing to travel great distances. And that doesn't seem to be the case in the Boundary Waters or up the Gunflint Trail.
Did you learn anything about ice fishing on this trip?
In Montana I primarily target northern pike when ice fishing. The area that I enjoy to fish has the potential of producing 20- to 30-pound pike. But the technique is simple and pretty much boring: a dead smelt bait on a tip-up and suspended about one foot off the bottom.
Being from Montana, oddly enough trout fishing through the ice isn't something that I had a lot of experience with. It was interesting fishing different species and learning how they feed and strategies to coax them into biting. I like the fishing up here, using strategy or even skill, as opposed to just blind luck.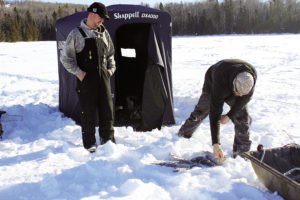 How did what you overcame with cancer make you appreciate the trip more?
Finding out that I had metastatic melanoma and it had reached my groin through my lymph nodes turned my life upside down. It was the most unexpected thing to ever happen to me. After the surgeries on my leg, groin and back, the prognosis was a 50 percent chance of it coming back. If the cancer came back, my chance of survival was zero percent.
My view on life during this time changed dramatically. I went through stages ranging from selfishness to 'poor me.' Death seemed inevitable after doing research.
And yet, it has now been six years and I am cancer free. I've had doctors tell me flat out that I'm lucky to be alive. There is no doubt in my mind that this was achieved from staying positive and believing without a doubt that I could beat this. I didn't want to spend the rest of my days feeling sorry for myself. I wanted to enjoy life by being positive and living healthy. Every day I am thankful to be here and I am very appreciative of everything that I have in my life. I no longer take life for granted and coming out on this trip is a once in a lifetime experience that I'll never forget.
Would you ever come back to the Boundary Waters region?
I plan on someday being able to get my entire family to come visit. If I had my way, I would come up two times a year; first in the early summer for the family to experience a camping and fishing canoe trip and the other for ice fishing. I definitely fell in love with the area and I can't wait to come back.
Once the fishing holes were drilled and ice hut was set up, I found myself staring off into the distance enjoying the solitude of such a remote area. I had plenty of time to think about life, my wife, my family and everything I was thankful for.
I guess the easiest way to describe this trip is that I definitely fell in love with the area and I can't wait to come back.
In support of his recovery from cancer, Nor'Wester Lodge provided lodging for Haun and his companions during their 2017 winter adventure. Nor'Wester is located 30 miles up the Gunflint Trail on the shores of Poplar Lake.