The Lake Superior National Marine Conservation Area will be among the largest freshwater protected areas in the world, including 13 percent of the big lake's surface area.

| PARKS CANADA
---
Nipigon—The wildest area on the Great Lakes will receive protection as Parks Canada works to establish the Lake Superior National Marine Conservation Area. Once established, it will be one of the largest freshwater protected areas in the world; approximately 10,880 square kilometers in size, occupying almost 13 percent of the surface area of the largest Great Lake.
Located in Northwestern Ontario, the Marine Conservation Area extends across the top of Lake Superior from Thunder Cape at the foot of the Sleeping Giant, all the way to Bottle Point just east of Terrace Bay, and south to the Canada-United States border. Lake Superior National Marine Conservation Area is comprised of a rich natural and cultural heritage, and encompasses remarkable features including: over 70 fish species and rare arctic-alpine plants; dramatic terraced landscapes, Superior Shoals, some of the world's oldest known rocks; and 70 known archaeological sites varying from pictographs, to grave sites, shipwrecks, and more. Once established, Lake Superior National Marine Conservation Area will be protected from harmful activities, such as mining, dredging,
and dumping, that negatively affect these natural and cultural resources.
Currently, Parks Canada has an administrative office in Nipigon, but it hopes to create a visitor centre after the area is established. Current public outreach includes a student staff worker at the Red Rock Marina Interpretive Centre, as well as workers at local tourist information centres.
"We are working on our visitor experience strategy," said Sarah Shruiff, interpretation officer coordinator with Parks Canada.
This involves creating a prioritized list of products, programs and site-specific activities, and identifying where our infrastructure and investment should be focused to ensure potential visitors will have a high-quality and meaningful experience at Lake Superior National Marine Conservation Area.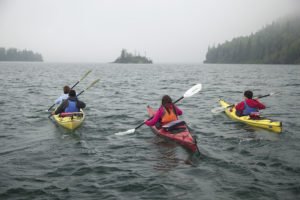 Visitors to the area are commonly interested in hiking, boating, fishing, camping and lighthouse experiences. As the establishment of Lake Superior National Marine Conservation Area progresses, site staff are working with North Shore communities to create memorable visitor experiences that will contribute to an increase in tourism and economic benefit, while protecting this extraordinary natural area for Canadians and other visitors to enjoy for future generations. This includes contributing to new viewing platforms on local trails, producing interpretive signs, hiking trail improvements and marina access. In addition, Lake Superior NMCA, in collaboration with Tourism Northern Ontario and Superior North CFDC, produced a Top of Lake Superior Hiking Trails Guide that was distributed to Tourism Information Centers across the North Shore. Parks Canada protects and presents national treasures, such as Lake Superior National Marine Conservation Area, because they tell stories of who we are, including the history, cultures and contributions of Indigenous peoples.
Parks Canada manages one of the finest and most extensive systems of protected natural and cultural heritage areas in the world, consisting of a vast network of natural and heritage places that include 46 national parks, 171 national historic sites, four national marine conservation areas and one national urban park.
Protected areas play an important role to help mitigate the impacts of climate change by protecting and restoring healthy, resilient ecosystems and contributing to the recovery of species at risk. The Government of Canada is committed to preserving and expanding the system of protected areas, including national parks and marine conservation areas, and delivering on the target to protect at least 17 percent of land and inland waters, and 10 percent of coastal and marine waters by 2020.