No two journeys are the same for our local artists. Some pursue art part-time as an outlet for their creative expression and additional income. Others use their art to build a full-time, independent business. Either way, they come up with unique ways to get their work out into the world. Here's how they do it.
From a Painter's Perspective
Kathy Fox Weinberg didn't set out to become a fine art painter. As a matter of fact, she spent her career in finance.
"I hadn't had a paintbrush in my hand since third grade, so it was as much of a surprise," said Weinberg.
In 2013, the Minnesota native was traveling for work and on assignment in California. She got lost and ended up in an art supply store parking lot. Inspiration struck, and she decided to pick up a few canvases, acrylic paints and paint brushes, and began painting. Her first plein air, or outdoor, painting was of the Napa vineyards.
"I was kind of hooked immediately," she said.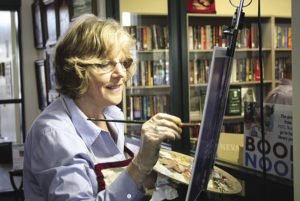 When Weinberg retired, she and her husband John moved to the North Shore, where they found a property with a large studio. She transitioned to oils and dedicated herself to painting, pouring herself into her work.
"I love the North Shore," she said. "The landscape, the boreal forest, the lake, the changing light conditions up here are exciting to me. I tend to be looking for that 'aha' moment…something that is the showstopper moment of why [a landscape, tree, or flower] stopped me in the first place. I hope that if I can capture that, it may be meaningful to someone else who has either visited or loves it up here," she said.
The self-taught artist, who is in her late 60s, paints at least four hours, five days of the week.
"The business side of art is a distraction. I would rather be in my studio," said Weinberg.
Paints, canvases, brushes, and workshops to advance her skills are expensive. She devotes a day a week to the business side of marketing and maintaining her website and social media platforms.
As a professional artist, she sells her work, commissions works of art, teaches at the Kah-Nee-Tah Gallery and Grand Marais Art Colony, and does private lessons at her studio or in the community. She finds she connects well with new artists who are intimidated of exploring their artistic side and the overwhelming fear of a blank canvas and the myriad of materials. Her paintings are featured at the Kah-nee-tah Gallery in Lutsen.
To Weinberg, painting has become far more than creative expression or making a living.
"What's the legacy that I'm really wanting to leave," said Weinberg. "What's the message? What am I trying to capture that's important to leave, whether it's for family, or friends, or gifts, or clients? How do I paint that legacy?"
Weinberg's studio will be part of the Fall Studio Tour that takes place from Sept. 29 through Oct. 8 in Cook County. The tour map is available at: visitcookcounty.com/arts. You can also visit her website at: kfoxart.com.
From a Potter's Perspective
Richard Cooter has experienced all the ups and downs of owning an art business on the North Shore; he has been a full-time potter here for more than 30 years. In the 1980s, he attended the University of Minnesota as a studio art major. When he took his first ceramics class, he knew—pottery would play an important role in his future.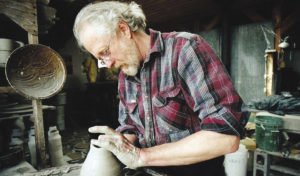 "I like the variety of work. I like the materials I'm working with. I like the type of freedom and independence it gives me," said Cooter. "I think it suits my personality and character."
He's shaped a successful career for himself on the North Shore.
"Mostly I sell out the door of our showroom, which is attached to my workshop, and we've built a clientele over the years," he said.
Over the years, the potter's work was noticed by the Angry Trout Café in Grand Marais, and today the restaurant serves their customers on his distinct dinnerware.
The durable, dense stoneware is created through labor-intensive methods, designed in simple forms with minimal décor and basic glazes. They're fired at high temperatures in a 125 cubic foot wood burning kiln, and the fire leaves behind traces of the process that makes each piece unique.
"I make functional pots," said Cooter. "And I think the work is really completed when someone uses them."
His designs are inspired by our local environment and reflect a natural aesthetic, with a goal of 'making washing dishes a pleasure.' That's a phrase he picked up long ago from an English potter, and the meaning stuck.
The potter and his wife Debbie, a weaver, have an ample at-home studio where the pair create art and sell their wares. The open studio "seemed like the right thing to do," said Cooter. "I was in a good physical location to do that. I had the space to do it. I was kind of near a major highway so I thought…if I hung out a sign there was a chance that I could fool people into coming by," he joked. As an added benefit, on their rural property, Cooter has a ready source of firewood for their kiln.
Cooter's perspective on the local art movement is special; he has witnessed both growth and decline of Minnesota's public art education over the years. When he was young, the focus on art classes "created a public, in the state of Minnesota, that is aware of art, and value it. And I don't think that's been the case in every state," said Cooter. "It concerns me now that it's not the case to the extent that it was in Minnesota anymore either, which makes me wonder about the future of arts in Minnesota."
To see more of his work, visit: cooterpottery.com or drop by his studio during the Cooter, Tonder and Friends Art Weekend. Held Sept. 29-Oct. 1 in Two Harbors.
From a Gallery Perspective
Betsy Bowen Gallery & Artist Studios is one of those special spots that you need to seek out. It's the working studio of Betsy Bowen, an acclaimed, local woodcut printmaker and author/illustrator. The studio and gallery is tucked in a historic Grand Marais church—the town's first Norwegian chapel.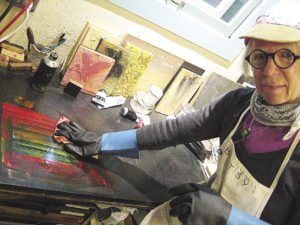 "Once they find us then they remember, and we have a lot of repeat visitors who come every year," said Staci Drouillard, the gallery manager who has worked with Bowen for about 15 years.
The church space is filled with Bowen's printmaking presses, and it also includes space for other artists and their work.
"Betsy really believes strongly in making space available to local artists," said Drouillard.
Along with Bowen's work, the gallery features the work of Stephan Hoglund, a local jeweler with 30 years of experience. He makes jewelry from local gemstones, and does portrait and wedding photography. The gallery is also the home of Wickwire Clay Works, the working studio and gallery of Melissa Wickwire, who makes handmade tile and does custom installations, as well as the work of Jim Sannerud, a wood turner and furniture maker who has his wood shop on the first floor.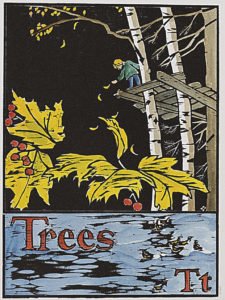 No matter if galleries along the North Shore are hidden gems, or on the side of Highway 61, they play an important role in our local art scene.
"The North Shore arts community is a thriving, active, living community of people. We have world-class artists who live here and work here," said Drouillard.
About 75 percent of traffic to Betsy Bowen Gallery & Artist Studios is from out-of-town visitors. During the peak travel season when our communities bustle with energy and guests, hundreds of people will drop in to tour studio spaces or purchase gifts in the gallery. At times, Drouillard meets families who are reading Bowen's popular book Antler, Bear, Canoe: A Northwoods Alphabet Year to their second or third generations. The book is in its 25th year in print.
"People come in and can find in Betsy's work something tangible from this place that they can take with them," said Drouillard.
For more info, visit: woodcut.com.
From a Photographer's Perspective
Popular Duluth photographer Ryan Tischer is an artist with an exceptional business sense. He's developed a unique formula that's helped him shape his passion for photography into a full-time business for both him and his wife.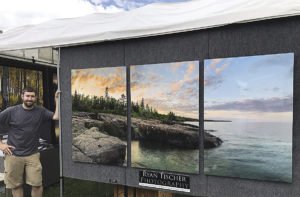 "The reality of it is that [my wife and I] are much busier with business, framing artwork, marketing, and doing things like that," said Tischer. "As an artist, that's where most of your time goes if you're self-employed and making your livelihood from it."
During high school, Tischer captured photographs as a hobby. And while in college at the University of Wisconsin-Superior, he studied communicating arts, photography and video production, and began selling his artwork. In 2007, Tischer took a big leap; he decided to pursue photography full-time.
The following year, he attended about 45 art shows to promote and sell his work. In 2014, business was growing, and his wife Aimee quit her job to assist with the business.
Tischer said one of the keys to his success was developing his niche.
"You should be able to describe what it is that you do in one sentence, maybe two at most," he advised.
He's known for nature and landscape photography of the Lake Superior region.
"Our trademark is 'take a piece of the North Shore home,'" he said.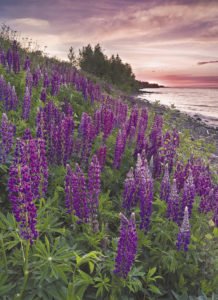 Tischer and Aimee form a productive partnership—Tischer is responsible for taking and editing photographs, custom canvas framing, matting his art on aluminum cut in his shop, and marketing and selling his work. Aimee assists with customer care, bookkeeping, print matting, and art show preparation and operation.
The photographer has narrowed his business down to a science. He has a list of "secret spots," where he returns time and again to capture the changing environment. For example, during the early spring when the sea smoke rises over the Big Lake, he'll head back to his favorite locations and take photographs for a few weeks straight. When conditions aren't just right, he's managing the business.
"Taking photographs out in the field is actually five percent," Tischer said of his time management.
He's also developed a selling strategy that keeps him successful. He's narrowed down the list of 45 art fairs to just 15—reducing his show visits by two thirds but making twice as much money. Half of his customers are local and half are from outside the region. He sells to individuals and businesses including banks, hospitals and others—building a clientele base and growing his business.
"The most important thing for me, and I think for a lot of artists, is to develop repeat customers," said Tischer, who learned key business tactics in college that stuck. "It costs 10 times more to find a new customer than to keep an old one."
This November, the Tischer's are taking on a new adventure. They're opening a studio and gallery at 5 West Superior Street in downtown Duluth.
To learn more, visit: tischergallery.com.
From a Glass Artist's Perspective
You know how, in the early spring, the ice on Lake Superior and its tributaries starts to shift and create jagged breaks and peaks of layered ice?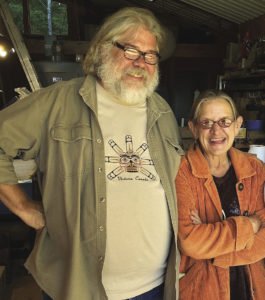 If you're a big fan of that natural occurrence, you'll love Blue Skies Glassworks.
"It's inspired by ice and water, particularly the icy waterfalls in the spring when the melt starts," said Mike Tonder, a kiln-formed glass artist who creates one-of-a-kind sculptures, hand-cut from flat sheets of glass. His inspiration comes when "the rivers are breaking up, and that push of ice that comes down and stacks up and tips the ice."
To create his art, Tonder carefully assembles the sculptures and fires them in an electric kiln before carving and etching the fused glass forms to completion. It's a detailed, time-consuming process.
"It's real quiet and contemplative," said Tonder of his work. It's reflective of his personal excursions in the Boundary Waters Canoe Area Wilderness and Ontario's Quetico Provincial Park, and his time as a forester and park manager at Crosby Manitou State Park near Finland. There, he and his wife Jody Freij-Tonder lived on-site in a rural, disconnected cabin and enjoyed the solitude of a life lived in the woods.
Tonder decided to switch gears after that, and became a full-time artist in 1987.
"When I started out in the glass, I really wanted to take something that was pretty simple, with basic materials, readily available…and I wanted to have something that aesthetically was different than what I was seeing out there," he said.
Freij-Tonder is also an artist and she creates recycled glass jewelry. In the early part of their art careers, the pair traveled the country to sell their art. Then, about 20 years ago, they moved to Thomas Lake near Two Harbors on a property with ample room for their studios.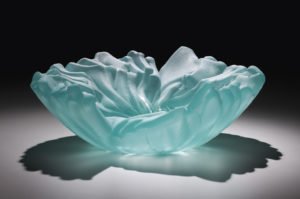 They could have lived anywhere, but the pair settled on the North Shore for the slow pace and environmental inspiration. Together, they helped build up the local art community and met with artists often to converse and connect.
Tonder said it's his responsibility to create art that helps people experience the North Shore.
"It allows people to see the vision that we, as people who live here, have," said Tonder. "It gives people something to appreciate the North Shore in a way that they might not if they come up here and don't make any contact with artists or don't look at any artwork."
To explore his art and see a list of galleries he's featured in, visit: blueskiesglassworks.com. And drop by his studio during the Cooter, Tonder and Friends Art Weekend. It runs Sept. 29-Oct. 1 and is open from 10 a.m.-6 p.m. at 4360 Thomas Lake Road in Two Harbors. The studio tour includes two studios and 15 artists.
From an Economic Perspective
The arts are critical to the North Shore economy, especially in Cook County. There are more than 127 full-time jobs for artists, musicians and craftspeople, and it's one of the top three employer sectors behind county and hospital employment.
"Artists are drawn here," said Kjersti Vick, marketing manager for Visit Cook County. "They find their artistic voice here."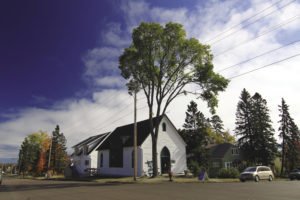 Visit Cook County promotes local art tourism and markets art travel to visitors. It's also part of a volunteer committee called the Creative Economy Collaborative, which is a group of local leaders including the North House Folk School, WTIP, North Shore Community Radio, the Grand Marais Playhouse, and the Grand Marais Art Colony, that works to create a strategic vision for promoting the arts up north, ensuring creative businesses thrive here.
Minnesota Citizens for the Arts (MCA) estimates that about $2.58 million in annual direct expenditures in Cook County are a result of the arts and culture sector. And a Cook County analyses noted that there are more than 100,000 participants in the arts and culture annually.
"Cook County is the third largest arts economy, per capita, in the state of Minnesota, only behind the Metro," said Vick of a recent MCA study, which states that there is $889 in economic impact for every one of the county's residents. Another study by the Travel Industry of America noted that, on average, arts tourists stay five nights rather than three, and spend $614 per stay versus the $425 of a non-arts tourist.
MCA noted that in Duluth, organizations such as the Tweed Museum, Minnesota Ballet, Duluth Playhouse and the Duluth Art Institute recently served over 835,000 people each year, for an economic impact of over $36 million.