Thunder Bay—A cozy house built of steel? Shipping container architecture—using recycled shipping containers of heavy gauge steel as building blocks—is a growing worldwide trend. These containers can carry 30 tonnes of cargo across the oceans, sometimes stacked up nine tall on a ship. And many only travel one-way, because it's not cost-effective to ship back empty containers.
So, what can you do with these 20-foot or 40-foot used containers of heavy gauge steel? Plenty. The repurposed containers can be transformed into unique, eco-friendly, durable, stackable structures, from hobby sheds, cabins and homes, to multi-tenant developments and hotels.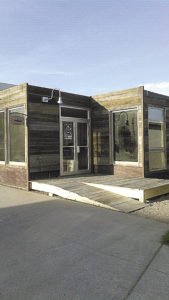 When the two-storey 60-room Days Inn hotel opened on Dec. 9, 2014, in Sioux Lookout (about 400 kilometres northwest of Thunder Bay), it received international media attention as the largest shipping-container-based hotel in North America. It used 120 surplus shipping containers placed Lego-style on a foundation of steel piles. Built by Calgary-based Ladacor and engineered by Steenhof Building Services Group in Orillia, Ontario, it took 13 months to construct.
Grand Marais is home to one of Minnesota's first retail stores to build with shipping containers. Opened in June 2016, Scott Sorenson repurposed two, 40-foot used shipping containers for his Fly Box & Company storefront, a fly-fishing shop that sells fishing tackle, equipment and outdoor apparel, and provides guided fly-fishing trips in Cook County.
Containers were converted by cutting steel for windows and doors, insulating the exterior before covering with recycled barn wood, finishing the interior, and spiffing up the thick mahogany floors.
"The store was built offsite about 10 miles, hauled to town by a one-ton pickup truck and 40-foot gooseneck trailer, and put in place. Within five hours, a previously vacant parking lot was transformed into a new retail store in downtown Grand Marais," said Sorenson.
Sorenson noted shipping containers are affordable, mobile (he can move the store), manageable for a small proprietor, and a great way to use and repurpose material.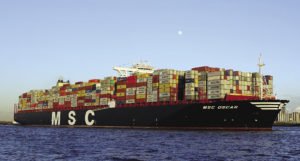 Watching TV's Home & Garden shows on mini-homes using shipping containers led Thunder Bay's Vesa Venska to launch Sisu Spaces last fall; a company focused on converting used shipping containers into unique structures.
One of his first designs was a cabin/mini-home with a Finnish sauna, bunk beds, rooftop patio, spiral staircase, galley kitchen, bathroom and even a fireplace.
"It took our crew one month to convert the shipping container," said Venska.
At the Home Show in Thunder Bay last year, Venska's cabin/mini-home was particularly popular with young people.
"I noticed a trend with younger people. They told me they didn't want a big house—they want small places and liked the idea of a shipping container mini-home," said Venska.
Venska's other current models include a two-car carport/storage unit, garden shed and a craft/hobby shop.