If you're headed up the North Shore for the day and interested in some unique jewelry or shiny pieces of wonderment for your mantel, there's a place that is just for you in Beaver Bay. Keith and Teresa Bartel, owners of the Beaver Bay Agate Shop, will happily show the agates and thomsonite they have in the shop.
"There's a following for agates and we really pride ourselves on customer service," said Teresa. "The store has always been a rock shop," she said.
Beaver Bay Agate Shop has been up and running since 1941. Originally owned by the Quinn family, Keith and Teresa purchased the shop in 2003. They specialize in Lake Superior agate, thomsonite, Mary Ellen jasper, and binghamite. The store offers agates from around the world, but Teresa likes to encourage the shop as a last resort for Lake Superior agate.
"We aren't far from the lake. We like to tell people to go look for themselves along the shore first and if they can't find any then come back here. It's more special when you find it yourself," said Teresa.
The shop also has chrysalis fossils, all-natural stone jewelry, and thomsonite jewels.
"We have regulars and tourists both," said Teresa of their shoppers. "We do have quite a few regulars that like to stop in and it's nice to see that year after year we can recognize their kids and how they've grown."
For those who may not be familiar with agate and thomsonite, agate forms between voids of lava rock. It is usually partially transparent to translucent in color. Thomsonite is a mineral that has "eyes" and "sprays." These are very unique and found in the Grand Marais area. Agates can be found in many places, but Lake Superior makes them plentiful in northern Minnesota.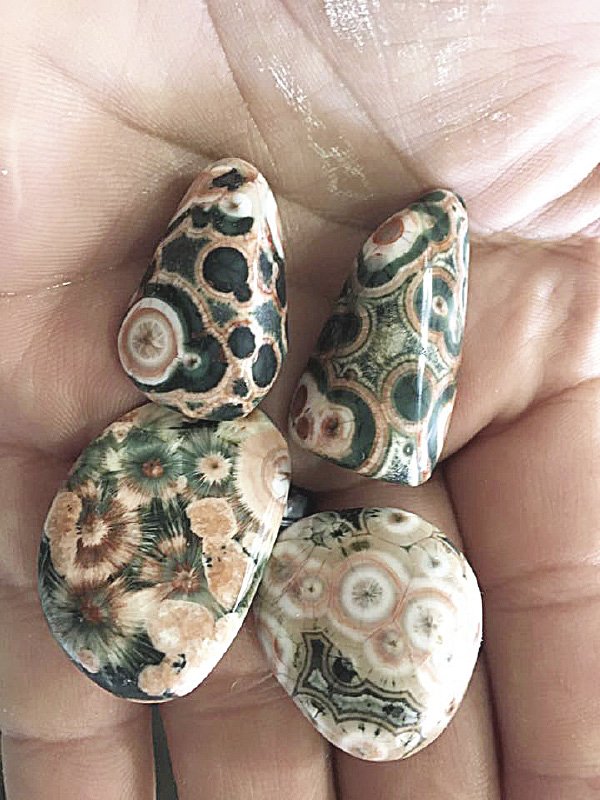 Keith started picking rocks when he was 3 or 4 years old.
"His grandfather had the grandkids go out and look for him," said Teresa. "Before you know it, the neighbor was buying up the kids' agates for candy money."
Today, Teresa and Keith have shared their love of rock picking for 35 years.
"It takes some skill and experience," said Teresa. "You take a nail punch and gingerly work out the rock. After years of doing this, you kind of figure out what not to do so the rock doesn't shatter."
Teresa's favorite rock picking find is petrified wood.
"I don't know why, I just really like finding it. One of these days I'm going to come home with a whole petrified wood log," she said. "Keith on the other hand is partial to thomsonite."
Teresa suggested South Dakota as her favorite spot to rock pick.
"There's a lot of variety and it isn't that far away. It's our favorite because it's fun and it's a quick trip from here," she said. "Any of the agates we've found, we don't sell. Those are memories," she said.
For more information on the Beaver Bay Agate Shop, check out their Facebook page.