With 1400 training miles on the team, no training injuries and healthy leaders, I felt confident going into the race. The trail was short of a good snow pack, but a snowstorm the night before the race added 4-5 inches, enough to slow the teams down—almost annoyingly so, but you get what you're given. The first few legs went well. The team screamed in and out of checkpoints (the worst at Two Harbors where I couldn't hook down, fell over on the sled and was almost dragged away before signing out). I knew I was in the mix of the top times. It was my intention to stick to my run/rest plan, so when I hitched up and left Finland after three hours rest, I was surprised to find I was the first team out. I hadn't intended to "take the lead" but there we were, making the first set of tracks—paws and sled runners toward Sawbill. I expected someone to catch me, but no one did. I've been on the other side of the line—waiting for a team to come into a checkpoint. A headlight appears in the distance, red blinker lights flashing on the lead dogs. Someone yells "Team!" and everyone scrambles into position. At Sawbill, there's no internet or cell coverage. They didn't know which team approached as they couldn't see the trackers. It's an enthusiastic greeting from the volunteers when you are first in.
Being first in also meant I would leave Sawbill first after the mandatory rest. This year at Sawbill there was no infamous "bacon tent" for mushers to warm themselves and eat a meal. As this checkpoint is unassisted, I made my own packet of noodles in the water I boiled on my cooker. I spent my four hours of mandatory rest taking off booties, feeding dogs, putting down straw, moving Roxy away from Teddy because he wouldn't stop flirting with her and moving Pinto away from Nancy because she was cranky. I fed dogs again. I put my sleeping bag next to Nancy and took a 45-minute nap. I made coffee. I rebooted dogs, packed up their blankets, readied my sled and left the checkpoint with the help of volunteers, on time at 7:04 a.m., 14 minutes ahead of Ryan Redington.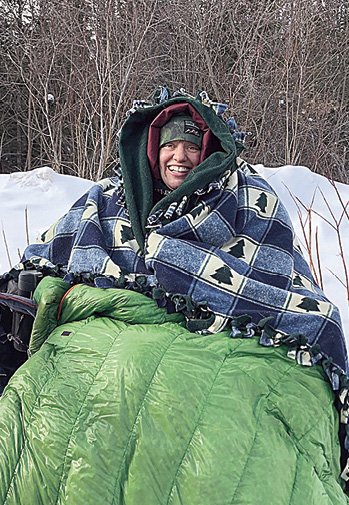 The run to Trail Center has historically been a tough one for me and the team. The team has run 100 miles and were not yet into the race rhythm. The time of day is not great—daytime runs always feel slow. Dogs just get "wonky." My main leader Beezus was slowing down so much I had to take him out of lead. Finally, I realized he couldn't be in point either (just behind the leaders). I rearranged dogs several times, finally moving Beezus to wheel, the position right in front of the sled. I thought I might have to drop him at Trail Center, but he eventually rebounded. With all this stopping I expected Ryan to pass me, but save for one glimpse of his team on a long flat stretch of the Lima Grade, he didn't, and we were into Trail Center first.
For the past two legs, I was running into Cook County and in lead. Everyone in Cook County seemed to know it. At every road crossing, people I didn't know were cheering for us, calling out my name. It was a great feeling, but I kept telling myself the race miles ahead were many, and anything could happen.
Now I know that I was not technically in first place. If you added run times, first place belonged to Ryan or Erin Letzring at that point, but the race was going well. Ryan and Erin passed me going to Devil's Track, but it was still close. I woke from a nap at Devils Track at 5 a.m., pounded coffee and jumped back on the sled. We were still in this race. The team left Devil's Track yipping and with good speed. Beezus was back in lead for now. We were on our home turf. We'd be passing the kennel turn off in 10 miles and I wanted Beezus in lead to pass the kennel without issue. I had switched sleds at Devil's Track to a lighter sled, hoping this would help us keep speed, but the sled was quite wobbly. Somewhere on the G-trail, south of Pine Mountain, my sled slid into the brush on the side of the trail and I was knocked off. I don't know how; I was hanging on. It was so quick. The sled and team just disappeared, not heeding my calls to "Whoa!". I started running, glad I had changed my heavy boots for lighter ones. I was sweating. Still dark, my headlamp scanned the trail for signs of the team. I ran up Pine Mountain, huffing, puffing, and cursing this twist of fate. My head and heart were heavy with the knowledge that I had just killed my race.
At this point we were just two miles from the turn off to our kennel and I was sure the dogs would run home. I was sure family, friends and race fans were watching my tracker on the computer screen as it veered toward Mush Lake. Thirty minutes later, I was finally at the top of Pine Mountain and another team came up behind me. I thought the musher was Bailly Vitello and I introduced myself. "I know who you are," he said. I kept talking to him like he was someone I didn't know. I jumped in this musher's sled and we came to the junction where a trail turned toward our kennel. I could see no sled tracks to the left, the dogs had stayed on the race trail.
We continued on, this musher pushing me up a big hill in his sled. Another half mile downhill and I found my team. The snow hook had jumped the sled and caught. Everyone was fine. I thanked this musher who I quickly realized was Ero Wallin, so I felt like an idiot as we know each other and I had been talking to him like a complete stranger. I ended up passing Ero and later dropping my ski pole which he kindly picked up and returned later. There were several other mishaps on the run to Mineral Center, including carrying a tired dog in my sled, but I knew that 40-minute loss of time had cost us dearly.
The last leg of the race flew by. The trail was smooth, the dogs jazzed. The timing was perfect from day into night. We finished strong in 4th place. I can't help but think about the what ifs. I'd like a redo so I could hang onto my sled a little tighter. Mostly I'm grateful to have brought 9-year-old leaders Beezus and Nancy to another finish. The two of them have run two Beargrease 120s, and six marathons. They were never dropped. They have made mushing easy (well, mostly) and it's hard to imagine running this race without them. I had spectators cheering for us over the many, many miles of this race and the enthusiasm was truly contagious. Thank you!